printer friendly version
Advancing quality control
30 August 2023
AI & ML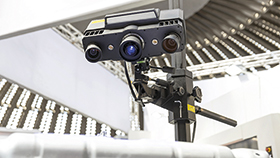 In the complex realm of manufacturing, Defect Visual Inspection (DVI) has emerged as a critical process, evolving significantly over time. The landscape of visual inspection has transformed from manual checks performed by artisans to AI-enhanced automated systems. As manufacturing processes continue to become more sophisticated, the importance and effectiveness of advanced DVI solutions escalate, presenting opportunities for improved quality control.
DVI leverages cutting-edge technologies such as machine learning, computer vision, and artificial intelligence. These technologies can analyse various visual data in real time, surpassing human capabilities in speed, accuracy, and consistency. DVI solutions present manufacturers with an opportunity to identify defects with high precision, preventing costly recalls of products, and potential damage to reputation.
The last decade has brought forth the next wave of DVI evolution: AI and deep learning. These technologies have revolutionised visual inspection. Modern systems, such as the DVI solution developed by Avnet Silica in partnership with Deep Vision Consulting, can learn to identify defects in products from imagery examples, improving their accuracy over time. They can analyse complex patterns and detect defects that earlier systems would miss. These advancements have allowed production lines to move towards inspection systems that can adapt and improve continually.
The tool recently unveiled by Avnet Silica is a state-of-the-art solution that perfectly demonstrates the developments in defect visual inspection technology. This ground-breaking technology offers real-time and precise fault detection by fusing cutting-edge machine-learning algorithms with first-rate image processing methods.
The versatility of the DVI tool, which makes it useful in a variety of industries, is one of its main advantages, as this tool can efficiently find flaws and maintain product quality in a variety of manufacturing contexts, whether it be for electronics, automobiles, medicines, or packaging. But perhaps even more impressive is the fact that the solution doesn't require the end user to have experience in using or setting up machine-learning systems. Instead, the user simply takes between 10-30 images of a product without any imperfections, and the solution takes care of the rest.
This 100% AI-based inspection system uses a system-on-module (SoM) to handle the processing in conjunction with the proprietary 'Defect Visual Inspection' software library. Photos of a product with no imperfections are taken via the software library. The system is then allowed to go through a short phase of learning before being able to spot product defects in a production line with very high accuracy.
This solution is perfect for companies looking to deploy a DVI solution quickly, without the need for knowledge of deploying machine learning solutions.
Credit(s)
Further reading:
High precision MEMS nano pressure sensor
Avnet Silica DSP, Micros & Memory
The LPS22DF from STMicroelectronics is an ultracompact, piezoresistive, absolute pressure sensor that functions as a digital output barometer.
Read more...
---
The dream of Edge AI
Altron Arrow Editor's Choice AI & ML
AI technology carries a great promise – the idea that machines can make decisions based on the world around them, processing information like a human might. But the promise of AI is currently only being fulfilled by big machines.
Read more...
---
Device identification's critical role in IoT protection
Avnet Silica Telecoms, Datacoms, Wireless, IoT
Each IoT device must have a unique identifier assigned during manufacturing or provisioning which serves as the anchor for device identification, authentication, and communication.
Read more...
---
MAX78000 neural network accelerator chip
Altron Arrow AI & ML
The hardware-based convolutional neural network accelerator enables even battery-powered applications to execute AI inferences.
Read more...
---
Nanomaterials to build next-gen AI hardware?
AI & ML
From improving scientific analyses and imaging capabilities, to predictive maintenance and monitoring operations in industrial settings, artificial intelligence is becoming ever more present in modern-day society.
Read more...
---
Low pin count MCU with I3C support
Avnet Silica DSP, Micros & Memory
Leading the way in I3C integration, Microchip Technology has released its PIC18-Q20 family of microcontrollers, the industry's first low pin count MCUs with up to two I3C peripherals.
Read more...
---
Securely connect IoT devices to Azure IoT Hub
Avnet Silica DSP, Micros & Memory
New software for STMicroelectronics' STM32H5 MCUs leverages its advanced Secure Manager for protected connection to the Microsoft Azure cloud IoT platform.
Read more...
---
Microchip launches MPLAB ML development suite
AI & ML
Microchip's unique solution is first to support 8-, 16- and 32-bit MCUs and 32-MPUs for machine learning at the edge.
Read more...
---
Mesh networks as easy as never before
Avnet Silica Telecoms, Datacoms, Wireless, IoT
Panasonic Industry and Symbiotech have released a new Wirepas Mesh demo kit for BLE flagship module PAN1780, enabling IoT applications to easily setup a mesh network.
Read more...
---
ToF sensor enables AI applications
Altron Arrow AI & ML
The VL53L7CH from STMicroelectronics is the perfect Time-of-Flight sensor enabling AI applications, with ultrawide 90° diagonal FoV and low power consumption.
Read more...
---