printer friendly version
Intelligent solutions for smart homes
30 August 2023
DSP, Micros & Memory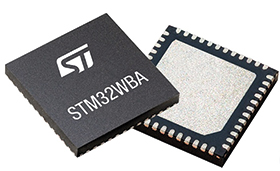 With STMicroelectronics' Smart Home solutions, designs can be tailored to the perfect connected and intelligent home, where functionalities are simplified, security is enhanced, and energy consumption is optimised. By integrating advanced sensors, microcontrollers, and wireless communication technologies, STMicroelectronics enables homeowners to remotely control and monitor various aspects of their homes.
The STM32WBA 32-bit Wireless series brings designers the performance, efficiency, and security required for Bluetooth Low Energy (BLE) 5.3-enabled applications. The STM32WBA series focusses on the BLE 5.3 protocol, allowing non-expert developers to easily add wireless communication to a project at an affordable cost.
Based on the Arm Cortex-M33 core running at 100 MHz with TrustZone technology, the STM32WBA series provides a high level of security, protecting data, IPs, and preventing hacks or device cloning.
ST also offers the VL53L7CX Time-of-Flight (ToF) sensor. This 8x8 mulitzone ranging sensor is perfect for any application requiring ultrawide field-of-view (FoV) like smart speakers, video projectors, content management and others. The combination of the multizone capability and the 90° FoV can enhance new use cases like gesture recognition, SLAM, and low power system activation for smart buildings.
A low-power, high-sensitivity infrared sensor is also available. The STHS34PF80 sensor has been designed to measure the amount of IR radiation emitted from an object within its field of view. The information is digitally processed by an ASIC, which can be programmed to monitor motion, presence, or an overtemperature condition. Thanks to its high sensitivity, the STHS34PF80 can detect the presence of a human being at a distance up to 4 metres, without the need for an optical lens.
Finally, ST has an IC to provide critical care for battery packs. The L9961 is part of a complete battery pack monitoring, balancing, and protection system which uses a high-precision ADC to provide cell voltage, stack voltage and temperature conversion via external NTC. This IC also integrates a dual pre-driver programmable in both HS/LS configurations for driving pack relays.
The L9961 also implements battery pack fuse protection to prevent fire and explosion hazards. A 3,3 V regulator with a high current capability is available for supplying pack controller and other external circuitry in both standby and normal operation modes.
Whatever your smart home needs, ST has a suitable component to provide a solution.
Credit(s)
Further reading:
Wireless MCU with 15 years of battery life
Altron Arrow DSP, Micros & Memory
ST has integrated an industry-unique ultra-low-power radio which the MCU can power-down to save energy while listening continuously for a wake-up signal.
Read more...
---
High precision MEMS nano pressure sensor
Avnet Silica DSP, Micros & Memory
The LPS22DF from STMicroelectronics is an ultracompact, piezoresistive, absolute pressure sensor that functions as a digital output barometer.
Read more...
---
High bandwidth current-sense amplifier
Altron Arrow DSP, Micros & Memory
The AD8410A from Analog Devices is a high voltage, high-bandwidth current-sense amplifier which features an initial gain of 20 V/V.
Read more...
---
Microcontroller with Bluetooth LE 5.3
Altron Arrow News
The STM32WBA 32-bit Wireless series from STMicroelectronics brings designers the performance, efficiency, and security required for Bluetooth Low Energy 5.3-enabled applications. The STM32WBA offers essential 
...
Read more...
---
Comprehensive AI computing solution
Altron Arrow News
Powered by the NVIDIA Jetson AGX Orin, the BOXER-8640AI fanless Box PC from AAEON Technology brings AI capabilities to the edge. The NVIDIA Jetson AGX Orin's Ampere architecture boasts 1792 CUDA and 56 
...
Read more...
---
Isolated solid state relay
Altron Arrow Passive Components
The ISO808, ISO808-1 (PowerSO-36) and ISO808Q, ISO808Q-1 (TFQFPN32) are galvanic isolated eight-channel drivers featuring a low supply current.
Read more...
---
The dream of Edge AI
Altron Arrow Editor's Choice AI & ML
AI technology carries a great promise – the idea that machines can make decisions based on the world around them, processing information like a human might. But the promise of AI is currently only being fulfilled by big machines.
Read more...
---
Programmable BLE 5.3 SoC
Altron Arrow Telecoms, Datacoms, Wireless, IoT
The BlueNRG-LPS is an ultra-low power programmable Bluetooth Low Energy wireless SoC solution from STMicroelectronics that embeds the company's state-of-the-art 2.4 GHz radio IP.
Read more...
---
MAX78000 neural network accelerator chip
Altron Arrow AI & ML
The hardware-based convolutional neural network accelerator enables even battery-powered applications to execute AI inferences.
Read more...
---
Save space and improve efficiency with a 4-switch buck-boost controller
Altron Arrow Editor's Choice Telecoms, Datacoms, Wireless, IoT
A new generation of 4-switch buck-boost controllers enables power system design with very high efficiency and high power density by using inductor DC resistance (DCR) current-sensing techniques.
Read more...
---