printer friendly version
ToF sensor enables AI applications
27 September 2023
AI & ML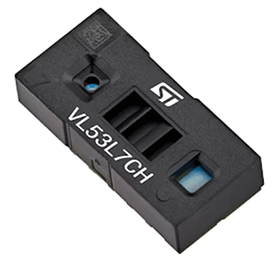 The VL53L7CH from STMicroelectronics is the perfect Time-of-Flight sensor enabling AI applications, with ultrawide 90° diagonal FoV and low power consumption. The compact and normalised histogram (CNH) innovative data output is specially designed for artificial intelligence (AI) applications requiring multizone raw data from a high-performance multizone ToF sensor.
The IR signal measured in each zone is sent as raw data to the host through each bin of the histogram. The module is highly configurable:
• The user can program the resolution of the VL53L7CH up to 64 zones in an 8x8 array.
• The histogram resolution can be modified up to 128 bins.
• The bin width can be user-defined.
All this CNH data is transmitted to the host through I2C, up to 30 Hz, in addition to the standard processed data of the ToF sensor being ranging distance, signal level, and reflectance.
The CNH data transforms the Time-of-Flight ranging sensor into a versatile optical sensor, which can enable a multitude of AI-based applications. The raw data sent to the host opens the door to many new applications, beyond simple distance measurements. From solid material to gas or liquid, it now becomes simple to detect the location and the size of a cup in a coffee machine or beverage dispenser, to sense the floor material for robotics, or to develop advanced shape, motion, or hand posture recognition.
The VL53L7CH Time-of-Flight sensor offers an ultrawide 90° diagonal FoV, shaped as a square 60° x 60° FoV, thanks to the innovative metalens surface ODIF lenses. The integrated VCSEL emits fully invisible 940 nm IR light, which is Class 1 certified and therefore safe for the eyes.
Credit(s)
Further reading:
Wireless MCU with 15 years of battery life
Altron Arrow DSP, Micros & Memory
ST has integrated an industry-unique ultra-low-power radio which the MCU can power-down to save energy while listening continuously for a wake-up signal.
Read more...
---
High bandwidth current-sense amplifier
Altron Arrow DSP, Micros & Memory
The AD8410A from Analog Devices is a high voltage, high-bandwidth current-sense amplifier which features an initial gain of 20 V/V.
Read more...
---
Microcontroller with Bluetooth LE 5.3
Altron Arrow News
The STM32WBA 32-bit Wireless series from STMicroelectronics brings designers the performance, efficiency, and security required for Bluetooth Low Energy 5.3-enabled applications. The STM32WBA offers essential 
...
Read more...
---
Comprehensive AI computing solution
Altron Arrow News
Powered by the NVIDIA Jetson AGX Orin, the BOXER-8640AI fanless Box PC from AAEON Technology brings AI capabilities to the edge. The NVIDIA Jetson AGX Orin's Ampere architecture boasts 1792 CUDA and 56 
...
Read more...
---
Isolated solid state relay
Altron Arrow Passive Components
The ISO808, ISO808-1 (PowerSO-36) and ISO808Q, ISO808Q-1 (TFQFPN32) are galvanic isolated eight-channel drivers featuring a low supply current.
Read more...
---
The dream of Edge AI
Altron Arrow Editor's Choice AI & ML
AI technology carries a great promise – the idea that machines can make decisions based on the world around them, processing information like a human might. But the promise of AI is currently only being fulfilled by big machines.
Read more...
---
Programmable BLE 5.3 SoC
Altron Arrow Telecoms, Datacoms, Wireless, IoT
The BlueNRG-LPS is an ultra-low power programmable Bluetooth Low Energy wireless SoC solution from STMicroelectronics that embeds the company's state-of-the-art 2.4 GHz radio IP.
Read more...
---
MAX78000 neural network accelerator chip
Altron Arrow AI & ML
The hardware-based convolutional neural network accelerator enables even battery-powered applications to execute AI inferences.
Read more...
---
Nanomaterials to build next-gen AI hardware?
AI & ML
From improving scientific analyses and imaging capabilities, to predictive maintenance and monitoring operations in industrial settings, artificial intelligence is becoming ever more present in modern-day society.
Read more...
---
Save space and improve efficiency with a 4-switch buck-boost controller
Altron Arrow Editor's Choice Telecoms, Datacoms, Wireless, IoT
A new generation of 4-switch buck-boost controllers enables power system design with very high efficiency and high power density by using inductor DC resistance (DCR) current-sensing techniques.
Read more...
---