printer friendly version
Millimetre-accurate ultrasonic ToF sensor
27 September 2023
Telecoms, Datacoms, Wireless, IoT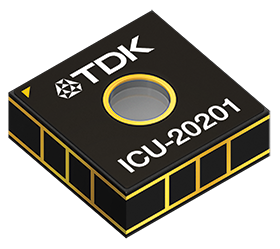 TDK Corporation has announced the start of full-scale production of its InvenSense SmartSonic ICU-20201 ultrasonic Time-of-Flight (ToF) sensor. InvenSense's SmartSonic family of ultrasonic ToF sensors integrate a MEMS PMUT (piezoelectric micromachined ultrasonic transducer) with an ultra-low power SoC in a miniature reflowable package.
Based on ultrasonic pulse-echo measurements, the ToF sensor provides millimetre-accurate and robust range measurements to targets at distances up to 5 m, in any lighting condition, including full sunlight, and independently of the target's colour and optical transparency.
This new sensor gives devices the sensitivity required for accurate obstacle avoidance or proximity/presence sensing, used frequently in robotics and drones, or mobile and computing devices, for example. It is also highly relevant in settings that require shelf inventory monitoring or level sensing, such as in smart homes or smart buildings.
The ICU-20201 is the latest release in this sensor family that embeds a more powerful on-chip processor with higher computational power.
The enhanced processing capabilities allow executing a wide range of application algorithms on-chip, offloading the system MCU completely.
Credit(s)
Further reading:
Multi-operator cellular coverage solution
Telecoms, Datacoms, Wireless, IoT
Nextivity has expanded its award-winning CEL-FI product family with the CEL-FI GO G43, which complements the existing GO G41 cellular coverage solution.
Read more...
---
Wi-Fi 6/6E module for industrial applications
RF Design Telecoms, Datacoms, Wireless, IoT
The u-blox MAYA-W3 brings the benefits of Wi-Fi 6 and the 6 GHz band to industrial applications, preventing network congestion and ensuring power efficiency.
Read more...
---
Toolkit for services with differentiated 5G connectivity
Telecoms, Datacoms, Wireless, IoT
Ericsson has launched a new software toolkit to strengthen 5G Standalone network capabilities, and enable premium services with differentiated connectivity.
Read more...
---
Sealed tantalum capacitors
Electrocomp Passive Components
With an operating temperature range of -55 to 125°C, with voltage derating, these capacitors have been designed especially for avionics and aerospace applications.
Read more...
---
Device identification's critical role in IoT protection
Avnet Silica Telecoms, Datacoms, Wireless, IoT
Each IoT device must have a unique identifier assigned during manufacturing or provisioning which serves as the anchor for device identification, authentication, and communication.
Read more...
---
Programmable BLE 5.3 SoC
Altron Arrow Telecoms, Datacoms, Wireless, IoT
The BlueNRG-LPS is an ultra-low power programmable Bluetooth Low Energy wireless SoC solution from STMicroelectronics that embeds the company's state-of-the-art 2.4 GHz radio IP.
Read more...
---
RF switch modules
RFiber Solutions Telecoms, Datacoms, Wireless, IoT
New switch modules from Withwave are available in various configurations including SP4T, SP10T, and as a 4-port matrix switch.
Read more...
---
Improved cellular access in remote areas
Telecoms, Datacoms, Wireless, IoT
Nextivity has released its CEL-FI ROAM R41 plug-and-play cellular coverage solution that ensures cellular access for people in remote areas.
Read more...
---
Making Matter provisioning secure and easy
EBV Electrolink Telecoms, Datacoms, Wireless, IoT
Integrated solution of CommScope's PKIWorks platform with STMicroelectronics' STM32WB wireless microcontroller enables IoT security for Matter device development.
Read more...
---
Bringing performance and security to BLE applications
Future Electronics Telecoms, Datacoms, Wireless, IoT
STMicroelectronics' STM32WBA 32-bit wireless series brings designers the performance, efficiency, and security required for Bluetooth Low Energy 5.3-enabled applications.
Read more...
---