printer friendly version
Personality Profile: Paul Eveleigh
25 October 2023
Editor's Choice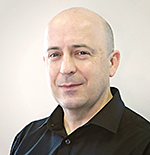 Paul Eveleigh.
Paul Eveleigh, group general manager at Hiconnex, was born in the UK but grew up in South Africa, matriculating from Springs Boys High School. With an interest in technology, his initial career path choice was to obtain a qualification in Process Control Engineering. However, in his early twenties, a decision to change paths into a sales and marketing direction was taken, with Paul ultimately obtaining a bachelor's degree in business and marketing management. The strong background in technology, combined with his commercial qualifications and experience, has benefitted his personal career growth.
Early career
After graduating, Paul rose through various positions from an initial technical role to sales and marketing functions, export business development, and sales management to his current position of general manager. Being well travelled to over 40 countries, the overriding lesson he learned is that people seek mutual respect more than any other trait, and this is exactly how he conducts business.
After more than 20 years in the sector, Paul has realised that for a business to succeed during the market ups and downs requires it to be diverse in its offerings. This can allow a company to pull through during a particular sector's downturn, while focussing on building service levels and retaining loyal customers.
Business principles
During his various roles in his career, Paul always looked for opportunities to grow in both his business and personal capacity, and this is what Hiconnex offers. Before joining Hiconnex, he worked for various competitor companies, and always held a healthy respect for the way in which the company conducted business. Hiconnex, however, offers him the chance to share in growing the company into new markets. With a strong and experienced team behind him, he can put into practice what he has learned during his career, and ultimately grow the company towards its strategic objectives.
Says Paul: "Hiconnex is fortunate to be participating in new markets such as space, unmanned systems, alternative energy, and IoT. These sectors offer new and exciting growth opportunities for a company with Hiconnex's product depth."
He goes on to explain that the increased ability to use technology to reach new customers and collaborate on international projects has provided Hiconnex with a completely new set of customers.
"Operating internationally has been part of my life for 25 years, only now I don't always have to get on an aeroplane to have a face-to-face discussion," he continues. "While being in the same room as our customers and suppliers remains the best way to build relationships, the COVID pandemic showed us that we can interact in different and creative ways."
He believes that South Africa has a unique set of obstacles, the main one being the lack of government initiatives to drive an industry that already contains a high level of thought leaders. The development of industry sectors should be through government-driven initiatives. He offers the following example: "Consider the amount of commercial aerospace contract manufacturers in Morocco – driven by government policy to build a significant contract manufacturing base now fully utilised by key commercial aerospace manufacturers. The SA can-do attitude is hard to match anywhere in the world and we should be telling our story to a larger audience."
Advice for the younger generation
When asked about advice for the younger generation, he remarks that while qualifications are vital, so too is the knowledge gained from working experience. He believes that business and financial aspects need to be concentrated on as these are often the driving factor towards project success.
When not at work, he can be found relaxing at home with his wife and active teenage twins, or on the road eating up the kilometres on his bicycle.
Credit(s)
Further reading:
Products of the year 2023
Editor's Choice News
A summary of products and technologies from 2023 that are currently shaping the electronic engineering industry.
Read more...
---
The dream of Edge AI
Altron Arrow Editor's Choice AI & ML
AI technology carries a great promise – the idea that machines can make decisions based on the world around them, processing information like a human might. But the promise of AI is currently only being fulfilled by big machines.
Read more...
---
Save space and improve efficiency with a 4-switch buck-boost controller
Altron Arrow Editor's Choice Telecoms, Datacoms, Wireless, IoT
A new generation of 4-switch buck-boost controllers enables power system design with very high efficiency and high power density by using inductor DC resistance (DCR) current-sensing techniques.
Read more...
---
Matter 1.2 adds new capabilities
NuVision Electronics Editor's Choice Telecoms, Datacoms, Wireless, IoT
This update introduces new device types and expands the reach of Matter into new markets, while also bringing other improvements that enhance interoperability and user experience.
Read more...
---
FPGAs speed up intelligent edge designs
ASIC Design Services Editor's Choice DSP, Micros & Memory
Microchip Technology has added nine new technology- and application-specific solution stacks to its growing collection of mid-range FPGA and SoC support.
Read more...
---
Raspberry Pi 5 announced
RS Components SA Editor's Choice DSP, Micros & Memory
The R-Pi 5 comes with new features and is over twice as fast as its predecessor, the R-Pi 4, thanks to an upgrade to the main processor.
Read more...
---
Dead-reckoning GNSS module
Altron Arrow Editor's Choice Telecoms, Datacoms, Wireless, IoT
STMicroelectronics' Teseo-VIC3D module is an easy-to-use dead-reckoning global navigation satellite system (GNSS) standalone module, embedding TeseoIII single-die standalone positioning receiver IC.
Read more...
---
Quantum leap in battery technology
Editor's Choice Power Electronics / Power Management
A German start-up has developed a solid-state battery ready for series production with outstanding properties: no cobalt, ten times longer service life, and non-flammable electrolyte.
Read more...
---
Simplify your USB-C PD design using a standalone controller
Altron Arrow Editor's Choice
USB PD poses new power requirement challenges because of the variety of voltage and current combinations available to supply the wide range of power the USB PD standard must provide.
Read more...
---
Advanced graphite embedding capability for PCB thermal management
Conical Technologies Editor's Choice Manufacturing / Production Technology, Hardware & Services
Teledyne Labtech has announced a major new capability, allowing the embedding of layers of synthetic graphite within RF and microwave PCBs. This provides weight savings for applications where size, weight, and power (SWaP) are key.
Read more...
---