printer friendly version
From the editor's desk: Small miracles will hopefully lead to bigger ones
25 October 2023
News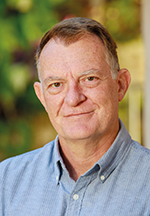 Peter Howells, Editor.
As I sit here this month and ponder the few weeks that have passed, I wonder where the time has gone. Maybe as one gets older, time seems to be compressed more and more. Or maybe the old brains simply cannot cope with multitasking like we used to in our youth, making it seem like there is not enough time to accomplish everything we want to.
It seemed like just the other day I was sitting glued to the exhilarating rugby matches that were being televised during the Rugby World Cup 2019. It was amazing to see how the country could get behind a team. Ultimately, the power that this rugby team wielded in terms of bringing together people from all walks of life was astounding. Very few people were spared from the upliftment in spirits that were the result of winning the most sought-after trophy in rugby.
And here we are again. I, along with millions of other South Africans worldwide, witnessed a sporting spectacle worthy of champions when we triumphed over an excellent French team by a solitary point. More than winning, however, the team showed us how to behave. After the final whistle, players from both sides embraced each other in a show of camaraderie. They had done battle on the field, and although one team had to emerge victorious, both teams could hold their heads up high. Players consoled each other in a gesture of mutual respect, and quite frankly, rugby is the only team sport I can think of where that happens.
Normal people can take a leaf straight out of rugby's playbook. Get out onto the field, play hard, 'donder' each other if you have to, but afterwards, shake a hand, give a hug and have a drink together as a sign of respect for each other.
It's as if they genuinely care about each other!
And wouldn't it be wonderful if everyone behaved like this. Where people looked out for each other instead of the dog-eat-dog world that we often find ourselves in.
My mind then moved back to the game that was played earlier on the same day. Just into the second half of that game, the lights went out. I, and many others watching, immediately cast our thoughts to the scourge of loadshedding.
We, as South Africans, have become almost nonchalant about these forced power failures that have been thrust upon us. Most now take the power cuts in their stride and have learnt to live with them. This time, however, it had a direct impact on my viewing pleasure, which conjured up a lot of pent-up feelings.
It wasn't loadshedding, but merely a brief power failure in the area. A few minutes later it was back on, and the rugby thankfully continued uninterrupted.
Many people have installed inverter-based backup solutions to get them through these power failures. They allow the use of renewable energy sources like solar and turbines. That part is easy. What is still an expensive problem is the storage required for these systems to be able to deliver the required amount of energy. Presently, Li-ion storage is the gold standard.
Recently, however, a report on a new solid-state battery technology crossed my desk. Exhibiting better properties than traditional Li-ion batteries, the technology promises greater safety and stability. The number of charge cycles is also greatly improved, with the current test system racking up more than 12 500 charge cycles. The technology is destined for residential and industrial use. Read about it here.
I am excited about this project. It promises to solve the biggest problem with storage currently, which is its longevity. Let's hope that something comes out of it.
Credit(s)
Further reading:
Africa Online Safety Fund announces grant winners
News
The Africa Online Safety Fund (AOSF) has announced the winners of this year's grants, among them five organisations operating in South Africa.
Read more...
---
RF antenna solutions for IoT devices
News
Mouser Electronics and Amphenol RF have teamed up for a brand-new webinar titled 'RF antenna solutions for IoT devices and smart technology'.
Read more...
---
Wideband GNSS testing system
RF Design News
The LabSat 3 Wideband Solution is a GNSS testing system with support for recording and replay in the upper
L-Band (1559-1610 MHz)
and lower
L-Band (1164-1300 MHz).
It has three RF channels, a recording 
...
Read more...
---
New generation of 5G modules
Quectel Wireless Solutions News
Quectel Wireless Solutions announced the launch of its latest generation 5G New Radio (NR) module series, the RG650E and RG650V, both of which follow the 3GPP Release 17 standard. These industrial-grade 
...
Read more...
---
Microcontroller with Bluetooth LE 5.3
Altron Arrow News
The STM32WBA 32-bit Wireless series from STMicroelectronics brings designers the performance, efficiency, and security required for Bluetooth Low Energy 5.3-enabled applications. The STM32WBA offers essential 
...
Read more...
---
Configurable industrial AI computing
Brandwagon Distribution News
The Tensor-I22 IS from Brandwagon is the second generation in the company's innovative industrial computer line, Tensor. The fanless industrial PC can be customised with a choice of CPU, memory, storage 
...
Read more...
---
Comprehensive AI computing solution
Altron Arrow News
Powered by the NVIDIA Jetson AGX Orin, the BOXER-8640AI fanless Box PC from AAEON Technology brings AI capabilities to the edge. The NVIDIA Jetson AGX Orin's Ampere architecture boasts 1792 CUDA and 56 
...
Read more...
---
Pure carbide GaN-on-SiC power amplifier
RFiber Solutions News
MACOM announced an expansion to its power amplifier product portfolio with the MAPC-A1605 7,0 kW power amplifier. This device is suitable for high-power and high-voltage aerospace and defence applications, 
...
Read more...
---
Connectors with extreme density and performance
Spectrum Concepts News
Samtec's family of board-to-board and cable assemblies feature extreme density with up to 1000 total I/Os on a 0,635 mm pitch, while still providing incredible 112 Gbps PAM4 performance. The AcceleRate 
...
Read more...
---
Power efficient mid-range FPGA
ASIC Design Services News
The new imperatives of the intelligent edge – power efficiency, security and reliability – are forcing system architects and design engineers to find new solutions. For the growing number of system designers 
...
Read more...
---