printer friendly version
Microchip's 28 nm memory in production
25 October 2023
DSP, Micros & Memory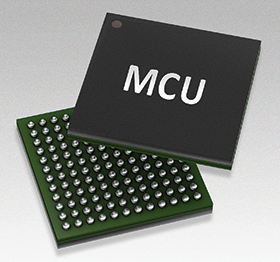 GlobalFoundries and Microchip Technology have announced that Microchip's 28 nm ESF3 third-generation SuperFlash embedded flash memory solution is in production using GF's 28SLPe foundry process. The widely deployed non-volatile memory (NVM) solution is optimised for microcontrollers, smart cards and IoT chips.
Use cases for embedded flash are exploding with the drive for increased intelligence at the edge. Embedded memory for secure code storage, over-the-air-updates and enhanced functionality is on the rise in a wide range of applications in home and industrial IoT. Smart mobile devices and innovative platforms are required to meet these needs.
"GF is proud to partner with SST to develop, qualify and release to production this impressive embedded NVM solution on our robust 28SLPe platform," said Mike Hogan, chief business unit officer at GF. "GF's customers are finding this combination of high performance, excellent reliability, IP availability and cost effectiveness to be ideal for advanced MCUs, complex smart cards and IoT chips for consumer and industrial products."
"SST and GF have partnered closely over the last decade to integrate and productise SST's industry-standard ESF1 and ESF3 embedded Flash technologies into GF's 130 nm BCD, 55, 40, and now 28 nm foundry platforms," added Mark Reiten, vice president of SST, Microchip's licensing business unit. "We are excited by the leadership position GF is establishing for the broadest offering of embedded NVM solutions, and expect our close partnership to deliver additional breakthroughs over the coming decade."
The 28 nm SuperFlash technology will deliver the following benefits:
• Lowest cost 28 nm ESF3 solution, including true 5 V IO CMOS devices.
• Highly competitive SST ESF3 bit cell size of less than 0,05 micron squared.
• Operating temperature rating of -40 to 125°C.
• Sub-25 ns read access times, 10 µs program times and 4 ms erase times.
• Endurance exceeding 100 000 program/erase cycles.
• Immediate availability of off-the-shelf modules from 4 to 32 Mb.
For more information contact EBV Electrolink, +27 21 402 1940, capetown@ebv.com, www.ebv.com
Credit(s)
Further reading:
Wireless MCU with 15 years of battery life
Altron Arrow DSP, Micros & Memory
ST has integrated an industry-unique ultra-low-power radio which the MCU can power-down to save energy while listening continuously for a wake-up signal.
Read more...
---
High precision MEMS nano pressure sensor
Avnet Silica DSP, Micros & Memory
The LPS22DF from STMicroelectronics is an ultracompact, piezoresistive, absolute pressure sensor that functions as a digital output barometer.
Read more...
---
High bandwidth current-sense amplifier
Altron Arrow DSP, Micros & Memory
The AD8410A from Analog Devices is a high voltage, high-bandwidth current-sense amplifier which features an initial gain of 20 V/V.
Read more...
---
Making Matter provisioning secure and easy
EBV Electrolink Telecoms, Datacoms, Wireless, IoT
Integrated solution of CommScope's PKIWorks platform with STMicroelectronics' STM32WB wireless microcontroller enables IoT security for Matter device development.
Read more...
---
Build the next generation IoT device
Altron Arrow DSP, Micros & Memory
The STM32H573I-DK Discovery kit is a complete demonstration and development platform for the STM32H573IIK3Q microcontroller, featuring an Arm Cortex-M33 core with Arm TrustZone.
Read more...
---
MPLAB PICkit 5
ASIC Design Services DSP, Micros & Memory
Microchip Technology's MPLAB PICkit 5 in-circuit debugger/programmer enables quick prototyping and portable, production-ready programming for all Microchip components, including PIC, dsPIC, AVR, and SAM devices.
Read more...
---
Driver amplifiers for wireless infrastructure
EBV Electrolink Telecoms, Datacoms, Wireless, IoT
The BGA7P320 is a 3,3 to 4,2 GHz mid-band driver amplifier that can be used as pre-driver or driver in RF applications, from MIMO 5G base stations to small cells and access points.
Read more...
---
Vishay honours EBV with distributor award
EBV Electrolink News
Vishay has honoured EBV Elektronik with the 'Semiconductor Distributor of the Year – 2022' award based on the company's outstanding contribution, design activities, overall process excellence and performance throughout EMEA.
Read more...
---
FPGAs speed up intelligent edge designs
ASIC Design Services Editor's Choice DSP, Micros & Memory
Microchip Technology has added nine new technology- and application-specific solution stacks to its growing collection of mid-range FPGA and SoC support.
Read more...
---
Low pin count MCU with I3C support
Avnet Silica DSP, Micros & Memory
Leading the way in I3C integration, Microchip Technology has released its PIC18-Q20 family of microcontrollers, the industry's first low pin count MCUs with up to two I3C peripherals.
Read more...
---