printer friendly version
Hybrid PPTC/MOV device
23 January 2013
Circuit & System Protection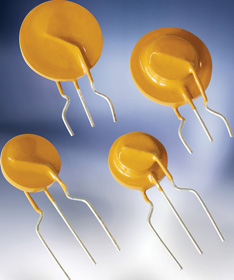 TE Circuit Protection recently introduced the 2Pro AC, a hybrid device that offers designers an integrated, resettable approach to protect sensitive downstream electronics against damage from over-current and over-voltage events.
The part combines a PPTC (polymeric positive temperature coefficient) device and a thermally enhanced MOV (metal-oxide varistor) into one package. As a result, it is well suited to low-current applications such as LED lighting, smart meters, appliances and power supplies.
By integrating a resettable PPTC device with an MOV, the hybrid configuration of the 2Pro AC device offers benefits over typical approaches currently used in low-current applications to help prevent thermal runaway.
These include using an MOV with a fuse, which must be replaced when blown; placing the PPTC device and MOV next to each other on the board, which can lead to thermal instability and design complexity; or employing a thermal fuse integrated with an MOV, which is a one-use solution that trips without allowing resettability.
In contrast, the 2Pro AC device has thermally coupled components, is resettable, and provides stability by maintaining a varistor surface temperature of less than 150°C. It can help manufacturers meet industry requirements such as IEC61000-4-5 and IEC60950, and can help simplify UL60950 testing and compliance. It is also RoHS-compliant and halogen free.
Credit(s)
Further reading:
Coaxial RF surge protectors
23 October 2019, RF Design , Circuit & System Protection
Pasternack has launched a new series of coaxial surge protectors designed to protect valuable communications equipment from power surges and indirect lightning strikes. Pasternack's new surge protectors 
...
Read more...
---
High-speed data line protectors
25 November 2019, Electrocomp , Circuit & System Protection
Bourns announced the release of the Model TBU-DF055-100-WH, TBU-DF055-200-WH, TBU-DF085-100-WH and TBU-DF085-200-WH bidirectional, dual-channel, High-Speed Protectors (HSPs) for use in data line protection. The 
...
Read more...
---
Miniature resettable thermal cutoff devices
23 October 2019, Electrocomp , Circuit & System Protection
A new addition from Bourns is the Model CB series of miniature resettable thermal cutoff (TCO) devices. These are the smallest TCO devices Bourns has produced and represent the company's next generation 
...
Read more...
---
Surge arrestor for satellite antenna systems
23 October 2019, Conical Technologies , Circuit & System Protection
Nextek announced the release of its new lightning surge arrestor for use with satellite antenna systems. The new PTC-C030 was designed with two F-type connectors for easy connection to V-SAT or DSTV satellite 
...
Read more...
---
Steering diode TVS array
23 October 2019, Altron Arrow , Circuit & System Protection
ProTek Devices has introduced a new steering diode transient voltage suppressor (TVS) array for circuit protection across popular consumer electronic display interfaces. The new PUSB403 device is ideal 
...
Read more...
---
EMI compliance testing vs. pre-compliance testing
25 September 2019, Concilium Technologies , Circuit & System Protection
Electromagnetic interference (EMI) is caused by unintentional emissions from electronic equipment. Compared to natural sources of EMI, such as lightning and solar storms, engineers are more concerned 
...
Read more...
---
Conductive rubber gaskets
25 September 2019, Conical Technologies , Circuit & System Protection
A range of conductive O-profile silicone rubber gaskets is available from Holland Shielding Systems, developed for high-performance shielding up to 18 GHz and used where environmental and EMI screening 
...
Read more...
---
High-temperature TVS MLVs
25 September 2019, Future Electronics , Circuit & System Protection
The new TransGuard VT Series multilayer varistors (MLV) made by AVX are rated for transient voltage suppression (TVS) applications operating at very high temperatures. They provide reliable, bidirectional 
...
Read more...
---
Test unit controls access to ESD protected areas
25 September 2019, Altico Static Control Solutions , Circuit & System Protection
In the electronics manufacturing industry, an electrostatic discharge (ESD) can cause irreparable damage to electronic components. This micro-lightning bolt can burn holes through insulating layers and 
...
Read more...
---
EMI AC line filters for avionics
31 July 2019, Conical Technologies , Circuit & System Protection
Part of the AeroQor range, SynQor's latest EMI AC line filters bring the company's technology and manufacturing expertise to the avionics COTS component marketplace. The components' packaging ensures 
...
Read more...
---