printer friendly version
Automotive telematics module
1 May 2013
Telecoms, Datacoms, Wireless, IoT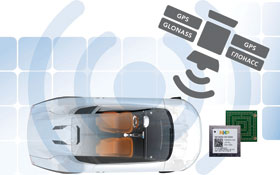 The GloTOP 2.5G is the latest addition to NXP Semiconductors' ATOP family of telematics solutions. It is an automotive telematics module specifically designed to work with the Russian GLONASS satellite navigation system.
Featuring a parallel reception system for both GLONASS and GPS, GloTOP is able to automatically select the most optimal signal at any one time to always ensure the most accurate positioning.
GloTOP is pin-to-pin and software compatible with NXP's existing ATOP solutions, which means that the board can be easily swapped out. This is crucial for telematics onboard unit manufacturers looking to sell into the Russian market, as it looks likely that a significant import tax will be levied on vehicles that do not support the GLONASS system. GLONASS has also recently been adopted as a standard in India, which makes GloTOP beneficial to those selling into this market.
Integrating GLONASS, GPS, GSM and NFC functionality into a single package for maximum performance, GloTOP enables multiple telematics applications – such as congestion avoidance, onboard diagnostics and fleet management. They can run in parallel without the need for additional modules, which significantly reduces complexity. It also eases the development of these applications through its support of Java.
One of the key applications that will run on GloTOP is an automatic emergency alert capability – similar to Europe's 'eCall' system – which is planned to become mandatory in any new cars in Russia from 2015. In the event of a serious accident, the device would automatically call the nearest emergency service. It will transmit a minimum set of data to the rescue service including geographic location, in an effort to reduce rescue response times and ultimately save lives.
Further reading:
Connectivity for IoT devices with SoftSIM
Otto Wireless Solutions Telecoms, Datacoms, Wireless, IoT
IoT device vendors are facing more and more complex cellular connectivity issues these days. Manufacturing is often outsourced to third-party factories and finished devices are being distributed to many 
...
Read more...
---
High-power GaN RF amplifier
RFiber Solutions Telecoms, Datacoms, Wireless, IoT
The CHA7618-99F is a three-stage GaN high-power amplifier (HPA) in the frequency band 5,5-18 GHz. This United Monolithic Semiconductors HPA typically provides 10 W of output power allied with 20% of power-added 
...
Read more...
---
ExpressLink modules for secure connectivity to AWS Cloud
RF Design Telecoms, Datacoms, Wireless, IoT
u-blox has announced two new modules designed to enable Amazon Web Services (AWS) cloud services for device and fleet management out of the box: the NORA-W2 AWS IoT ExpressLink Wi-Fi module and the SARA-R5 
...
Read more...
---
Cellular antenna for 4G/LTE and 5G NR
iCorp Technologies Telecoms, Datacoms, Wireless, IoT
Antenova's new 'Affini' (part number SRFL064) is a flexible printed circuit (FPC) antenna for the LTE, 4G and 5G NR networks in global markets. This antenna covers all main 4G bands plus 617-698 MHz which 
...
Read more...
---
Passive MMIC diplexer
RF Design Telecoms, Datacoms, Wireless, IoT
The MDPX-0710 from Marki Microwave is a passive MMIC diplexer with passbands from DC to 7 GHz (low band) and 10 to 26,5 GHz (high band). It has an insertion loss of less than 0,9 dB within its passbands 
...
Read more...
---
Automotive-grade GNSS signal splitter
RF Design Telecoms, Datacoms, Wireless, IoT
Tallysman Wireless has added the TW162A automotive-grade 'Smart Power' GNSS signal splitter to its line of GNSS accessories. The device supports the full GNSS spectrum: GPS/QZSS-L1/L2/L5, QZSS-L6, GLONASS-G1/G2/G3, 
...
Read more...
---
u-blox extends 'bring your own SIM' approach to MQTT
RF Design Telecoms, Datacoms, Wireless, IoT
u-blox has introduced a service that gives IoT sensor network developers the flexibility to combine any cellular connectivity with all the benefits of MQTT communication. The u-blox MQTT Flex service 
...
Read more...
---
GNSS correction service receivers for cm-level accuracy
RF Design Telecoms, Datacoms, Wireless, IoT
For designers who require reliable centimetre-level positioning accuracy, e.g. for the industrial navigation and robotics markets, a new suite of products and feature additions have been rolled out by 
...
Read more...
---
4xMIMO cross-polarised antenna
RF Design Telecoms, Datacoms, Wireless, IoT
The TGX.04 from Taoglas is a 5G/4G 4xMIMO dipole antenna that operates from 450 to 6000 MHz. It supports worldwide sub-6 GHz cellular bands including 5G NR, LTE, NB-IoT, etc. This cross-polarised 
...
Read more...
---
High-linearity, multi-octave RF mixers for up to 40 GHz
RF Design Telecoms, Datacoms, Wireless, IoT
Two new SMT-packaged multi-octave RF mixers featuring high linearity and broad bandwidths have been added to Marki Microwave's stable of products. The MM1-1040HPSM is an ideal choice for 5G signal 
...
Read more...
---