printer friendly version
Type 2 gas discharge tube surge arrestors
1 May 2013
Circuit & System Protection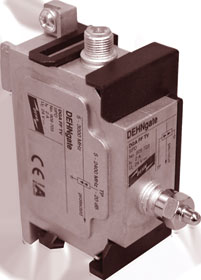 DEHN's DEHNgate is a family of lightning current surge arrestors with a cable adaptor design for protecting coaxial systems such as CCTV, mobile radio stations, cell sites and antenna systems from potential damage. According to the application, different mechanical and electrical types are available.
The 1/4 wave surge arrestors type DGA L4 provide an internal coaxial connection of the inner conductor as a band-pass. Only frequencies within this band are transmitted. For low-frequency impulses, such as lightning currents, they form a short circuit. This makes them mechanically robust and maintenance-free. Due to their low protection levels and high discharge capacity, they can be used as combined lightning current and surge arrestors.
Type DGA FF TV can be mounted on DIN rails in a space-saving way for protecting satellite systems with several outputs. For single applications such as cable TV, the wall-mounting adaptor, which the device can be clicked into, is helpful. Two F-cable connectors are also included.
If high partial lightning currents can couple into antenna lines or if very high transmission performances are required, 1/4 wave surge arrestors provide the best protection. If an additional remote supply is needed for the antenna, a combination of a gas discharge tube and 1/4 wave technology (DGA LG) should be used. The surge arrestors are made of top-quality material and provide excellent endurance.
Spark-gap based surge arrestors have an internal gas filled surge arrestor and can be defined as a low-pass. This also allows for DC transmission (antenna supply). Peak voltages exceeding the threshold value of the gas discharge tube are discharged.
These surge arrestors provide extensive contact surfaces from the inner conductor to the gas discharge tube. This minimises the burn-off of the material during the discharge and ensures a constant transmission performance.
For more information contact Surgetek, +27 (0)11 792 1303, info@surgetek.co.za, www.surgetek.co.za
Credit(s)
Further reading:
Clearing the Static: Three steps to a dry ESD packaging system
Actum Group Circuit & System Protection
To protect PCBs from both ESD and moisture, they should be stored in a vacuum-sealed moisture barrier bag. To complete a dry-packaging system, desiccant packs and humidity indicator cards should be 
...
Read more...
---
Clearing the Static: Complete ESD solutions for EPAs
Actum Group Circuit & System Protection
An electrostatic protected area (EPA) is a designated area where static is controlled under strict regulations. At Actum Group, we advise that EPAs should be viewed and completed as a whole project and 
...
Read more...
---
Variety of EMI shielding products
TRX Electronics Circuit & System Protection
Laird Performance Materials offers customised, robust protection from harmful performance-draining EMI (electromagnetic interference). Its broad range of shielding products can be tailored to any application, 
...
Read more...
---
Port protection IC for MCUs tailored to USB-C dual-role power
Future Electronics Circuit & System Protection
The STMicroelectronics TCPP03-M20 USB Type-C port protection IC is tailored for Dual-Role Power (DRP) applications, simplifying the design of products that can act as a power source for connected devices 
...
Read more...
---
EMC solutions for demanding applications
TRX Electronics Circuit & System Protection
Available from local TTI distributor, TRX Electronics, is Schurter's wide range of standard products ensuring electromagnetic compatibility (EMC). Products include single- and three-phase line filters 
...
Read more...
---
EMI filter for space-sensitive designs
Altron Arrow Circuit & System Protection
Engineered as a dual-channel filter array, the VEMI256A-SD2 two-channel EMI filter from Vishay Intertechnology helps suppress electromagnetic interference (EMI) and radio frequency interference (RFI) 
...
Read more...
---
Clearing the Static: ESD training and compliance in the workplace
Actum Group Circuit & System Protection
ESD (electrostatic discharge) can change the electrical characteristics of a semiconductor device by degrading or destroying it entirely. ESD can potentially damage electronic systems, causing equipment 
...
Read more...
---
Lightning current protection for four-conductor systems
Phoenix Contact Circuit & System Protection
The Termitrab complete product family from Phoenix Contact provides narrow surge protective devices for measurement and control technology. With immediate effect, the TTC-6P-4… protective devices for 
...
Read more...
---
Clearing the Static: ESD cleaning
Actum Group Circuit & System Protection
To avoid ESD damage to electronic assemblies or components, they must be manufactured, handled, packaged and stored in an ESD protected environment.       It is essential that these ESD protected workplace 
...
Read more...
---
20 mm higher pin heatsink provides 20% better performance
Sivan Electronic Supplies Circuit & System Protection
With an overall height of 65 mm, the new PO 98-98-65-AL pin heatsink from Alutronic exceeds the established maximum standard height of 45 mm. In the case of the PO 98-98-65-AL, the additional 20 mm improves 
...
Read more...
---