printer friendly version
Fans resistant to salt corrosion
1 May 2013
Circuit & System Protection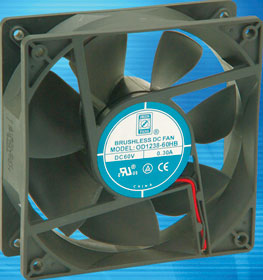 Orion Fans has designed a series of AC and DC fans tested to tough environmental conditions, including salt fog, salt spray, temperature changes and humidity.
The OA109 series AC fans, OA172 series AC fans and OD1238 series DC fans meet the international standards on salt spray tests GR487, ASTM-B-117 and ISO 9227, and are rated to IP55.
The fans meet or exceed accelerated salt spray and salt fog testing that can last from eight hours up to 3000 hours, an achievement that ensures corrosion resistance. This testing is typically performed on products used for marine, automotive, military and other outdoor uses.
The O172 series AC fans feature diecast aluminium frames and a dual ball bearing system that withstands exposure to intense conditions, such as those encountered in marine external circulation and telecommunication systems.
The OA109 series and OA172 series are available in both 115 V a.c. and 230 V a.c., power ratings ranging from 8 W to 35 W, and airflows ranging from 110 CFM to 235 CFM. The OA109's design provides an L10 life expectancy of 60 000 hours due to its top-quality ball bearings.
The OD1238 DC series fans are available in 12 V, 24 V, 48 V and 60 V versions with airflows of 73 CFM or 154 CFM and an operational L10 life span of 65 000 hours. Other custom DC voltages are available upon request.
Custom sizes, as well as DC fans and blowers with special functions such as tachometer output, locked rotor alarm, pulse width modulation (PWM) input, and thermal and constant speed controls are also available upon request.
For more information visit www.orionfans.com
Further reading:
New transient voltage suppressors for automotive applications
EBV Electrolink Circuit & System Protection
The devices offer high surge capability of 3000 W and a high temperature operation up to 175°C for signal line protection.
Read more...
---
Clearing the Static: Safe storage and transportation of ESD-sensitive components
Actum Group Circuit & System Protection
During storage and transportation outside of an ESD-protected area (EPA), it is recommended that ESD-sensitive items are enclosed in packaging that provides ESD shielding. In addition to effective static 
...
Read more...
---
Clearing the Static: Three steps to a dry ESD packaging system
Actum Group Circuit & System Protection
To protect PCBs from both ESD and moisture, they should be stored in a vacuum-sealed moisture barrier bag. To complete a dry-packaging system, desiccant packs and humidity indicator cards should be 
...
Read more...
---
Clearing the Static: Complete ESD solutions for EPAs
Actum Group Circuit & System Protection
An electrostatic protected area (EPA) is a designated area where static is controlled under strict regulations. At Actum Group, we advise that EPAs should be viewed and completed as a whole project and 
...
Read more...
---
Variety of EMI shielding products
TRX Electronics Circuit & System Protection
Laird Performance Materials offers customised, robust protection from harmful performance-draining EMI (electromagnetic interference). Its broad range of shielding products can be tailored to any application, 
...
Read more...
---
Port protection IC for MCUs tailored to USB-C dual-role power
Future Electronics Circuit & System Protection
The STMicroelectronics TCPP03-M20 USB Type-C port protection IC is tailored for Dual-Role Power (DRP) applications, simplifying the design of products that can act as a power source for connected devices 
...
Read more...
---
EMC solutions for demanding applications
TRX Electronics Circuit & System Protection
Available from local TTI distributor, TRX Electronics, is Schurter's wide range of standard products ensuring electromagnetic compatibility (EMC). Products include single- and three-phase line filters 
...
Read more...
---
EMI filter for space-sensitive designs
Altron Arrow Circuit & System Protection
Engineered as a dual-channel filter array, the VEMI256A-SD2 two-channel EMI filter from Vishay Intertechnology helps suppress electromagnetic interference (EMI) and radio frequency interference (RFI) 
...
Read more...
---
Clearing the Static: ESD training and compliance in the workplace
Actum Group Circuit & System Protection
ESD (electrostatic discharge) can change the electrical characteristics of a semiconductor device by degrading or destroying it entirely. ESD can potentially damage electronic systems, causing equipment 
...
Read more...
---
Lightning current protection for four-conductor systems
Phoenix Contact Circuit & System Protection
The Termitrab complete product family from Phoenix Contact provides narrow surge protective devices for measurement and control technology. With immediate effect, the TTC-6P-4… protective devices for 
...
Read more...
---