printer friendly version
AISG modem transceiver
1 May 2013
Telecoms, Datacoms, Wireless, IoT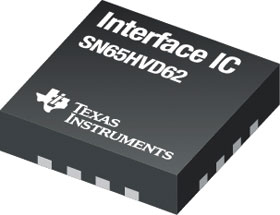 Texas Instruments introduced an on-off keying modem transceiver compliant with the Antenna Interface Standards Group (AISG) v2.0 specification. The SN65HVD62 modulates and demodulates signals between the logic (baseband) and a frequency suitable for long coaxial media such as AISG coaxial links between base station and tower-mounted equipment, tower-mounted amplifiers, remote electrical tilt units and control links on microwave towers. The chip offers a standby mode and a 33 mA supply current to reduce power consumption and simplify cooling mechanisms. It integrates all components required to transmit and receive signals, including an active band-pass filter to demodulate signals even in the presence of spurious frequency components.
EBV Electrolink, +27 (0)21 402 1940, [email protected], www.ebv.com
Credit(s)
Further reading:
Flexible 4G/LTE PCB antenna
RF Design Telecoms, Datacoms, Wireless, IoT
The new 4G/LTE antenna from Taoglas is a flexible antenna operating over the frequency range from 698 MHz to 3 GHz, and which provides a peak gain of 5 dBi.
Read more...
---
Qorvo announces fully integrated UWB module
RF Design Telecoms, Datacoms, Wireless, IoT
Qorvo has announced the DWM3001C, a fully integrated ultra-wideband (UWB) module that enables robust UWB implementation in factory, warehouse, automation and safety systems.
Read more...
---
Earn helium when devices connect to your hotspot
Otto Wireless Solutions Telecoms, Datacoms, Wireless, IoT
Otto Wireless Solutions has announced the A150000 RAK Hotspot Helium Miner v2 which earns helium when devices connect as well as for validating wireless coverage delivered by peers on the network.
Read more...
---
Connectivity for the future with new SIMCom modules
Otto Wireless Solutions Telecoms, Datacoms, Wireless, IoT
With the global phasing out of 2G, SIMCom's new low-cost 4G modules are looking to future-proof your designs by replacing the older 2G modules.
Read more...
---
New high current through-hole inductors
EBV Electrolink Passive Components
Vishay has released a high current, through-hole inductor for use in high current and high temperature applications, DC/DC converters, high current differential chokes and inverters.
Read more...
---
Cellular module with embedded SIM
RF Design Telecoms, Datacoms, Wireless, IoT
The SARA-R500E LTE-M module from u-blox has an embedded SIM and offers product developers an integrated, robust, and secure solution to connect IoT applications to the cellular network.
Read more...
---
Samsung launches GDDR6 RAM module
EBV Electrolink Computer/Embedded Technology
The DRAM is capable of 24 Gbps processing speeds and will significantly advance the graphics performance of AI-based applications and high-performance computing.
Read more...
---
5G-CARMEN project creates 600 km corridor
Telecoms, Datacoms, Wireless, IoT
The project has demonstrated the capability of autonomous vehicles to leverage the 5G cellular network to provide a multi-tenant platform with the goal of enabling self-driving cars.
Read more...
---
GNSS receiver module to extend runtime by 500%
iCorp Technologies Telecoms, Datacoms, Wireless, IoT
Antenova has announced the GNSSNOVA M20071 GNSS receiver module with power consumption reduced five-fold to enable smaller tracker designs, and trackers that could run five times longer.
Read more...
---
SolidRun releases a SoM solution based on a Renesas SoC
EBV Electrolink DSP, Micros & Memory
In partnership with Renesas, SolidRun has released a SoM solution based on the powerful RZ/G2 family of SoCs, which are engineered for AI-enhanced HMI applications.
Read more...
---