printer friendly version
AISG modem transceiver
1 May 2013
Telecoms, Datacoms, Wireless, IoT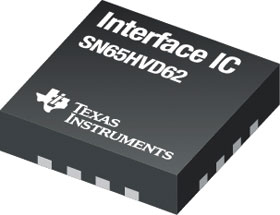 Texas Instruments introduced an on-off keying modem transceiver compliant with the Antenna Interface Standards Group (AISG) v2.0 specification. The SN65HVD62 modulates and demodulates signals between the logic (baseband) and a frequency suitable for long coaxial media such as AISG coaxial links between base station and tower-mounted equipment, tower-mounted amplifiers, remote electrical tilt units and control links on microwave towers. The chip offers a standby mode and a 33 mA supply current to reduce power consumption and simplify cooling mechanisms. It integrates all components required to transmit and receive signals, including an active band-pass filter to demodulate signals even in the presence of spurious frequency components.
EBV Electrolink, +27 (0)21 402 1940, [email protected], www.ebv.com
Credit(s)
Further reading:
Rapid prototyping with new Xilinx FPGA evaluation kit
EBV Electrolink Programmable Logic
Equipped with the Xilinx Spartan-7 FPGA, the kit is built for rapid prototyping of industrial networking, embedded vision and automotive designs.
Read more...
---
Curiosity Nano development platform
EBV Electrolink DSP, Micros & Memory
Microchip Curiosity Nano (MC Nano) is a development platform which may be used to develop applications equipped with some of the 32-bit products from the PIC32 and SAM families.
Read more...
---
Multi-protocol IoT prototyping platform
RF Design Telecoms, Datacoms, Wireless, IoT
The Nordic Thingy:53 brings dual-core Arm Cortex-M33 processing power and embedded machine learning to rapid IoT product prototyping.
Read more...
---
Quectel launches a high-performance single-band GNSS module
iCorp Technologies Telecoms, Datacoms, Wireless, IoT
The LC76G GNSS positioning module features fast and accurate position location performance as well as ultra-low power consumption.
Read more...
---
Power amplifier operates from 17,3 to 21,2 GHz
RF Design Telecoms, Datacoms, Wireless, IoT
The new QPA1724 power amplifier from Qorvo delivers a saturated output power of 20 W over the full frequency range.
Read more...
---
Infineon releases new high-efficiency buck regulator module
EBV Electrolink Power Electronics / Power Management
This new buck regulator module has a 3 A single output with integrated inductor and offers high-efficiency load regulation in a compact package.
Read more...
---
Directional coupler has a frequency range from 0,6 to 40 GHz
RF Design Telecoms, Datacoms, Wireless, IoT
The CE10-0R640 coupler from Marki Microwave is a 10 dB broadband directional coupler with directivity of 22 dB and insertion loss less than 2,3 dB.
Read more...
---
ST's new ToF sensor has double the range of existing modules
EBV Electrolink Opto-Electronics
The new sensor combines revolutionary metasurface lens technology with a more powerful and efficient laser and improved on-chip signal processing.
Read more...
---
RF amplifier with low phase noise
RF Design Telecoms, Datacoms, Wireless, IoT
The APM-7516 is available in a connectorised module that measures 2,85 x 1,5 x 1 cm, with 2,92 mm connectors.
Read more...
---
'World's smallest' LTE Cat 4 module with global coverage and 2G/3G fallback
RF Design Telecoms, Datacoms, Wireless, IoT
LARA-L6 is ideal for size-constrained applications such as video surveillance, dashcams, telematics, gateways, routers and connected health devices.
Read more...
---