printer friendly version
Long-life white LEDs
29 May 2013
Opto-Electronics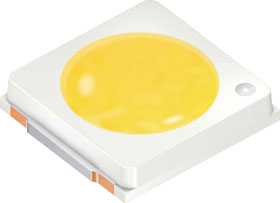 Duris S 5 is the latest high-tech addition to OSRAM Opto Semiconductors' Duris LED family. This new component offers an impressive lifetime of more than 35 000 hours and can withstand temperatures up to 105°C. It is ideal for indoor lighting, in retrofits, in downlights or in panel luminaires.
The packaging is made from highly robust synthetic material that is resistant to ageing caused by high temperatures and shortwave blue light. The square footprint and the small round light-emitting surface translate into a compact arrangement in the lamp. This in turn means that the light can be efficiently coupled into secondary optics such as lenses and reflectors.
The new Duris is being launched in three versions with different chip surfaces and therefore three different brightness levels.
The ideal application for the first version is anywhere where a large amount of light has to be emitted from a small surface area, for example in downlights and LED retrofits. At 3000 K and a CRI of 80, it achieves a brightness of 97 lm and an efficacy of more than 100 lm/W at an operating current of 150 mA. Its optimised forward voltage of around 6 V means that efficient driver solutions can be used that have a beneficial effect on the cost-effectiveness of the overall system.
The second version is designed for high efficacy, achieving 125 lm/W at 65 mA with 24 lm at 3000 K. It is therefore designed for use in panel luminaires and linear retrofits in which individual light points should not be visible and low energy consumption is an important consideration.
Version three has only a slightly lower efficacy and is designed for optimum system costs. It achieves an efficacy of 113 lm/W with a brightness of 28 lm, also at 3000 K.
For more information contact Ryan Hunt, OSRAM Opto Semiconductors, +27 (0)79 525 1779, r.hunt@osram.com, www.osram-os.com
Credit(s)
Further reading:
Customisable industrial display
25 March 2020, Vepac Electronics , Opto-Electronics
Topcon Positioning Group announces a pre-series release of its new OPUS B-Series display available for the developer, systems integrator and manufacturer market for user-interface design and implementation 
...
Read more...
---
Automotive-grade optocoupler
25 March 2020, Altron Arrow , Opto-Electronics
Vishay introduced a new automotive-grade phototransistor optocoupler that combines a high current transfer ratio (CTR) range from 50% to 600% with a low forward current of 1 mA in the compact SOP-4 mini-flat 
...
Read more...
---
Automotive LED drivers and controllers
29 January 2020, Future Electronics , Opto-Electronics
ON Semiconductor has launched a new family of four devices that facilitate the high levels of performance and innovative functionality that vehicle manufacturers and consumers now expect from automotive 
...
Read more...
---
Photocouplers for industrial equipment and solar inverters
29 January 2020, Hi-Q Electronics , Opto-Electronics
Renesas Electronics announced five new 8,2 mm creepage photocouplers that are the world's smallest isolation devices for industrial automation equipment and solar inverters. With a package width of 2,5 mm, 
...
Read more...
---
Image sensor evaluation kits
25 November 2019, Future Electronics , Opto-Electronics
Ams has released the NanoVision and NanoBerry evaluation kits, which provide a ready-made platform for the development of innovative solutions based on the ams NanEyeC miniature image sensor. The NanEyeC 
...
Read more...
---
VentoFlex modular LED lighting system
23 October 2019, Mimic Components , Opto-Electronics
Visual Communications Company (VCC) launched its VentoFlex flexible modular lighting system. The system is made up of flexible copper clad laminate (FCCL) sheets with 90 CRI Luxeon LEDs. VentoFlex was 
...
Read more...
---
LED flicker, and how to prevent it
28 August 2019, Avnet South Africa , Opto-Electronics
With the growing popularity of LED lighting, especially now that very cheap LED luminaires are coming to the market, flicker is becoming more of a problem. Flicker, a repetitive switching on and off 
...
Read more...
---
Digital fibre-optic sensor
28 August 2019, Vepac Electronics , Opto-Electronics
The DFS digital fibre-optic sensor series from Tri-Tronics is designed to provide reliable detection using plastic fibre-optic light guides. The slim-line housing with protective lid will fit in a variety 
...
Read more...
---
All-in-one light pipe system
28 August 2019, Vepac Electronics , Opto-Electronics
Bivar's Zero Light Bleed adaptor technology, with built-in surface-mount LED, channels light directly to the lens, eliminating disruptive light bleed. The all-in-one adaptor system is built with optimum 
...
Read more...
---
High-intensity colour LEDs
31 July 2019, Würth Elektronik eiSos , Opto-Electronics
Würth Elektronik has expanded its LED portfolio with a particularly compact model family. The WL-SMCC series of SMT chip LEDs, available in 0402 and 0603 packages, is characterised by a full-surface lens 
...
Read more...
---