printer friendly version
Point-of-load regulator
24 July 2013
Power Electronics / Power Management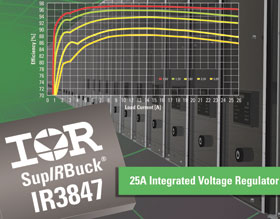 International Rectifier has introduced the IR3847 point-of-load voltage regulator that extends the current rating of the third generation SupIRBuck family up to 25 A in a compact 5 x 6 mm package.
As a result of a new thermally enhanced package using copper clip and several proprietary innovations in the controller, the device can operate at 25 A without a heatsink, and claims to reduce PCB size by 70% compared to discrete solutions using a controller and power MOSFETs. A complete 25 A power supply solution can be implemented in as little as 168 mm².
The IR3847 integrates power MOSFETs with a feature-rich SupIRBuck controller that includes post-package precision dead-time trimming to optimise losses, and internal smart LDO to optimise efficiency across the entire load range.
True differential remote sense essential for high-current applications, 0,5% reference voltage accuracy over the 25°C to 105°C temperature range, input feed-forward and ultra-low jitter combine to enable total output voltage accuracy less than 3% over line, load and temperature, as required by high-performance communications and computing systems.
As part of the new Gen3 SupIRBuck single input voltage (5 V-21 V) family, the IC features a proprietary modulator scheme that reduces jitter by 90% compared to standard solutions. This has the dual benefit of reducing output voltage ripple and allowing higher frequency/higher bandwidth operation for smaller size, better transient response and fewer output capacitors.
Available in a compact 5 x 6 mm PQFN package, the IR3847 offers peak efficiency greater than 96% and temperature rise at 25 A as low as 50°C. Other features include external synchronisation, sequencing, VTT tracking and output voltage margining.
Pinout is optimised for easy placement of bypass capacitors and the internal, thermally compensated current limit offers three settings that allow programmability without extra components and layout complications.
The regulator offers the standard SupIRBuck features of switching frequency up to 1,5 MHz, pre-biased startup, input voltage-aware enable, over-voltage protection, power good, optional true output voltage sensing for open line feedback and adjustable OVP, internal soft-start and minimum input voltage of 1,0 V (with external bias) and operating junction temperatures of -40°C to 125°C. The device is qualified for the industrial market.
For more information contact Marian Ledgerwood, Future Electronics, +27 (0)21 421 8292, marian.ledgerwood@futureelectronics.com, www.futureelectronics.com
Credit(s)
Further reading:
Maintaining backup battery systems for maximum usage and reliability
30 September 2020, Comtest , Power Electronics / Power Management
Standby battery backup systems play a critical role in keeping essential operations functional in the event of a utility outage. Facilities like data centres, hospitals, airports, utilities, oil and gas 
...
Read more...
---
Double the power output from new Tadiran battery
30 September 2020, Altron Arrow , Power Electronics / Power Management
Tadiran has developed the latest in its PulsesPlus HLC battery range, doubling the power output of its previous offering. Recently the company launched the C-type HLC which represented a huge improvement 
...
Read more...
---
Bidirectional DC power supply for lab testing
30 September 2020, Conical Technologies , Power Electronics / Power Management
The new IT-M3400 bidirectional DC power supply from ITECH integrates the features of a bidirectional power supply and a regenerative load. It inherits the advantages of high power density and modular 
...
Read more...
---
Global analysis of the solid-state battery market
30 September 2020 , Power Electronics / Power Management
The rapid growth of the electric vehicle market has driven the development, manufacture and sales of batteries, especially lithium-ion batteries. In the meantime, market research firm IDTechEx has identified 
...
Read more...
---
Solar lithium storage system
30 September 2020, Vepac Electronics , Power Electronics / Power Management
The US2000 Plus is a latest-generation lithium storage unit. Combining enhanced safety with a long service life – even when at low levels of charge on a regular basis – it meets the demanding requirements 
...
Read more...
---
Cost optimised power supplies
30 September 2020, Current Automation , Power Electronics / Power Management
The Dimension CP-Series from PULS are cost optimised power supplies without compromising quality, reliability and performance. The most noteworthy features of the CP10.241–R1/-R2 units are their high 
...
Read more...
---
1 kW programmable DC power supplies
30 September 2020, Accutronics , Power Electronics / Power Management
TDK-Lambda announced the introduction of the G1kW and GH1kW series of 1U high programmable DC power supplies. These new products further expand the GENESYS+ series, offering up to 1000 W output power 
...
Read more...
---
DC-DC converters certified for railway radio
30 September 2020, Vepac Electronics , Power Electronics / Power Management
In addition to the existing certificates for the compliance of EMC characteristics according to EN 50121-3-2, MTM Power can now also prove compliance with the technical regulation EMV 06 – verification 
...
Read more...
---
Cosel expands microprocessor controlled power supplies offering
30 September 2020, Vepac Electronics , Power Electronics / Power Management
Cosel has announced the addition of a 3000 W AC/DC enclosed power supply for industrial and demanding semiconductors applications. Designed with advanced built-in digital microprocessor technology, the 
...
Read more...
---
Boost charger for 2-cell series lithium-ion battery
29 July 2020, NuVision Electronics , Power Electronics / Power Management
The MP2672 from Monolithic Power Systems is a highly integrated, flexible switch-mode battery charger IC for a lithium-ion battery with two cells in series, which is used in a wide range of portable applications. When 
...
Read more...
---