printer friendly version
High-voltage tantalum capacitors
24 July 2013
Passive Components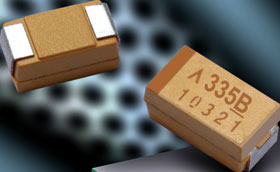 AVX has surpassed previous voltage rating milestones with the introduction of the new TCJ 100 V and 125 V tantalum polymer capacitors. As the highest-voltage tantalum capacitors currently on the market, the new surface-mount chip capacitors provide excellent capacitance and ultra-low ESR in a compact case size.
By maintaining 20% recommended voltage derating, TCJ series capacitors significantly extend the usable voltage range and can be used for a wide array of high-voltage applications, including telecommunications equipment, base stations, switching hubs, router and line filters, DC-DC converters in LED TVs and notebook computer power supplies, and a host of industrial applications.
The new parts exhibit a benign failure mode, which eliminates the ignition failures that can occur in standard MnO2 tantalum technology, increases robustness and mitigates any tendency to overload or burn. Subjected to strict ageing and screening processes to ensure that all parts demonstrate the highest reliability, TCJ series capacitors maintain high reliability exceeding 1% per 1000 hours at 85°C and full-rated voltage.
Rated for use from -55°C to +105°C, the capacitors come in the 2924 case size for the 100 V and 2917 for the 125 V, and are compatible with high-speed pick and place manufacturing processes.
For more information contact Yolandi de Beer, Avnet Kopp, +27 (0)11 319 8600, yolandi.debeer@avnet.co.za, www.avnet.co.za
Credit(s)
Further reading:
Capacitors for fast-switching semiconductors
30 September 2020, TRX Electronics , Passive Components
KEMET's KC-LINK surface mount capacitors are designed to meet the growing demand for fast switching wide bandgap (WBG) semiconductors that operate at higher voltages, temperatures, and frequencies. These 
...
Read more...
---
High-reliability screening for PPI's capacitors
30 September 2020, RFiber Solutions , Passive Components
As typical electrical tests may not detect internal flaws such as voids, cracks, delaminations and electrode discontinuities, which can lead to latent and/or catastrophic failures in high-power applications, 
...
Read more...
---
Rugged three-phase AC filter capacitors
30 September 2020, Electrocomp , Passive Components
TDK introduced two new series of EPCOS power capacitors for AC filtering in three-phase delta connection applications. The B32375* series is designed for the low to medium power range and covers a capacitance 
...
Read more...
---
USB Type-C charging controllers
29 July 2020, Avnet Silica , Power Electronics / Power Management
Designers can overcome the challenges of implementing USB-C Power Delivery (PD) with the MAX77958 USB-C PD controller and the MAX77962 28 W buck-boost charger from Maxim Integrated Products. As portable 
...
Read more...
---
High accuracy inclinometer with machine learning core
30 September 2020, Avnet Silica , Analogue, Mixed Signal, LSI
The IIS2ICLX from STMicroelectronics is a high accuracy, low power, 2-axis digital inclinometer for use in applications such as industrial automation and structural health monitoring. It features a 
...
Read more...
---
11th Gen Intel Core processors with new design options
30 September 2020, Avnet Silica , Computer/Embedded Technology
In parallel with the 11th Gen Intel Core processor launch (code named Tiger Lake), congatec has launched both its first COM-HPC Client size A module and a next generation COM Express Compact Computer-on-Module. 
...
Read more...
---
Metallised polypropylene film capacitors
30 September 2020, Avnet Abacus , Passive Components
Vishay Intertechnology has introduced a new series of Automotive Grade DC-Link metallised polypropylene film capacitors optimised for high humidity environments. The Vishay Roederstein MKP1848H DC-Link 
...
Read more...
---
Mini air core inductors
29 July 2020, RF Design , Passive Components
Coilcraft has released its latest mini air core inductors, the 1512SP /2712SP Series. Specifications include Q factors up to 100 at 150 MHz; a wide range of standard EIA inductance values from 2,5 to 
...
Read more...
---
Sensor bridge for 1-Wire protocol
31 August 2020, Avnet Silica , Telecoms, Datacoms, Wireless, IoT
Designers expanding connections to remote sensor networks can now reduce complexity and cost to the industry's lowest levels with the DS28E18 1-Wire to I
2
C/SPI bridge from Maxim Integrated Products. By 
...
Read more...
---
Supercapacitors usurping batteries, says IDTechEx
31 August 2020 , Passive Components
A new IDTechEx report shows that supercapacitors have started to replace 10% of lithium-ion batteries and also help to kill lead-acid.
Read more...
---