printer friendly version
Microchip's new firmware development framework sounds sweet
29 January 2014
Design Automation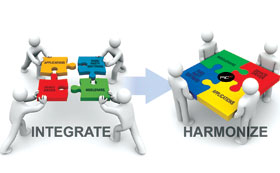 Microchip has introduced a comprehensive 32-bit microcontroller firmware development framework with its announcement of MPLAB Harmony. This framework is the first to integrate the licensing, resale and support of both Microchip and third-party middleware, drivers, libraries and real-time operating systems.
Currently, Harmony includes third-party offerings from Interniche, freeRTOS, wolfSSL and OpenRTOS, with many more on the way. The result is that developers can greatly simplify their PIC32 MCU code development process by reducing common integration bugs.
With the growing complexity of embedded systems, industry studies have shown that software development accounts for 60% of the average design cycle. At the same time, designers are using a variety of software with untested compatibility and multiple sources of purchasing and support. This causes increased verification and debug time after the design is completed, which can cost 10 to 30 times more than defects found during the design phase.
The MPLAB Harmony framework reduces development time and costs by providing a single integrated, abstracted and flexible source for Microchip-tested, debugged and interoperable code. In addition, it provides a modular architecture that enables the efficient integration of multiple drivers, middleware and libraries, while offering an RTOS-independent environment that makes it easy to switch RTOSs.
Not only does this pre-verification and integration speed development, it also increases reuse. On the hardware side, the Harmony framework makes it even easier to port code and migrate among all of Microchip's 32-bit PIC32 microcontrollers. Also, by using this single source for in-house and third-party code (both free and premium) that is supported by Microchip, designers can greatly increase their reaction times to their ever-changing end-market requirements.
MPLAB Harmony is available today, and the basic framework is free. The first release provides initial support for the new PIC32MZ family, as well as the PIC32MX families. Full support for all PIC32 families is planned for the next version release, which is expected in March 2014. Once downloaded, there is a modular menu of free and premium software options that are also available today.
For more information contact Arrow Altech Distribution, +27 (0)21 555 1884, aathanasiou@arrow.altech.co.za, www.arrow.altech.co.za, Avnet Kopp, +27 (0)11 319 8600, shane.padayachee@avnet.eu, www.avnet.co.za
Credit(s)
Further reading:
Double the power output from new Tadiran battery
30 September 2020, Altron Arrow , Power Electronics / Power Management
Tadiran has developed the latest in its PulsesPlus HLC battery range, doubling the power output of its previous offering. Recently the company launched the C-type HLC which represented a huge improvement 
...
Read more...
---
MCUs with low-power animated display driver
28 October 2020, Altron Arrow , DSP, Micros & Memory
System developers of battery-powered and other power-conscious designs with and without LCD displays can now easily add an array of innovative features using a new line of PIC eXtreme Low Power (XLP) 
...
Read more...
---
Licence- and royalty-free ensemble graphics toolkit
28 October 2020, Altron Arrow , Design Automation
Graphical user interfaces (GUIs) and interactive touchscreen displays provide intuitive user experiences in applications from robotic and machine controls to medical user interfaces, automotive instrumentation 
...
Read more...
---
Low-voltage battery monitor floats into high-voltage EVs
28 October 2020, Altron Arrow , Power Electronics / Power Management
EV movers
If you are not already driving an electric vehicle (EV) – hybrid electric vehicle (HEV), plug-in hybrid vehicle (PHEV), or all-electric vehicle – chances are, you may be soon. Range anxiety 
...
Read more...
---
High-voltage analog multiplexers
30 September 2020, Altron Arrow , Analogue, Mixed Signal, LSI
Diodes Incorporated announces the PS508 and PS509 analog multiplexers that are capable of switching signal voltages of up to 36 V in an industrial environment. The high voltage capability of the devices 
...
Read more...
---
Low inductance SiC power module gate driver kit
31 August 2020, Altron Arrow , Analogue, Mixed Signal, LSI
The transformation to electrify transportation – from trains, trams and trolleys to buses, automobiles and EV chargers – continues at a rapid pace, as countries shift toward improved modes of transit 
...
Read more...
---
HMI for IoT development kit
29 July 2020, RS Components (SA) , Design Automation
Optimised for HMI development in the IoT (Internet of Things), Renesas Electronics' RX72N Envision Kit offers a highly sophisticated and integrated platform for developing applications that require a 
...
Read more...
---
DACs with 1 or 2 channels
31 August 2020, Altron Arrow , Analogue, Mixed Signal, LSI
The MCP47CXBXX/MCP48CXBXX are single- and dual-channel 8-bit, 10-bit and 12-bit buffered voltage output digital-to-analog converters (DAC), with volatile or MTP memory and an I2C/SPI interface. The MTP 
...
Read more...
---
Generating very low voltages with standard regulators
30 September 2020, Altron Arrow , Power Electronics / Power Management
Question:
   What is a good solution for generating a tiny DC supply voltage of a few hundred millivolts?      
Answer:
All that is needed is a clean additional positive voltage to hook up to the feedback 
...
Read more...
---
Smoke detection matters
30 September 2020, Altron Arrow , Editor's Choice, Analogue, Mixed Signal, LSI
Smoke detection regulations are critically important when the value proposition is as basic as human life itself.
Read more...
---