printer friendly version
Microchip's new firmware development framework sounds sweet
29 January 2014
Design Automation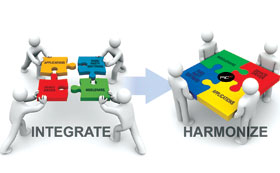 Microchip has introduced a comprehensive 32-bit microcontroller firmware development framework with its announcement of MPLAB Harmony. This framework is the first to integrate the licensing, resale and support of both Microchip and third-party middleware, drivers, libraries and real-time operating systems.
Currently, Harmony includes third-party offerings from Interniche, freeRTOS, wolfSSL and OpenRTOS, with many more on the way. The result is that developers can greatly simplify their PIC32 MCU code development process by reducing common integration bugs.
With the growing complexity of embedded systems, industry studies have shown that software development accounts for 60% of the average design cycle. At the same time, designers are using a variety of software with untested compatibility and multiple sources of purchasing and support. This causes increased verification and debug time after the design is completed, which can cost 10 to 30 times more than defects found during the design phase.
The MPLAB Harmony framework reduces development time and costs by providing a single integrated, abstracted and flexible source for Microchip-tested, debugged and interoperable code. In addition, it provides a modular architecture that enables the efficient integration of multiple drivers, middleware and libraries, while offering an RTOS-independent environment that makes it easy to switch RTOSs.
Not only does this pre-verification and integration speed development, it also increases reuse. On the hardware side, the Harmony framework makes it even easier to port code and migrate among all of Microchip's 32-bit PIC32 microcontrollers. Also, by using this single source for in-house and third-party code (both free and premium) that is supported by Microchip, designers can greatly increase their reaction times to their ever-changing end-market requirements.
MPLAB Harmony is available today, and the basic framework is free. The first release provides initial support for the new PIC32MZ family, as well as the PIC32MX families. Full support for all PIC32 families is planned for the next version release, which is expected in March 2014. Once downloaded, there is a modular menu of free and premium software options that are also available today.
For more information contact Arrow Altech Distribution, +27 (0)21 555 1884, aathanasiou@arrow.altech.co.za, www.arrow.altech.co.za, Avnet Kopp, +27 (0)11 319 8600, shane.padayachee@avnet.eu, www.avnet.co.za
Credit(s)
Further reading:
How a 16-bit output module can be controlled with full isolation from the MCU
25 November 2020, Altron Arrow , Analogue, Mixed Signal, LSI
Whether in buildings or on production floors, programmable controllers are needed everywhere today to regulate various processes, machines, and systems. This involves programmable logic controllers (PLCs) 
...
Read more...
---
Active GNSS patch antenna
25 November 2020, Altron Arrow , Telecoms, Datacoms, Wireless, IoT
The Taoglas ASGGB184.A is a single-band, active GNSS patch antenna covering GPS, GLONASS, BeiDou and Galileo. With hidden active circuitry embedded between the ceramic patch and PCB base, it has been 
...
Read more...
---
SiC SBDs for automotive applications
25 November 2020, Altron Arrow , Power Electronics / Power Management
As vehicle electrification continues rapid growth worldwide, innovative power technologies such as silicon carbide (SiC) are required for high-voltage automotive systems ranging from motors to on-board 
...
Read more...
---
Out-of-the-box global MTC connectivity
25 November 2020, Altron Arrow , Telecoms, Datacoms, Wireless, IoT
The Thales Cinterion EGX81 Efficient IoT Gateway raises the bar on IoT simplicity, delivering highly efficient global Machine Type Communications (MTC) connectivity straight out of the box. The EGX81 
...
Read more...
---
Littelfuse launches DC disconnect switch product line
25 November 2020, Altron Arrow , Circuit & System Protection
Littelfuse has expanded its solar product line of fuses, relays, surge protection devices, and more with its new DC disconnect switch. Trusted with over 25 million installations, Littelfuse understands 
...
Read more...
---
Altron appoints new company secretary
25 November 2020, Altron Arrow , News
Nicole Morgan has been appointed as company secretary of Altron with effect from 1 January 2021. An admitted attorney of the High Court with 11 years of corporate law and company secretarial experience, 
...
Read more...
---
MCU module for Bluetooth 5.2 low energy applications
25 November 2020, Altron Arrow , Telecoms, Datacoms, Wireless, IoT
The certified WB2072-00 module from Jorjin is a wireless MCU (microcontroller) module targeting Bluetooth 5.2 low energy applications. It is based on the STMicroelectronics BlueNRG-355AC wireless MCU 
...
Read more...
---
RTLS tag module for real-time positioning
25 November 2020, Altron Arrow , Telecoms, Datacoms, Wireless, IoT
Inpixon announced the launch of its newest smart tag module, the swarm bee LE V3, supporting a range of indoor and outdoor location applications including real-time location systems (RTLS). This is 
...
Read more...
---
The A to Z of A2B applications
25 November 2020, Altron Arrow , Editor's Choice, Telecoms, Datacoms, Wireless, IoT
An A
2
B device's support for up to 32 channels of downstream audio and upstream audio on the network facilitate the distribution of multiple channels of different audio content within a single system.
Read more...
---
Enhanced RF connectors and terminators
25 November 2020, Altron Arrow , Interconnection
Amphenol RF has expanded its SMP product series with enhanced performance connectors and the introduction of terminators. SMP connectors are ideal for telecommunications and military applications which 
...
Read more...
---