printer friendly version
Programmable 800 and 1500 W PSUs
29 January 2014
Power Electronics / Power Management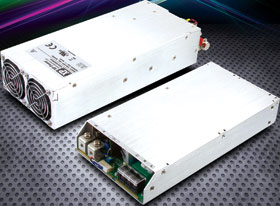 XP Power announced the HDS series of 800 and 1500 Watt programmable AC-DC power supplies. With a typical efficiency of up to 93%, these single-output units measure 249 x 127 x 40,9 mm for the 800 W models and 280 x 127 x 63,5 mm for the 1500 W range and fit into an industry standard 1U or 2U profile. Two front mounted, variable speed fans, included in the above dimensions, help conserve energy and keep noise to a minimum.
Both the output voltage and output current are programmable from 0% through to 105% of stated nominal through a serial RS-232 interface, I²C interface, a 0 to +5 V d.c. input or via an external potential divider. By programming the output current, a true constant current output is achieved down to almost zero volts, this being significantly better than the industry norm which is typically only down to 20-40%.
The HDS series comprises seven models covering the popular nominal outputs from +12 to +60 V d.c. The output voltage for both series can also be manually adjusted ±5% by a trim function in order to make up for line losses. Both ranges also provide a user selectable standby output of 5 V d.c./0,5 A or 9 V d.c./0,3 A when the AC input is present.
The units include a comprehensive set of signals and controls such as remote on/off, AC OK, remote sense, PWM switching and over-temperature shutdown. A multifunction LED indicates the power supply status and gives warning notifications through the use of different colours and blinking rates. In addition, I²C serial data connections provide for bidirectional data transmission between the power supply and external monitoring/controlling equipment.
A current sharing function provides for parallel operation of up to five power units for applications that might require a higher output power or for redundancy purposes. This also allows for system scalability of any future increased power requirements.
Accommodating the full universal input voltage range of 90 – 264 V a.c., the HDS800/1500 are suitable for worldwide use. They have an extended operating temperature range from -10°C to +70°C (+60°C for HDS1500) with no derating until +50°C. The series is approved to the internationally recognised safety specification IEC 60950-1 for IT, industrial and commercial equipment. The units also comply with EN55022 Class B specification for conducted and radiated EMI.
Typical applications for the HDS800/1500 include use in semiconductor manufacturing equipment, battery charging and automatic test equipment.
Credit(s)
Further reading:
Miniature 4,4 A boost converter
28 October 2020, iCorp Technologies , Power Electronics / Power Management
The SGM6623 from SG Micro is a general-purpose, miniature boost DC-DC switching regulator with high efficiency for battery backup and standby power systems. The acceptable input voltage range is between 
...
Read more...
---
Thermal wire strippers
30 September 2020, Vepac Electronics , Manufacturing / Production Technology, Hardware & Services
Hakko's FT-802 thermal wire strippers satisfy the demands of the military, medical and aerospace industries. The new model ensures the precise, clean-cut removal of wire insulation, even through highly 
...
Read more...
---
Maintaining backup battery systems for maximum usage and reliability
30 September 2020, Comtest , Power Electronics / Power Management
Standby battery backup systems play a critical role in keeping essential operations functional in the event of a utility outage. Facilities like data centres, hospitals, airports, utilities, oil and gas 
...
Read more...
---
Double the power output from new Tadiran battery
30 September 2020, Altron Arrow , Power Electronics / Power Management
Tadiran has developed the latest in its PulsesPlus HLC battery range, doubling the power output of its previous offering. Recently the company launched the C-type HLC which represented a huge improvement 
...
Read more...
---
SABS addresses dangers of power adaptors to consumers
28 October 2020 , Power Electronics / Power Management
The increased use of devices and appliances has resulted in the increased use of adaptors as well as adaptors-on-adaptors in South Africa. This creates a risk of fires, short circuiting and damage or 
...
Read more...
---
Just Batteries develops Li-ion battery pack for drones
28 October 2020, Just Batteries , Power Electronics / Power Management
The commercial market for drones is ever growing, ranging from delivering your pizza or shoes to supplying medical equipment to rural and inaccessible areas. Just Batteries' design, development and 
...
Read more...
---
1200 V SiC MOSFETs
28 October 2020, RS Components (SA) , Power Electronics / Power Management
RS Components now stocks ON Semiconductor's latest 1200 V-rated MOSFETs. Based on silicon-carbide (SiC) technology, these power discretes are able to push the performance envelope. The new N-channel 
...
Read more...
---
LTO batteries in mining applications
28 October 2020 , Power Electronics / Power Management
The mining industry in Africa provides numerous jobs and essential raw materials for the Fourth Industrial Revolution, critical to rebuilding economies and industry after the Covid-19 epidemic. However, 
...
Read more...
---
Bidirectional DC power supply for lab testing
30 September 2020, Conical Technologies , Power Electronics / Power Management
The new IT-M3400 bidirectional DC power supply from ITECH integrates the features of a bidirectional power supply and a regenerative load. It inherits the advantages of high power density and modular 
...
Read more...
---
Global analysis of the solid-state battery market
30 September 2020 , Power Electronics / Power Management
The rapid growth of the electric vehicle market has driven the development, manufacture and sales of batteries, especially lithium-ion batteries. In the meantime, market research firm IDTechEx has identified 
...
Read more...
---