printer friendly version
Common-drain MOSFETs
23 April 2014
Power Electronics / Power Management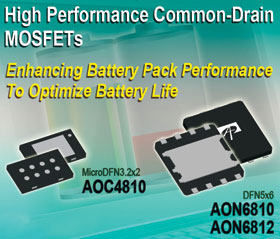 Alpha and Omega Semiconductor has released a new dual MOSFET family in the common-drain configuration in both DFN 5 x 6 mm and Micro-DFN 3,2 x 2 mm packages. These devices are suitable for battery pack applications where two n-channel MOSFETs are connected back-to-back for safe charging and discharging as well as voltage protection.
The AON6810, AON6812 and AOC4810 provide source-to-source resistance (RSS) of less than 10 mΩ at 10 V gate drive. They provide ideal solutions for enhancing battery pack performance in the latest mobile devices, where low conduction loss is a must for optimising battery life.
The new devices use the latest AlphaMOS technology to accomplish very low RDS(ON) along with 4 kV ESD protection to enhance battery pack safety. The AON6810 and AON6812 use a bottom-exposed DFN 5 x 6 package for enhanced thermal capability.
The AON6812 features a low 8 mΩ maximum total RSS at 10 V drive. Rated with a 30 V breakdown voltage, it is capable of charging and discharging a laptop battery pack with very little power loss and heat dissipation.
The AON6810 provides an extra level of protection with an internal temperature sense diode that provides first-hand thermal information to the battery control IC. By utilising the temperature sense pins of the IC, designers can accurately monitor the MOSFETs' thermal condition in real time to prevent any abnormal overheating.
To meet the demand of ultra-thin battery packs, the AOC4810 takes advantage of a Micro-DFN package which features an ultra-low profile of only 0,4 mm. With dimensions of only 3,2 x 2 mm, this device offers a maximum RSS level of 8.8 mΩ to minimise conduction loss and heat dissipation.
Credit(s)
Further reading:
New series of power ribbon wire-wound resistors
Electrocomp Power Electronics / Power Management
This QL/QRZG series of high-power resistors have a high-power load up to 2500 W and are suitable for applications such as industrial braking, EV battery packs and charging stations.
Read more...
---
350 W switching power supply
Conical Technologies Power Electronics / Power Management
The LMF350-23BxxUH series from Mornsun is an enclosed, fanless AC-DC switching power supply which is suitable for industrial and outdoor use.
Read more...
---
Quectel masterclass: iSIM implementation
iCorp Technologies News
Online Teaser: The latest masterclass webinar offered by Quectel covers the technology and capability of the iSIM and its use in the development of scalable high-volume IoT applications.
Read more...
---
EV wireless recharging in the future of transportation
Power Electronics / Power Management
Wireless recharging of electric vehicles as they travel over specially equipped, dedicated road lanes looks promising after months of testing.
Read more...
---
New automotive-qualified driver family
MB Silicon Systems Power Electronics / Power Management
Power Integrations announces the SCALE EV family of gate-driver boards for Infineon EconoDUAL modules targeting high-power automotive applications.
Read more...
---
Quectel announces high-performance 5G smart module
iCorp Technologies Computer/Embedded Technology
The SG560D, an Android smart module that combines 5G and artificial intelligence, is suitable for complex applications such as in-vehicle infotainment and industrial handheld devices.
Read more...
---
Power supply design considerations for remote patient monitors
Altron Arrow Power Electronics / Power Management
Remote patient monitors (RPMs) are continuously evolving to include new features which creates greater demands on their single-cell battery supply. A solution is provided for an ECG RPM that preserves battery life.
Read more...
---
How to extend the run-time of battery-powered equipment
Accutronics Editor's Choice Power Electronics / Power Management
For a given battery selection and application, there are several downstream design decisions that can have a drastic impact on how long the battery lasts.
Read more...
---
PSU available in 75 W to 1000 W output range
Vepac Electronics Power Electronics / Power Management
The switched-mode power supplies can accept a wide range of dual AC/DC inputs and have active power factor correction.
Read more...
---
Transient voltage suppression diodes
Altron Arrow Power Electronics / Power Management
The 24 V XClampR transient voltage suppressors, available in SMC packaging, deliver low clamping ratios for high power density.
Read more...
---