FTDI Chip is supporting adopters of its Embedded Video Engine (EVE) technology with a range of Arduino-compatible development platforms.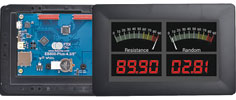 The VM800P series furnishes engineers with everything necessary to implement effective human machine interfaces (HMIs), including not only display, audio and touch elements, but data processing aspects too.
These units can be programmed via the Arduino IDE using a pre-programmed Arduino-compatible bootloader. In addition, over 50 EVE sample applications are provided, categorised into basic, intermediate and advanced levels. These include straightforward gauges and keyboards through to white goods/industrial controls.
With comprehensive support provided for various Arduino libraries, every board incorporates an FT800 EVE graphic controller IC and an FT232R USB interface IC, as well as an ATMEGA328P 8-bit RISC-based microcontroller running at 16 MHz.
Also featured are a touch-enabled display LCD panel, a backlight LED driver and an audio power amplifier, along with a micro speaker. A choice of 3,5", 4,3" and 5,0" display formats is available, replete with precision fitted bezels that help to ensure continued operation even in uncompromising industrial settings.
All VM800P units also have a USB port for firmware upload and application communication, a battery-backed real-time clock (RTC) for carrying out system timing, and a micro-SD socket with a 4 GB SD card containing pre-loaded sample applications. These Arduino-compatible display system development platforms run off a standard 5 V which can be delivered via a micro-USB cable or directly from an external supply.