printer friendly version
Development boards for embedded displays
16 July 2014
Design Automation
FTDI Chip is supporting adopters of its Embedded Video Engine (EVE) technology with a range of Arduino-compatible development platforms.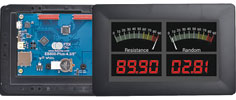 The VM800P series furnishes engineers with everything necessary to implement effective human machine interfaces (HMIs), including not only display, audio and touch elements, but data processing aspects too.
These units can be programmed via the Arduino IDE using a pre-programmed Arduino-compatible bootloader. In addition, over 50 EVE sample applications are provided, categorised into basic, intermediate and advanced levels. These include straightforward gauges and keyboards through to white goods/industrial controls.
With comprehensive support provided for various Arduino libraries, every board incorporates an FT800 EVE graphic controller IC and an FT232R USB interface IC, as well as an ATMEGA328P 8-bit RISC-based microcontroller running at 16 MHz.
Also featured are a touch-enabled display LCD panel, a backlight LED driver and an audio power amplifier, along with a micro speaker. A choice of 3,5", 4,3" and 5,0" display formats is available, replete with precision fitted bezels that help to ensure continued operation even in uncompromising industrial settings.
All VM800P units also have a USB port for firmware upload and application communication, a battery-backed real-time clock (RTC) for carrying out system timing, and a micro-SD socket with a 4 GB SD card containing pre-loaded sample applications. These Arduino-compatible display system development platforms run off a standard 5 V which can be delivered via a micro-USB cable or directly from an external supply.
Credit(s)
Further reading:
Rugged enclosures in shallower form factor
25 November 2020, Electrocomp , Enclosures, Racks, Cabinets & Panel Products
The diverse applications that use Hammond Manufacturing's 1554 and 1555 IP68, UL listed polycarbonate and IP66 ABS enclosure families continues to expand as sub-systems and HMI units are installed in 
...
Read more...
---
Help for choosing the ideal MOV surge suppressor
25 November 2020, Electrocomp , Circuit & System Protection
Almost every designer knows about metal oxide varistors (MOVs). These bidirectional and non-linear surge suppressor devices are ubiquitous in a large variety of applications to limit voltage during a 
...
Read more...
---
Industrial stainless steel enclosures
25 November 2020, Electrocomp , Enclosures, Racks, Cabinets & Panel Products
Hammond Manufacturing's EJSS family is available in an unpainted smooth, brushed finish in 304 or 316 grade stainless steel. Sealed to IP66, it is designed for use as an instrument enclosure, an electric, 
...
Read more...
---
CO2 sensor for indoor air quality applications
25 November 2020, Electrocomp , Analogue, Mixed Signal, LSI
With dimensions of just 10,1 x 10,1 x 6,5 mm, the SCD40 from Sensirion's footprint has been miniaturised by a factor of five compared to its predecessor, the SCD30. Using the photoacoustic sensing principle, 
...
Read more...
---
AEC-Q200 compliant line filters
28 October 2020, Electrocomp , Circuit & System Protection
Bourns Magnetics Product Line is introducing the Model DR334A line filter series. These filters are constructed with a ferrite toroid core delivering compact size and high impedance over a broad frequency 
...
Read more...
---
Licence- and royalty-free ensemble graphics toolkit
28 October 2020, Altron Arrow , Design Automation
Graphical user interfaces (GUIs) and interactive touchscreen displays provide intuitive user experiences in applications from robotic and machine controls to medical user interfaces, automotive instrumentation 
...
Read more...
---
Rugged three-phase AC filter capacitors
30 September 2020, Electrocomp , Passive Components
TDK introduced two new series of EPCOS power capacitors for AC filtering in three-phase delta connection applications. The B32375* series is designed for the low to medium power range and covers a capacitance 
...
Read more...
---
High-speed protectors for automotive circuits
30 September 2020, Electrocomp , Circuit & System Protection
Bourns announced the release of the AEC-Q101 compliant Model TBU-CA-Q High-Speed Protector series. These products are low-capacitance, single bidirectional high-speed protection components, constructed 
...
Read more...
---
HMI for IoT development kit
29 July 2020, RS Components (SA) , Design Automation
Optimised for HMI development in the IoT (Internet of Things), Renesas Electronics' RX72N Envision Kit offers a highly sophisticated and integrated platform for developing applications that require a 
...
Read more...
---
Stylish new plastic enclosure family
30 September 2020, Electrocomp , Enclosures, Racks, Cabinets & Panel Products
Hammond Electronics has announced its new 1557 family. Initially available in four plan sizes, each in two heights, it is available in polycarbonate sealed to IP68 and ABS designed to meet IP66. The sizes 
...
Read more...
---