printer friendly version
Long-life flatpack capacitors
16 July 2014
Passive Components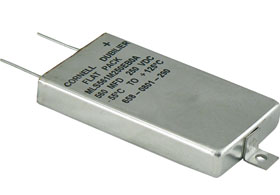 The MLP and MLS series of aluminium electrolytic capacitors from Cornell Dubilier are supplied in flatpack packages for applications that must fit long-life components into low-profile housings.
The MLP delivers up to 20 Joules of energy storage in a 1,25 cm height with 50 years' life at +45°C, and can be readily heatsinked to double ripple current capability. Its ability to withstand temperatures up to 85°C, high energy storage and box shape make it ideal for voltage holdup or filtering in military SEM-E modules, telecom circuit packs and computer cards.
The MLS is designed for hi-rel military systems and applications operating above 85°C. It has 100 years expected operating life and can withstand altitudes above 80 000 feet. The parts in this series come in a rugged, stainless steel case which assures flatness to beyond 125°C.
MLP and MLS capacitors are well suited for military markets such as radar, aviation and vehicles as well as avionics communications, voice box recorders and power supply.
For more information contact TRX Electronics, 086 111 2844, [email protected], www.trxe.com
Credit(s)
Further reading:
Surface-mount resettable fuses
Electrocomp Passive Components
The new series of fuses, suitable for overcurrent and thermal protection, expand the hold current up to 6 A and the maximum voltage to 33 V DC.
Read more...
---
New compact SMT chokes for low-voltage applications
Future Electronics Passive Components
TDK has released three new B8272 series of compact EPCOS SMT common-mode chokes specially developed for DC/DC converters and low-voltage applications.
Read more...
---
Electrocomp stocks PhaseCap Energy Plus capacitor
Electrocomp Passive Components
TDK Electronics' new PhaseCap Energy Plus series capacitor is the latest generation of capacitor for power factor correction.
Read more...
---
Mouser stocks wide product selection from Renesas companies
TRX Electronics News
The products on offer include embedded solutions, semiconductors, optoelectronics, sensors and passive components.
Read more...
---
Multilayer ferrite beads
Electrocomp Passive Components
As direct replacements for the discontinued BMB series, TE Connectivity's BMC multilayer ferrite beads cover a wide range of impedance characteristics.
Read more...
---
Mouser stocks wide selection of the latest Phoenix Contact products
TRX Electronics Interconnection
The offering covers a vast selection of sensors, controllers, terminal blocks, connectors and wireless Ethernet products.
Read more...
---
Modules support Wi-Fi 4 and Bluetooth 5.2
TRX Electronics Telecoms, Datacoms, Wireless, IoT
The new modules are mechanically and pin-compatible with the Sterling-LWB module, offering a simplified upgrade path for existing designs.
Read more...
---
Tiny CO2 sensor employs photoacoustic spectroscopy
TRX Electronics Analogue, Mixed Signal, LSI
The device uses a high-sensitivity MEMS microphone to detect the pressure change generated by CO
2
molecules within the sensor cavity.
Read more...
---
Mouser's resource pages make it easier to find what you need
TRX Electronics Design Automation
Mouser Electronics offers a wealth of customer-focused online tools to simplify and optimise the selection and purchasing process. Helping customers to easily browse, select and purchase products, the 
...
Read more...
---
Self-learning AI sensor for fitness tracking
TRX Electronics Analogue, Mixed Signal, LSI
The Bosch BHI260AP is ideal for always-on sensor applications like wrist wearables, hearables, smartphones, AR/VR headsets and controller device.
Read more...
---