IXYS has unveiled a new range of 1500 V MOS-gated thyristors housed in its proprietary surface mount power device (SMPD) and high-voltage TO-247 packages.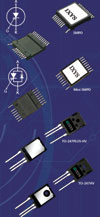 Capable of carrying current up to 32 kA for a period of 1 microsecond, they are well suited for high-power pulse and capacitive discharge circuits.
These devices can be switched on by a voltage applied to their gate terminals, making it easy for integration with other power devices in the system. Once triggered, within tens of nanoseconds, they can conduct very high current. An anti-parallel protection diode integrated in the same package is also available. The parts packaged in the IXYS SMPDs can be easily surface mounted on a printed circuit board using a standard pick-and-place and reflow soldering process. No costly screws, cables, bus-bars or hand soldered contacts are needed.
Weighing only 8 g and 5 g, respectively, the SMPD and Mini-SMPD packages are lighter than comparable conventional power modules. Moreover, an electrically isolated tab is provided for heatsinking and a ceramic isolation of 2,5 kV is achieved with direct copper bond (DCB) substrate technology.
The other packaging option includes high-voltage versions of the international standard size TO-247: TO-247HV and TO-247PLUS-HV. These packages have an increased creepage distance between leads, making it possible to withstand higher voltages.
The new thyristors are suitable for capacitive discharge applications, ignition circuits and solid-state surge protection in a variety of aerospace, medical and industrial settings.