printer friendly version
Magnetoresistive sensor ICs
16 July 2014
Analogue, Mixed Signal, LSI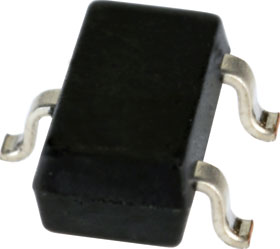 Honeywell's Nanopower series magnetoresistive (MR) sensor ICs are ultra-sensitive devices designed to accommodate a wide range of applications with large air gaps, small magnetic fields and low power requirements. They respond to either a North or South Pole applied in a direction parallel to the sensor, and do not require the magnet polarity to be identified. The devices boast very low average current consumption and a push-pull output which does not require a pull-up resistor. They can operate from a supply voltage as low as 1,65 V and are available in two magnetic sensitivities to accommodate a variety of application needs. The sensor ICs are supplied in the SOT-23 surface mount package on tape and reel.
TRX Electronics, 086 111 2844, [email protected], www.trxe.com
Credit(s)
Further reading:
Wireless charging IC solution
TRX Electronics Power Electronics / Power Management
The WLC1115 transmitter controller IC is the first highly integrated product of the new WLC family of controllers from Infineon for applications in inductive wireless charging.
Read more...
---
Low power 36 V operational amplifier
EBV Electrolink Analogue, Mixed Signal, LSI
The TSB622 is a general-purpose, dual operational amplifier featuring an extended supply voltage operating range of 2,7 to 36 V and rail-to-rail output
Read more...
---
Quad-output buck regulator
Altron Arrow Analogue, Mixed Signal, LSI
The LTM4673 from Analog Devices is a quad-output µmodule buck regulator which has a wide input voltage range and built-in digital power system management.
Read more...
---
u-blox' smallest ever GNSS module
RF Design Analogue, Mixed Signal, LSI
Designing an anomaly detection library with AI learning capability is possible with minimal data and with no specific data-science skills needed.
Read more...
---
Mouser stocks wide product selection from Renesas companies
TRX Electronics News
The products on offer include embedded solutions, semiconductors, optoelectronics, sensors and passive components.
Read more...
---
Evaluation board for MEMS accelerometers
Altron Arrow Analogue, Mixed Signal, LSI
The board is designed to facilitate fast system prototyping and device evaluation of MEMS devices in ST's ASM330LHHX product family.
Read more...
---
Mouser stocks wide selection of the latest Phoenix Contact products
TRX Electronics Interconnection
The offering covers a vast selection of sensors, controllers, terminal blocks, connectors and wireless Ethernet products.
Read more...
---
Efficient cold chain management with high-accuracy temperature sensors
Analogue, Mixed Signal, LSI
Choosing the correct system of temperature sensing in cold chain management is vital to ensure quality and product safety for the consumer.
Read more...
---
Modules support Wi-Fi 4 and Bluetooth 5.2
TRX Electronics Telecoms, Datacoms, Wireless, IoT
The new modules are mechanically and pin-compatible with the Sterling-LWB module, offering a simplified upgrade path for existing designs.
Read more...
---
Tiny CO2 sensor employs photoacoustic spectroscopy
TRX Electronics Analogue, Mixed Signal, LSI
The device uses a high-sensitivity MEMS microphone to detect the pressure change generated by CO
2
molecules within the sensor cavity.
Read more...
---