printer friendly version
Connectors for LED lighting
18 March 2015
Interconnection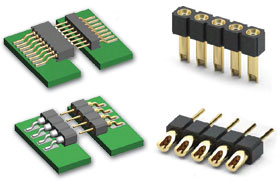 Mill-Max addresses the connector needs of the growing field of LED lighting applications with products such as receptacles and sockets suitable for LED Bi-pin bulbs and interconnects ideal for co-planar mating of LED driver boards. The range covers a variety of through-hole and surface mount products suitable for LED lighting requirements.
SMT connectors
For applications such as strip lights requiring end-to-end mating (daisy chaining) of boards, co-planar board mating connectors of the surface mounting HSMT family are available on 100 mil and 50 mil grids. These headers and sockets have Z-bend style lead terminations providing a low profile and easy inspection of solder joints.
A recent addition is the 339-10-1XX-40-000000 series surface-mount header/jumper. This has Z-bend SMT terminations on both ends, useful for creating a soldered, daisy chain ­connection of two co-planar boards. This can be convenient when there is only access to the top of the board and/or a permanent connection is desired. The low profile of all these connectors (100 mil maximum) makes them especially ­appealing for use in LED strip lighting systems.
These connectors are supplied in standard plating options of gold or tin with high-temperature insulators suitable for RoHS compliant environments and for reflow soldering. The co-planarity of the connector leads is 5 mil for connectors up to 1 inch in length. Rounding out the HSMT connector line are spring-loaded products in single-row strips and individual components.
Through-hole connectors
The through-hole products offered for co-planar board-to-board interconnects include connectors on 50 mil, 70 mil, 2 mm and 100 mil grids. These are right angle connectors and like the SMT products, they are ideal for daisy chaining of boards, are low-profile and have high-temperature insulators suitable for reflow soldering processes. Plating options are gold and tin (RoHS compliant) as well as tin/lead.
Lastly, to bring power to the driver board, Mill-Max has connectors with solder cup terminations. These include 100 mil grid connectors and can handle wire sizes up to #20 AWG.
Receptacles and sockets
Mill-Max also manufactures a selection of off-the-shelf receptacles that accept LED bulb leads conforming to the MR11 (G4 Style) and MR16 (G5.3 Style) base configurations. It offers through-hole solder-mount, press-fit, open bottom, SMT and wire termination options to suit the application.
These receptacles can be mounted in housings to make connector assemblies or fixed directly to a circuit board. The company can quickly manufacture the two-pin socket of a customer's choice by utilising Fr-4 epoxy for the housing and standard receptacles with the termination style required. For those applications where high operating temperatures are a concern, the standard beryllium copper contact can be replaced with a beryllium nickel contact suited for higher temperatures (above 150°C).
All Mill-Max pin headers, receptacle sockets and spring pin connectors feature high-speed screw machined pins, receptacles and spring pin components manufactured to precision tolerances. Inside each receptacle is a precision stamped beryllium copper contact. Spring pins contain durable, gold-plated beryllium copper or stainless steel springs.
For more information contact Spectrum Concepts, +27 (0)11 425 1400, sales@spectrumconcepts.co.za, www.spectrumconcepts.co.za
Credit(s)
Further reading:
Micro connectors with backshells
25 August 2021, Hiconnex , Interconnection
At this year's DSEI exhibition, Nicomatic launched its new DBMM Series, a modification of the DMM 2 mm connectors to include fully integrated backshells. DBMM connectors save space, measuring only 15 mm 
...
Read more...
---
Terminal blocks for measuring transducers
25 August 2021, Phoenix Contact , Interconnection
The PTVME test-disconnect terminal blocks from Phoenix Contact are an extension to the PTV portfolio and can be used in all applications on the secondary wiring side of switching devices for transducers 
...
Read more...
---
Meeting the demands placed on connectors in automotive electronics
29 September 2021, TRX Electronics , Interconnection
A few decades ago, cars were purely mechanical machines, sophisticated in terms of their moving parts but simple in their electronics. This is no longer true.
Read more...
---
Millimetre-wave interconnect considerations
29 September 2021, RF Design , Interconnection
There has been a general trend of radio and sensing applications shifting to higher frequencies, either to avoid interference due to the growing use of RF and microwave spectrum or to take advantage of 
...
Read more...
---
Charging sockets with LED indicators and temperature measurement
29 September 2021, Phoenix Contact , Interconnection
The new generation of type-2 Charx connect charging sockets from Phoenix Contact offers AC home charger and charging station manufacturers and users simplified installation and maintenance, enhanced safety 
...
Read more...
---
Connector search spits out mated connector set in seconds
29 September 2021, Spectrum Concepts , Interconnection
Samtec has a multitude of ways to stack two or more boards together, thanks to a manufacturing process that allows it to position the plastic body on the terminal pin in increments of 0,13 mm on standard 
...
Read more...
---
Interconnect system with 1,0 mm centreline
29 September 2021, TRX Electronics , Interconnection
Mouser Electronics is now stocking the AMPMODU 1,0 mm centreline interconnect system from TE Connectivity (TE). This interconnect system offers an 85% space saving on the board when compared to the 
...
Read more...
---
EMC shields for lever-actuated PCB connectors
25 August 2021, Phoenix Contact , Interconnection
Shields with enhanced EMC properties are now available for the LPC 6/LPCH 6 lever-actuated PCB connectors from Phoenix Contact. With reliable protection against electromagnetic interference, the range 
...
Read more...
---
Circular connectors for signals, data and/or power
28 July 2021 , Interconnection
Farnell is now delivering Intercontec circular connectors from TE Connectivity – an innovative, plug-and-play connector concept that simplifies modular machine design by offering a wide range of variants 
...
Read more...
---
Modern trends are shaping new power connectors
25 August 2021 , Editor's Choice, Interconnection
While it may sound counter-intuitive to use smaller connectors, it is possible to obtain a better total current rating with connectors that use a larger number of smaller terminals.
Read more...
---