printer friendly version
Prototyping board for interfacing data converters with FPGAs
8 April 2015 Computer/Embedded Technology Design Automation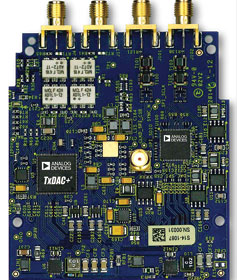 Analog Devices unveiled a rapid prototyping kit that simplifies wide-dynamic-range GSps data converter-to-FPGA connectivity.
Digital and analog designers can use the AD-FMCDAQ2-EBZ to quickly prototype the high-speed JEDEC JESD204B SerDes interface on major FPGA platforms, including Xilinx's UltraScale FPGA and Zynq All Programmable SoC devices for radar, instrumentation, wireless radio and other data acquisition applications.
The system is packaged in an FMC form factor for verifying hardware and processing algorithms and rapidly moving from prototype to production in order to reduce the time and risk associated with designing wideband RF signal processing systems. Its performance, bandwidth and integrated functionality allow designers to achieve better signal acquisition in congested RF environments over a very wide bandwidth.
The AD-FMCDAQ2-EBZ provides tested reference designs including ultra-high-speed data converters, driver amplifiers, clocks and power management ICs. Also included are HDL (hardware description language) code, device drivers, an eye analyser tool and online support at Analog Devices' EngineerZone online technical support community.
The kit includes an onboard AD9680 dual-channel, 14-bit, 1 GSps analog-to-digital converter (ADC). When converting a 1 GHz input, the ADC achieves spurious-free dynamic range (SFDR) performance of 80 dBc and 61,4 dBFS signal-to-noise ratio (SNR) while consuming 1,65 W of total power per channel.
The digital-to-analog converter (DAC) in the kit is the 4-channel, 16-bit AD9144, of which two channels are accessed on the board. It features 82 dBc SFDR and a maximum sample rate of 2,8 GSps, permitting multicarrier generation up to the Nyquist frequency.
The AD9523-1 low-jitter clock generator provides a low-power, multi-output clock distribution function with low jitter performance, along with an on-chip PLL and VCO with two VCO dividers.
For more information contact Kevin Godfrey, Arrow Altech Distribution, +27 (0)11 923 9600, [email protected], www.arrow.altech.co.za
Credit(s)
Further reading:
AMD Xilinx online training: Vivaldo ML tools
EBV Electrolink Computer/Embedded Technology
The webinar will explore the features of SystemVerilog that are useful for RTL synthesis using Vivado ML Tools and how the RTL SystemVerilog language constructs have been optimised for productivity and reliability.
Read more...
---
Galleon releases a rugged 100GbE recorder
Rugged Interconnect Technologies Computer/Embedded Technology
The XSR 100GbE recorder is the latest addition to Galleon Embedded Computing's line-up of innovative military embedded solutions and is perfect for applications in unmanned systems, surveillance and reconnaissance.
Read more...
---
TI releases top five power design tools
Altron Arrow Design Automation
Texas Instruments has released an online resource combining the top five power design tools available to aid in the next electronic project design.
Read more...
---
Angle sensor for safety-critical applications
Altron Arrow Passive Components
TDK's TAS4240 TMR-based angle-sensor enables precise angle measurements in applications where high performance is needed and space is limited.
Read more...
---
1,5 A LDO linear regulator from TI
Altron Arrow Power Electronics / Power Management
The TPS7A74 from Texas Instruments is a 1,5 A low-dropout linear regulator with programmable soft-start for a wide variety of applications.
Read more...
---
Samsung launches GDDR6 RAM module
EBV Electrolink Computer/Embedded Technology
The DRAM is capable of 24 Gbps processing speeds and will significantly advance the graphics performance of AI-based applications and high-performance computing.
Read more...
---
Qualcomm AI stack: a unified AI software solution
Future Electronics Computer/Embedded Technology
Qualcomm has bundled all its AI software offerings into a single package called the Qualcomm AI Stack which will assist developers in deploying AI applications.
Read more...
---
Automotive motion sensor with embedded ML core
Altron Arrow DSP, Micros & Memory
The ASM330LHHX, a six-axis inertial module with embedded machine learning core and dual operating modes, ensures the lowest power consumption and in-sensor event detection.
Read more...
---
Panasonic releases its updated touch-sensitive knob
Altron Arrow Electronics Technology
Panasonic, in conjunction with Microchip, has launched an update to its existing Magic Knob, a capacitive knob ready for standard touch sensors for use in controlling automotive information displays.
Read more...
---
ST develops new serial EEPROM class
Altron Arrow DSP, Micros & Memory
This new class of serial EEPROM is a 32-Mbit page-erasable memory that is less expensive than FRAM while offering a lower power consumption.
Read more...
---