printer friendly version
UV light sensor
8 April 2015
Opto-Electronics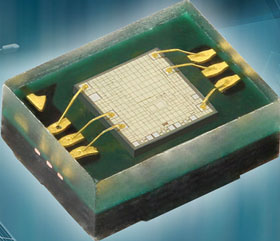 Vishay introduced a new integrated ultraviolet (UV) light sensor featuring Filtron UV technology for high UV sensitivity and linearity.
Designed to convert solar UV light intensity to digital data in consumer, medical and industrial applications, the VEML6070 incorporates a photo-pin-diode and signal processing IC in a compact 2,35 by 1,8 by 1,0 mm surface-mount package while offering an I²C bus interface for simple operation.
The device is optimised for UV detection in smartphones, health monitoring and fitness products, flame detectors and weather stations, and saves space by incorporating the circuitry needed for these applications in one compact unit. A robust refresh rate setting lowers costs and simplifies designs by eliminating the need for an external RC low-pass filter.
The VEML6070 offers high dynamic detection resolution and excellent performance under long-term solar UV exposure, while an active acknowledge (ACK) feature with threshold window settings sends out UVI alert messages under strong solar conditions.
The sensor's built-in photo-pin-diode offers spectral sensitivity from 280 nm to 400 nm, with a peak sensitivity wavelength of 355 nm. It provides fluorescent light flicker immunity, a software shutdown mode to reduce power consumption to below 1 µA, and excellent temperature compensation stability from -40°C to +85°C. It features an operating voltage and I²C bus voltage range of 2,7 V to 5,5 V and is offered in a lead-free OPLGA package.
For more information contact EBV Electrolink, +27 (0)21 402 1940, [email protected], www.ebv.com
Credit(s)
Further reading:
New high current through-hole inductors
EBV Electrolink Passive Components
Vishay has released a high current, through-hole inductor for use in high current and high temperature applications, DC/DC converters, high current differential chokes and inverters.
Read more...
---
Samsung launches GDDR6 RAM module
EBV Electrolink Computer/Embedded Technology
The DRAM is capable of 24 Gbps processing speeds and will significantly advance the graphics performance of AI-based applications and high-performance computing.
Read more...
---
SolidRun releases a SoM solution based on a Renesas SoC
EBV Electrolink DSP, Micros & Memory
In partnership with Renesas, SolidRun has released a SoM solution based on the powerful RZ/G2 family of SoCs, which are engineered for AI-enhanced HMI applications.
Read more...
---
Programmable Bluetooth low-energy wireless SoC
EBV Electrolink Telecoms, Datacoms, Wireless, IoT
The next-gen BlueNRG-LPS SoC, a Bluetooth low-energy 5.3 enabled device, can precisely estimate movement and location with centimetre accuracy.
Read more...
---
Mastering the MicroBlaze processor
EBV Electrolink DSP, Micros & Memory
AMD-Xilinx and Adiuvo will present a hands-on workshop on using the MicroBlaze processor on the Spartan-7 evaluation kit to create, develop and deploy an FPGA solution.
Read more...
---
Hamamatsu Photonics boosts production capacity
Hamamatsu Photonics UK Opto-Electronics
Hamamatsu Photonics increases its current production capacity almost two-fold to help with expanding sales after completion of a new factory complex.
Read more...
---
Low power 36 V operational amplifier
EBV Electrolink Analogue, Mixed Signal, LSI
The TSB622 is a general-purpose, dual operational amplifier featuring an extended supply voltage operating range of 2,7 to 36 V and rail-to-rail output
Read more...
---
High-power semiconductor solutions for green hydrogen electrolyser applications
EBV Electrolink News
Gain insights into AC- and DC-coupled electrolyser applications and learn about Infineon's best-in-class semiconductor solutions in the upcoming webinar.
Read more...
---
NXP releases real-time processors for automotive platforms
EBV Electrolink DSP, Micros & Memory
NXP has introduced real-time microcontrollers for automotive electronic control units as part of its S32 range of controllers.
Read more...
---
Embedded voice control via the STM32Cube
EBV Electrolink DSP, Micros & Memory
STMicroelectronics and Sensory collaborate to enable mass-market adoption of embedded voice control through the STM32Cube software ecosystem.
Read more...
---