printer friendly version
Receptacle carriers promote efficient assembly
8 April 2015
Interconnection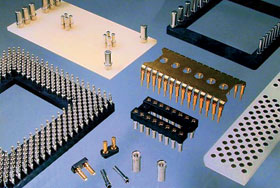 A receptacle carrier is a convenient way to pick up and place individual sockets (receptacles) as a group. It is essentially an assembly fixture having an array of protruding pins onto which individual receptacles are pushed. The receptacles are held in place by their internal spring contacts.
The carrier assembly is placed into a corresponding group of holes on a circuit board, and the carrier holds the receptacles in position during the wave or reflow soldering cycle. The carrier is then removed after soldering, leaving behind a group of receptacles to be used as a socket for a leaded component.
Many formats of carrier are available to match the footprint of the device being socketed, e.g. DIP, SIP, PGA, DC-DC converter, custom etc. Carriers can be categorised as three types:
1. Reusable carriers having a moulded plastic or machined epoxy frame with durable metal carrier pins. The carrier pins are machined from brass and nickel plated. The nickel plating is passivated (oxidised) to make it 'non-stick' to solder. All standard component footprints are available, and this type of construction is readily adapted for custom footprints.
2. Disposable metal carriers are one-piece stamped brass or aluminium lead frames used for DIP and SIP IC footprints.
3. Disposable plastic carriers are one-piece injection moulded frames with integral plastic posts to hold the receptacles.
Cost savings are available when Type 1 carriers are returned to the factory for reloading.
The benefits of using receptacle carriers include the convenience over placing individual sockets on a circuit board by hand with a pair of tweezers. At the other extreme, they do not require the expense of building a fully automatic assembly machine with a programmable X-Y table.
Using a receptacle carrier eliminates the insulator of a traditional socket. For high-speed circuitry, this results in a shorter electrical path (lower inductance) and reduced propagation delay (no socket dielectric). Elimination of the insulator also provides a lower socket profile. This is important for handheld devices such as mobile phones and PDAs, where space is at a premium and sockets are required for components that cannot go through reflow, i.e. speakers and microphones.
Receptacle carriers are also ideal for socketing DC-DC converters. One carrier can place the two different sizes of receptacle required by the power and control pins, while the receptacles themselves add very little to the height of the converter.
Carriers are used primarily for wave soldering receptacles into plated through-holes. The added weight of the carrier holds down the components as the circuit board passes over the solder wave. They are also used for surface mount assembly; this technique is called intrusive reflow. The carrier assembly is placed into plated through-holes on the circuit board, and solder paste adjacent to the holes is then reflowed before the carrier is removed.
Anatomy of a receptacle
Receptacles are discrete sockets used for plugging leaded components into printed circuit boards. They are made by press-fitting a stamped beryllium copper spring contact into a precision-machined housing. Pre-tooled are 35 sizes of contacts (3, 4 or 6 finger) to accept pins ranging in diameter from 12 mil to 102 mil, as well as square and rectangular component leads.
Heat-treated beryllium copper is the best choice of spring material to assure contact reliability. The receptacle's two-piece construction provides the advantage of selective plating when a gold-plated contact is installed in a tin-plated housing.
Credit(s)
Further reading:
Clips for fixing cables to ground
26 February 2021, Würth Elektronik eiSos , Interconnection
Under the product name designation WE-EEL, Würth Elektronik now offers cable clips made of aluminium sheet to enable stable grounded fixation of cables of various dimensions. Cables with diameters ranging 
...
Read more...
---
Low-profile USB Type C vertical receptacle
26 February 2021, Electrocomp , Interconnection
With a height of just 6,5 mm on a printed circuit board (PCB), the vertical-mount USB4120 is a low-profile USB Type C receptacle and joins GCT's range of charging-focused ionex connectors. The 16-pin 
...
Read more...
---
RF solutions now available in Samtec's Picture Search
25 November 2020, Spectrum Concepts , Interconnection
Having previously announced the Picture Search feature on its updated online design tool, Samtec has now added RF solutions to the mix.
Read more...
---
PCB-mounting end launch connectors
25 November 2020, Conical Technologies , Interconnection
Anoison announced the release of the latest addition to its broad selection of products, a range of high-performance end launch connectors for mounting on PCBs.          Anoison's high-performance end 
...
Read more...
---
Interconnect solutions for high-speed backplanes
25 November 2020, IPD Electronics , Interconnection
TE Connectivity's high-speed backplane connectors offer the flexibility and performance needed for a range of datacom applications, including servers, switches, routers, and optical transport. The company's 
...
Read more...
---
Clips for fixing cables to ground
25 November 2020, Würth Elektronik eiSos , Interconnection
Under the product name designation WE-EEL, Würth Elektronik now offers cable clips made of aluminium sheet to enable stable grounded fixation of cables of various dimensions. Cables with diameters ranging 
...
Read more...
---
Ultra-miniature Pico-D connector
25 November 2020, Hiconnex , Interconnection
Following the trend for miniaturisation, Axon has developed an ultra-miniature connector called Pico-D (with 0,15 mm pitch) based on additive manufacturing technology. As shown in the accompanying image, 
...
Read more...
---
Connectors for EV and hybrid applications
25 November 2020, RS Components (SA) , Interconnection
The compact, metal-shell PowerLok Series from Amphenol provides interconnect solutions and signal connections for EV (electric vehicle) and hybrid transportation applications. Accommodating up to 
...
Read more...
---
Assembled PCB connectors
25 November 2020, Phoenix Contact , Interconnection
Various PCB connectors with crimp connection are now available from Phoenix Contact as a convenient assembled connection solution. With freely selectable cable lengths from 10 to 300 centimetres and cross 
...
Read more...
---
Data connector for vehicle diagnostics and comms
25 November 2020, Startech Industrial , Interconnection
Amphenol Industrial Operations now offers industry-standard, on-vehicle data plug connectors that are designed for vehicle diagnostic and data communication. The AT circular connector (ATC) series is 
...
Read more...
---