printer friendly version
Receptacle carriers promote efficient assembly
8 April 2015
Interconnection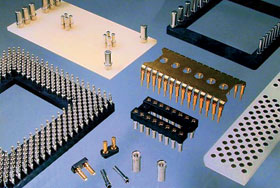 A receptacle carrier is a convenient way to pick up and place individual sockets (receptacles) as a group. It is essentially an assembly fixture having an array of protruding pins onto which individual receptacles are pushed. The receptacles are held in place by their internal spring contacts.
The carrier assembly is placed into a corresponding group of holes on a circuit board, and the carrier holds the receptacles in position during the wave or reflow soldering cycle. The carrier is then removed after soldering, leaving behind a group of receptacles to be used as a socket for a leaded component.
Many formats of carrier are available to match the footprint of the device being socketed, e.g. DIP, SIP, PGA, DC-DC converter, custom etc. Carriers can be categorised as three types:
1. Reusable carriers having a moulded plastic or machined epoxy frame with durable metal carrier pins. The carrier pins are machined from brass and nickel plated. The nickel plating is passivated (oxidised) to make it 'non-stick' to solder. All standard component footprints are available, and this type of construction is readily adapted for custom footprints.
2. Disposable metal carriers are one-piece stamped brass or aluminium lead frames used for DIP and SIP IC footprints.
3. Disposable plastic carriers are one-piece injection moulded frames with integral plastic posts to hold the receptacles.
Cost savings are available when Type 1 carriers are returned to the factory for reloading.
The benefits of using receptacle carriers include the convenience over placing individual sockets on a circuit board by hand with a pair of tweezers. At the other extreme, they do not require the expense of building a fully automatic assembly machine with a programmable X-Y table.
Using a receptacle carrier eliminates the insulator of a traditional socket. For high-speed circuitry, this results in a shorter electrical path (lower inductance) and reduced propagation delay (no socket dielectric). Elimination of the insulator also provides a lower socket profile. This is important for handheld devices such as mobile phones and PDAs, where space is at a premium and sockets are required for components that cannot go through reflow, i.e. speakers and microphones.
Receptacle carriers are also ideal for socketing DC-DC converters. One carrier can place the two different sizes of receptacle required by the power and control pins, while the receptacles themselves add very little to the height of the converter.
Carriers are used primarily for wave soldering receptacles into plated through-holes. The added weight of the carrier holds down the components as the circuit board passes over the solder wave. They are also used for surface mount assembly; this technique is called intrusive reflow. The carrier assembly is placed into plated through-holes on the circuit board, and solder paste adjacent to the holes is then reflowed before the carrier is removed.
Anatomy of a receptacle
Receptacles are discrete sockets used for plugging leaded components into printed circuit boards. They are made by press-fitting a stamped beryllium copper spring contact into a precision-machined housing. Pre-tooled are 35 sizes of contacts (3, 4 or 6 finger) to accept pins ranging in diameter from 12 mil to 102 mil, as well as square and rectangular component leads.
Heat-treated beryllium copper is the best choice of spring material to assure contact reliability. The receptacle's two-piece construction provides the advantage of selective plating when a gold-plated contact is installed in a tin-plated housing.
Credit(s)
Further reading:
Circular connectors for signals, data and/or power
28 July 2021 , Interconnection
Farnell is now delivering Intercontec circular connectors from TE Connectivity – an innovative, plug-and-play connector concept that simplifies modular machine design by offering a wide range of variants 
...
Read more...
---
Modern trends are shaping new power connectors
25 August 2021 , Editor's Choice, Interconnection
While it may sound counter-intuitive to use smaller connectors, it is possible to obtain a better total current rating with connectors that use a larger number of smaller terminals.
Read more...
---
The evolution of heavy-duty connectors
25 August 2021, Phoenix Contact , Editor's Choice, Interconnection
Tomorrow's smart production demands smart components that can be assembled quickly, easily and economically to create customised solutions that can be delivered from batch sizes of one upwards.
Read more...
---
Connector backshells for demanding environments
25 August 2021, Hiconnex , Interconnection
A backshell is the rear portion of a connector which is normally a separate section from the connector head. It is used to secure the cable to the end of the connector in order to relieve strain on solder 
...
Read more...
---
High-speed connectors for vehicle networks
25 August 2021, Actum Group , Interconnection
The differential high-speed data connector systems H-MTD, H-MTD+ and H-MTDe developed by Rosenberger, set high standards for future vehicle network systems. H-MTD connectors can be used for frequencies 
...
Read more...
---
Low-PIM coaxial cable assemblies
25 August 2021, RF Design , Interconnection
Pasternack recently expanded its ever-growing line of low-PIM coaxial cable assemblies using its Superflex cables, as well as popular cable offerings from Times Microwave that are ideal for use in wireless 
...
Read more...
---
Touch-safe appliance power connectors
25 August 2021, Vepac Electronics , Interconnection
Saf-D-Grid builds on the proven contact technology used in Anderson Power Products' (APP) SB and Powerpole connectors by offering features required in 380-400 V d.c. power distribution systems. APP 
...
Read more...
---
Self-locking RF connectors
28 July 2021, Hiconnex , Interconnection
With all the antennas present on civil aircraft, cable assemblies for airborne electronic systems are still receiving plenty of development attention. Coaxial cables remain the transmission medium of 
...
Read more...
---
Case study: IP68 sealing and EMI protection for radar application
28 July 2021, Hiconnex , Interconnection
The end users of radar systems require them to be durable, reliable and to require little maintenance. In order to track multiple targets, such a system needs to have the most accurate transmission of 
...
Read more...
---
Robust sealed connector system
28 July 2021, Electrocomp , Interconnection
Today's complex vehicles include more connectors than ever, which brings a higher risk of failure as one compromised seal on a single connector can result in the failure of an entire system. To address 
...
Read more...
---