printer friendly version
High-power IGBT modules for the future
10 June 2015
Power Electronics / Power Management
Infineon Technologies has provided further details on its recently announced roadmap – which it dubbed 'The Answer' – for the ongoing future development of high-power IGBT technology. Elaborating on its efforts to evolve from an approach focused on product thinking to one that embraces system understanding, the company revealed technical details on the latest developments.
Figure 1. The new high-voltage package.
The platform is based on meeting ever more demanding performance requirements in the four key areas of power density, efficiency, lifetime durability and reliability. It also addresses the increasing need in certain industries to have the flexibility to accommodate custom solutions.
With constant improvements in power chip performance and anticipated adoption of innovative new technologies, Infineon is prioritising new packaging technology and a corresponding change in form factor. To ensure industry adoption, it plans to offer royalty-free licensing of the new packaging.
The new housing for high-power IGBT modules is designed to cover the full voltage range of IGBT chips from 1,2 to 6,5 kV. Principal applications are expected in industrial drives, traction, renewable energy and power transmission. Scalability will simplify system design and manufacturing, while a robust architecture will provide long-term reliability in applications with demanding environmental conditions.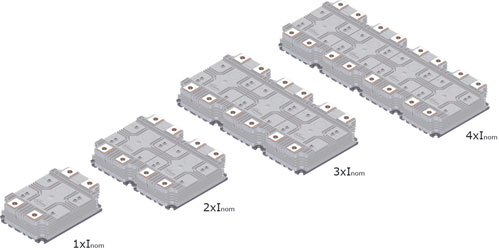 Figure 2. Scalability via simple paralleling.
Two housings with different heights are planned. The LV module with up to 6 kV insulation and corresponding creepage distances will house 1,2 kV up to 3,3 kV chips. Two extra AC terminals will allow for higher achievable currents in these voltage classes. The HV module – housing 3,3 kV, 4,5 kV and 6,5 kV chips – will offer up to 10,4 kV insulation and corresponding creepage distances.
The dimensions of these module were chosen to deliver a footprint similar to currently used IHV-A and IHV-B modules. Due to the unchanged depth of 140 mm, identical extruded heatsink profiles can be used. Four modules with a footprint of 140 x 100 mm, mounted without a gap due to an alignment hook, will fit exactly into the space used today by two 140 x 190 mm IHV modules, with a mounting space, to build one phase leg. The current density achieved for this configuration of four paralleled devices is 17% greater than a phase leg with the same footprint formed by two IHV modules using the same chip technology.
This example illustrates how, in comparison to existing products, the modular approach of this packaging leads to considerable flexibility. This concept makes it possible to easily parallel the high-power platform for various applications; the single module is simply a building block for units with higher current ratings. Paralleling of up to four devices will necessitate no derating due to optimised internal and external current sharing.

Figure 3. Four modules in parallel with gate PCB, DC-link and phase output busbar.
The terminal arrangement of Infineon´s flexible high-power platform also allows an easy-to-implement "flow through concept". The DC-link terminals offer a simply structured connection to the capacitor bank and the AC terminals can be paralleled by a single bar. The area in between can be used for an interconnecting PCB carrying driver or the booster stages.
Thanks to a commutation inductance between the upper and lower switch of less than 25 nH for the HV module, in combination with the easy-to-implement flow-through concept, the new platform allows for extremely low stray inductances of the overall commutation loop.
The flexible paralleling concept allows the system builder to replace a multitude of different housings with easily implemented stringed devices, creating savings in purchasing and production efficiency. For example, a high-voltage module portfolio of dual and single switches that is delivered today with modules of 73 x 140 mm, 130 x 140 mm and 140 x 190 mm footprints can be reduced to one device per voltage class used in multiple parallel configurations.
For more information contact Davis Moodley, Infineon Technologies, +27 (0)11 706 6099, davis-moodley.external@infineon.com, www.infineon.com
Credit(s)
Further reading:
Power delivery over USB Type-C will open up new applications
25 March 2020, Altron Arrow , Power Electronics / Power Management
The enablement of SuperSpeed is just one reason why we can expect the USB interface to dominate for many years to come, but power delivery must also be a major factor in that.
Read more...
---
Industrial power module
25 March 2020, Würth Elektronik eiSos , Power Electronics / Power Management
The components in a SIP-3 package represent cost-effective solutions to meet the requirements for the transient capability of a 24 V industrial voltage network. The new modules operate from 6 to 36 V 
...
Read more...
---
Complete design solution for energy efficient motor driving system
25 March 2020, Avnet South Africa , Power Electronics / Power Management
Electric motors are a powerhouse user of electricity worldwide, accounting for about two-thirds of industrial electricity consumption. The International Energy Agency reports that electric motors account 
...
Read more...
---
Miniature automotive MOSFETs
25 March 2020, Avnet South Africa , Power Electronics / Power Management
Diodes Incorporated announced the introduction of the 40 V-rated DMTH4008LFDFWQ and 60 V-rated DMTH6016LFDFWQ automotive-compliant MOSFETs packaged in DFN2020. These miniature MOSFETs occupy just 10% 
...
Read more...
---
PCB-mount AC-DC power supplies
25 March 2020, Vepac Electronics , Power Electronics / Power Management
Complementing the previously released 3 W, 5 W and 10 W models, the VCE20 and VCE40 series from XP Power provide 20 and 40 Watts of power respectively and offer an encapsulated version as well as a lower-cost 
...
Read more...
---
High-voltage MOSFET for low-frequency switching
25 March 2020 , Power Electronics / Power Management
With the introduction of the 600 V CoolMOS S7 SJ MOSFET family – uniquely fitting a 22 mΩ chip into an innovative SMD package – Infineon Technologies is aiming to set a new benchmark for power density, 
...
Read more...
---
Power over Ethernet – supply of Ethernet devices via data lines
25 March 2020, Altron Arrow , Power Electronics / Power Management
In process automation systems, important parameters such as temperature, pressure, flow rate, humidity and many others must be monitored and measured. In the era of Industry 4.0, Ethernet is a popular 
...
Read more...
---
Chassis and DIN rail DC-DC converters
25 March 2020, Vepac Electronics , Power Electronics / Power Management
XP Power has announced the availability of two new series of wide range input DC-DC converters. Their flexible specification allows devices with incompatible voltages to be easily integrated into industrial 
...
Read more...
---
Ultrafast recovery rectifiers
25 March 2020, Altron Arrow , Power Electronics / Power Management
Vishay has expanded its offering of Fred Pt Ultrafast recovery rectifiers with eight new 100 V and 200 V devices in the eSMP series SlimSMAW (DO-221AD) package with a low 0,9 mm profile. Footprint-compatible 
...
Read more...
---
Hybrid capacitors combine the best of both worlds
26 February 2020, Avnet South Africa , Power Electronics / Power Management
The different properties of EDLCs, Li-ion batteries and Li-ion capacitors suits each technology to various different applications.
Read more...
---