The XR32430 and XR32431 are 3-driver/ 5-receiver RS-232 transceivers from Exar, intended for portable or handheld applications and coming in several variants with different feature sets.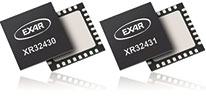 The XR32431 features a variable low-voltage logic interface, down to 1,65 V, while the XR32430EB and XR32431EB models feature slew-rate limited outputs for reduced crosstalk and EMI. The XR32430EH and XR32431EH are optimised for mid-speed applications with data rates up to 460 Kbps. The XR32430EU and XR32431EU are optimised for high-speed designs with data rates up to 1 Mbps, easily meeting the demands of high-speed RS-232 applications.
The devices use an internal high-efficiency charge-pump power supply that requires only four 0,1 F capacitors in 3,3 V operation. This charge pump combined with Exar's driver architecture, allow the chips to deliver compliant RS-232 performance from a single power supply ranging from +3,0 V to 5,5 V.
The 'Auto On-Line' feature allows the devices to automatically wake up during a shut-down state when an RS-232 cable is connected and a connected peripheral is turned on. Otherwise, the device automatically shuts itself down to draw less than 1 μA.