printer friendly version
10 tips for designing touchscreen applications
14 October 2015 Editor's Choice Computer/Embedded Technology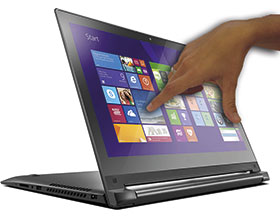 Touchscreens are everywhere: on mobile phones, personal tablets, information displays in shopping malls, fast food and restaurant counters, kiosks and factory and shop floor terminals. They make using applications easier and more productive if well designed, but frustrating and counterproductive if poorly designed.
Together with peripherals such as barcode and QR matrix scanners, users can input or find information quickly, often quicker than using a mouse or keyboard. Watch a teenager using a cellphone to text a message to a friend, or a clerk at a fast food checkout entering an order using a well designed interface, and one can see how touch technology has changed and improved the efficiency of information input. Use a touchscreen information display at a mall and see how easy it is to find the shop or item you want. A good touchscreen application is intuitive and a pleasure to use.
On the other hand, there are the applications that have been poorly designed and instead of improving the user's interaction with the system, make it a frustrating and difficult task to enter or extract any information. Just watch a counter clerk scanning a screen on which there are ten rows of twenty blocks with tiny writing, all in a single colour, trying to find the item or option that the customer wants. Watch the look of frustration on the clerk's and the customer's face as the clerk tries to get the order correct with the many options available.
What is your application and can it benefit your company, your users and your customers by upgrading it to be interactive using a touch screen? Unless it is heavily data entry oriented, most applications can be adapted to be touchscreen friendly – friendly to the user of the application, that is.
Adapting an application for use on a touchscreen can also lead to other changes and improvements in the way a company works. Changing a desktop application to make use of touch and keyboard entry can then make it easy to migrate the application to a wireless tablet or mobile phone, allowing users to move about while using the application. For example a storeman in a warehouse can move about the warehouse instead of having to come back to a desk to enter information.
Integration of scanners for faster input of account information, documents or part codes can also prove beneficial. Consider how the SnapChat application has made payment for small and large traders quick, secure and easy; or how quick and easy it is to logon to WhatsApp on a desktop PC by scanning a QR code.
Here are 10 tips for designers of touchscreen applications to make them efficient and easy to use:
1. Use bright colours to highlight the possible selections on a screen.
2. If there is a default option, highlight it using a flashing or differently coloured button.
3. Avoid using black as a background for white or light coloured writing.
4. Colour groups of similar choices in the same colour.
5. Use the full screen if possible, removing title or menu bars.
6. Don't use a cursor; it becomes a distraction.
7. Make buttons as large as possible.
8. Allow for selection using single touch/click, not double click.
9. Give users immediate feedback when they make a selection; consider how games make it interesting or even exciting when a selection is made.
10. Give users an option to 'Go Back' when they make an error.
Centurion Micro Electronics (CME) supplies touchscreens and panel PCs to industry in sizes from 5" to 24", and even larger. Applications include fuel dispensing and management – an outdoor environment requiring sunlight readable, robust screens; fast food outlets – communicating to kitchen printers and management systems; gaming machines in casino and club environments; abattoir management – a wet, dirty environment ideally suited to IP66 touchscreens; as well as warehouse management, with integrated scanners and printers.
The selection of a touchscreen can improve a company's efficiency and productivity, and CME can assist customers with selecting the best option from resistive or projected capacitive touchscreens, with IP ratings to suit the environment.
For more information contact Henry Hugo, Centurion Micro Electronics, +27 (0)83 581 4549, [email protected], www.cme.co.za
Credit(s)
Further reading:
Top five MPU suppliers strengthen market dominance
Editor's Choice News
The new ranking shows that long-time leader in microprocessor units, Intel, has moved downwards closer to half the total worldwide sales in microprocessors.
Read more...
---
Personality profile: Shilpa Mehta
Production Logix Editor's Choice
Shilpa Mehta, co-owner at ProLogix, talks about her informative years, how she eventually came to be in the electronics' manufacturing business, and what drives her success.
Read more...
---
Going beyond with HONOR
MyKay Tronics Editor's Choice News
The tempo of business in China is lightning fast. But if you are responsive and go a step beyond, the rewards can be great. In just 15 days, Mycronic delivered 30 dispensing systems to HONOR.
Read more...
---
How to build an uninterruptible power supply for home devices
Altron Arrow Editor's Choice
With the frequent load shedding in South Africa, finding an offline source of power at home has become a necessity. Simon Brumble, staff engineer at Analog Devices shows how to build a home UPS using a car battery as a backup source.
Read more...
---
Vicor releases technology predictions for 2022
Editor's Choice News
Predictions for 2022 in automotive, hyperscale computing and aerospace and defence will see innovation adapt to support electrification and drive growth.
Read more...
---
Helium mining – Popular hype or real business opportunity? – Part 2
Otto Wireless Solutions Editor's Choice Telecoms, Datacoms, Wireless, IoT
"I would say it is really easy to get into, but you need to be aware of the exchange rates and you need to have a solid and stable Internet network."
Read more...
---
How to extend the run-time of battery-powered equipment
Accutronics Editor's Choice Power Electronics / Power Management
For a given battery selection and application, there are several downstream design decisions that can have a drastic impact on how long the battery lasts.
Read more...
---
Three compact solutions for high step-down voltage ratios
Altron Arrow Editor's Choice Power Electronics / Power Management
System designers can be faced with the challenge of down-converting high DC input voltages to very low output voltages at high output current.
Read more...
---
ExecuGroup launches ExecuWeb, sponsors engineering talent
ExecuKit Editor's Choice News
Not content just to roll out a new platform for sourcing redundant and obsolete components, the company is also providing financial aid to an NWU student.
Read more...
---
Should you buy a software-defined radio or build your own?
RFiber Solutions Editor's Choice Telecoms, Datacoms, Wireless, IoT
As the market for software-defined radios grows, many engineering organisations are wrestling with the age-old question: build or buy?
Read more...
---