printer friendly version
HMI development modules
4 November 2015
Design Automation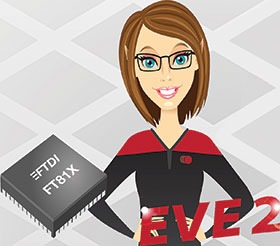 FTDI Chip continues to enlarge the development ecosystem surrounding its award-winning Embedded Video Engine (EVE) platform for advanced human machine interface (HMI) implementation. The latest additions concern the FT810 series of high-resolution EVE ICs, which are now in full-scale production.
In order to support these devices, the company has announced the VM810C50 family of compact development modules. They extend the functionality offered by the VM800C family that accompanies the FT800 series, so that large, higher-clarity imagery can be rendered and faster data transfer rates benefitted from.
The VM810C50A-D features a 5" TFT display with WVGA (800 x 480 pixel) resolution and a resistive touchscreen. For the VM810C50A-N, the display is not included; instead, through use of its 40-pin FFC interface, a suitable 4,3" or 5" LCD (with SVGA, WVGA, VGA, WQVGA or QVGA resolutions and a 4-wire resistive touchscreen interface) may be attached.
Both of these credit card sized units act as SPI slaves connecting to the specified system microcontroller through their single SPI interfaces. They each have a built-in micro speaker, audio power amplifier, 3-stage audio filter, an audio line out option and LCD backlight control. Power can be drawn for these modules via either the 2,0 mm power jack, the USB Micro-B port or SPI interface. The SPI interface supports 5 V tolerant buffers when using a 5 V SPI supply.
The FT810 EVE devices from FTDI Chip combine touch, display and audio functionality on a single chip and employ the innovative approach to HMI implementation that has been pioneered by the company. Here images, templates, overlays, fonts and sounds are treated as objects. Using this object-orientated methodology, graphics can be rendered line-by-line at 1/16th pixel resolution, as opposed to pixel-by-pixel. This streamlines implementation, allowing marked reductions in cost, board real estate and system complexity.
The FT810 and other members of the FT81x series are able to work with displays of up to 800 x 600 pixels. They have 18-bit or 24-bit RGB inter-facing options, plus 1 MB of RAM capacity for storing graphics data. A built-in JPEG decompression engine provides better graphics data usage and enables more effective HMI implementation. These devices support multiple colour palettes of 16 bits and 32 bits with transparency. Their SPI interfaces support 30 MHz operation.
Credit(s)
Further reading:
Rugged three-phase AC filter capacitors
30 September 2020, Electrocomp , Passive Components
TDK introduced two new series of EPCOS power capacitors for AC filtering in three-phase delta connection applications. The B32375* series is designed for the low to medium power range and covers a capacitance 
...
Read more...
---
High-speed protectors for automotive circuits
30 September 2020, Electrocomp , Circuit & System Protection
Bourns announced the release of the AEC-Q101 compliant Model TBU-CA-Q High-Speed Protector series. These products are low-capacitance, single bidirectional high-speed protection components, constructed 
...
Read more...
---
HMI for IoT development kit
29 July 2020, RS Components (SA) , Design Automation
Optimised for HMI development in the IoT (Internet of Things), Renesas Electronics' RX72N Envision Kit offers a highly sophisticated and integrated platform for developing applications that require a 
...
Read more...
---
Stylish new plastic enclosure family
30 September 2020, Electrocomp , Enclosures, Racks, Cabinets & Panel Products
Hammond Electronics has announced its new 1557 family. Initially available in four plan sizes, each in two heights, it is available in polycarbonate sealed to IP68 and ABS designed to meet IP66. The sizes 
...
Read more...
---
Microthermal liquid flow sensors
29 July 2020, Electrocomp , Analogue, Mixed Signal, LSI
The SLF3x liquid flow sensor series from Sensirion represents an advancement for microthermal liquid flow sensors. By combining Sensirion's 20-year track record in low and lowest flow rate sensing with 
...
Read more...
---
Industrial enclosures in stainless steel
31 August 2020, Electrocomp , Enclosures, Racks, Cabinets & Panel Products
The IP66 EJSS family from Hammond Electronics is available in 304 or 316 grade stainless steel, supplied as standard in a natural smooth brushed finish. Sealed to IP66, the EJSS is designed for use as 
...
Read more...
---
Multi-sensor IoT module
29 July 2020, Electrocomp , Telecoms, Datacoms, Wireless, IoT
TDK announced worldwide availability of the InvenSense SmartBug, a compact, wireless multi-sensor solution designed for a plethora of commercial and consumer IoT applications. The out-of-the-box solution 
...
Read more...
---
DIN rail enclosures
30 June 2020, Electrocomp , Enclosures, Racks, Cabinets & Panel Products
Hammond Manufacturing has announced its 1597DIN family of UL94-V0 flame-retardant plastic enclosures for mounting to standard IEC/EN 60715 35 mm DIN rails for applications such as industrial control equipment, 
...
Read more...
---
CeraCharge now available in a small packing unit
30 June 2020, Electrocomp , Passive Components
TDK is presenting a new packing unit for CeraCharge, the world's first SMD technology solid-state rechargeable battery, in the compact size EIA 1812 (4,4 x 3,0 x 1,1 mm). The packing unit (B73180A0101M199) 
...
Read more...
---
Robust temperature sensor for E-mobility
30 June 2020, Electrocomp , Analogue, Mixed Signal, LSI
The new B58703M1103A* temperature sensor is specially developed for demanding E-mobility applications, which call for high long-term stability. The NTC sensor is designed for a temperature range of -40°C 
...
Read more...
---