With the WTSF/WXSF FlowinSmart, Weller Tools presents a new and optimised automatic wire feeder unit for effective, manual soldering processes. Operating like a 'third hand' during the soldering process, the FlowinSmart ensures optimal soldering results by providing a presettable, correct amount of solder.
Steadiness and repetitive accuracy can be obtained for every soldering procedure. The system is suitable for applications on circuit boards, wiring harnesses, connectors and switches.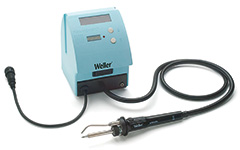 The wire feed unit is available in the three model variants WTSF 80, WTSF 120 and WXSF 120. The wire feed stations with the iron can be connected to many different Weller soldering stations. The WTSF and WXSF FlowinSmart units operate with Weller soldering stations only.
All three variants offer different operating modes (timer and pulse mode). In pulse mode the wire will advance as long as the feeder button is pushed, whereas in timer mode a specific time can be defined. At the touch of a button (deliverable with fingertip or foot switch) the unit will feed wire for the specified amount of time, so that after every impulse a consistent, preset amount of solder gets to the soldering spot/area.
The non-stick coating of the feeder tube prevents flux adhesion and thus reduces maintenance costs. The onboard start-stop/standby function conserves energy and extends the service life of the unit.