printer friendly version
Modular AdvancedTCA system
5 October 2016
Enclosures, Racks, Cabinets & Panel Products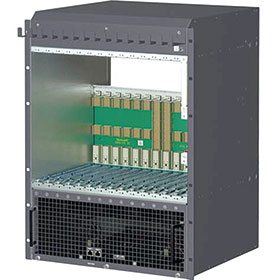 To satisfy the demand for flexibility plus ever-increasing data rates, cooling capacities and power consumption, Pentair has developed the Schroff AdvancedTCA ECO modular system. Designed with user-friendliness in mind, this 14U AdvancedTCA system offers 14 slots and is based on a modular concept with a cost-optimised scope of features. All features can be upgraded or minimised as required, and the cooling and power supply can be easily adapted to suit.
Today, AdvancedTCA systems are no longer used only in high-performance applications such as in telecommunications and datacoms as an OEM application; new applications from other fields now use AdvancedTCA technology as a platform. Per-slot requirements range from 150 W for low-power applications to 500 W for the most demanding applications. Optimal price to performance may be obtained by minimising non-essential features and maximising critical ones.
The Schroff AdvancedTCA ECO modular system is designed to cater to a wide range of customer requirements. Specific aspects such as redundancy, cooling capacity and PEM (power entry module) rating can be easily matched to the requirements of a given application.
A removable fan tray provides optimal cooling, featuring six or eight standard fans and delivering a cooling capacity of 250 W or 450 W per blade respectively. Alternatively, six higher-output fans may be used together to provide cooling of over 500 W per blade. With these modular fan drawer options, system cooling capacity and costs can be designed with flexibility. The fan tray is fitted below the board cage and connected directly to the backplane.
The Telco alarm panel and the two RJ45 connectors for the shelf manager ports are positioned on the front panel of the fan tray. No separate alarm module is required. With the fan tray in autonomous mode, the system can also be operated without a shelf manager. In this case, the fan controller monitors the air inlet and air outlet temperatures and sets the fan speed accordingly.
Another important objective in the design of the Schroff ECO modular system is reliable power distribution at an optimal cost. The modular concept of the PEM supports 250 W or 500 W per slot and a power supply unit with or without redundancy. To achieve this, Pentair developed a PEM board that includes input filtering and two 50 A fuses. If not needed, the fuses and filtering can be omitted to save cost.
Where 250 W per slot is required without redundancy, only one PEM board is necessary. If 250 W per slot with redundancy or 500 W per slot without redundancy are required, two PEM boards are fitted and for 500 W per slot with redundancy, a total of four boards are used.
The system is available with two backplane options: a dual star version and a dual-dual star version. Both backplanes satisfy the requirements of IEEE 40GBase KR4, i.e. Ethernet with a data transfer rate of 10 Gbps per port and four ports per channel. This gives a total of 40 Gbps between blade and switch (40G backplane).
In the case of a dual-dual star backplane, four switches are used. Data can thus be sent via two switches in redundancy mode, resulting in 80 Gbps overall. If the switches are configured for 3+1 redundancy, a data rate of 120 Gbps can be achieved between the blades. The IPMB management bus on both backplanes is bussed.
Pentair offers the AdvancedTCA ECO modular system as a standard product from stock in two configurations. All other modular configurations are assembled to specification.
Credit(s)
Further reading:
Clearing the Static: ESD wrist straps
29 July 2020, Actum Electronics , News
The human body is the primary source of electrostatic charge generation. In order to control and reduce static charge build-up and prevent electrostatic discharges (ESD), we use grounding systems to ensure 
...
Read more...
---
DIN rail enclosures
30 June 2020, Electrocomp , Enclosures, Racks, Cabinets & Panel Products
Hammond Manufacturing has announced its 1597DIN family of UL94-V0 flame-retardant plastic enclosures for mounting to standard IEC/EN 60715 35 mm DIN rails for applications such as industrial control equipment, 
...
Read more...
---
Company profile: Rittal
30 June 2020, Rittal , Enclosures, Racks, Cabinets & Panel Products
Rittal was founded by Prof. Friedhelm Loh in 1961 in Herborn, Germany. The enclosure specialist forms part of a larger family-owned group called the Friedhelm Loh Group. Today, the company has 10 000 
...
Read more...
---
Clearing the Static: Curb the spread of COVID-19 with stringent floor hygiene
30 June 2020, Actum Electronics , News
According to the World Health Organisation (WHO), COVID-19 is primarily transmitted from person to person through respiratory droplets that emerge from the nose and mouth when an infected person speaks, 
...
Read more...
---
EMI/RFI shielding cable ties
29 May 2020, Actum Electronics , Interconnection
BAND-IT EMI cable ties have been designed and manufactured to excel in mission-critical applications, such as Mil/Aero EMI/RFI (electromagnetic interference/RF interference), for the past 30 years.  
...
Read more...
---
Verotec's Diplomat cases and caseframes
30 June 2020, Vepac Electronics , Enclosures, Racks, Cabinets & Panel Products
Verotec's Diplomat metal enclosure range is recognised worldwide as one of the leading products in its field, having evolved around a number of international standards and in response to a number of trends. 
...
Read more...
---
Ventilated sensor enclosures
30 June 2020 , Enclosures, Racks, Cabinets & Panel Products
The new 1551V miniature ventilated sensor enclosures from Hammond Manufacturing are designed to house sensors and small sub-systems installed in the manufacturing environment as part of IoT (Internet 
...
Read more...
---
Electronics housings for harsh environments
30 June 2020, Phoenix Contact , Enclosures, Racks, Cabinets & Panel Products
Phoenix Contact has introduced new electronics housings for especially harsh ambient conditions. The robust housings of the ECS series, with IP69 degree of protection, are suited for a broad temperature 
...
Read more...
---
Extruded aluminium enclosures
30 June 2020, Sivan Electronic Supplies , Enclosures, Racks, Cabinets & Panel Products
The extruded aluminium enclosures of Gainta's ALUG7XX series are available in different sizes, with lengths suitable for indoor desktop device or outdoor wall-mounting junction/control box use. Five 
...
Read more...
---
Elegant and functional handheld enclosures
25 March 2020, Electrocomp , Enclosures, Racks, Cabinets & Panel Products
Hammond Electronics has launched its new 1552 family of handheld enclosures. Initially available in six sizes, the IP54 rated UL94-V0 flame-retardant ABS enclosure features an ergonomic design that fits 
...
Read more...
---