I don't often say this at the start of a new year, but if 2017 carries on more or less where 2016 left off, it wouldn't necessarily be a bad thing. Last year wasn't perfect for the local electronics sector by any means, but there were signs of renewed optimism both in the official news being put out and also in the tones of private conversations being had.
In this first issue of 2017, we get off on the right foot with exciting news from across the electronic engineering spectrum. Firstly, our students are doing us proud by participating once again at the International Supercomputing Conference in Germany. Chosen from the Universities of the Western Cape and Stellenbosch, six students will compete in the International Student Cluster Competition, an event which South Africa has won three out of the four times of trying.
On the research front, too, we are making waves at the cutting edge, with Wits (University of the Witwatersrand) researchers having made a breakthrough in quantum electronics that could significantly further the development of carbon-based high-frequency devices.
At the level of industry, we are not far from seeing the wide-scale deployment of the Sigfox network in South Africa. Sigfox has already been deployed in 25 other countries, and is designed specifically for the Internet of Things (IoT) market, which is projected to be worth more than $2 billion locally by 2020. Unsurprisingly, the rollout will focus on the major metropolitan areas of Johannesburg, Pretoria, Cape Town and Durban initially, but full national coverage is planned for 2018. Sticking with wireless communications, local company Poynting Antennas has scored an overseas design win, its antennas having been designed into a network of high-tech weather stations across Norway to assist the country's air ambulance services.
It appears that major changes are on the horizon for Altron, with the news that the technology group has secured major funding, but may be one step closer to having its management wrested from the control of the Venter family. With all due respect to Dr Bill Venter and what his company has contributed to the South African technology sector over decades, it is probably about time the beleaguered company has a shake-up and look to rebuild under new management.
Whether for good or bad, manufacturing will continue to be a key topic in the local electronics sector. On this front, we have produced our third annual Electronics Manufacturing & Production (EMP) Handbook, which you will have received a copy of together with this, the year's first issue of Dataweek.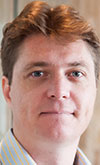 On behalf of the whole Dataweek team, I would like to take this opportunity to wish all our readers the very best for a memorable and productive 2017.