printer friendly version
Wireless communications redundancy
31 January 2017
Telecoms, Datacoms, Wireless, IoT
As technology, and in particular communications technology, becomes more entwined in our lives, the expectation for real-time, always-online communications has grown to the point where it has become the expected norm.
The public is increasingly unwilling to accept any form of downtime, be it at an ATM, POS terminal or any public Wi-Fi network. Can you imagine, for example the pandemonium that would erupt on a bus or taxi which has advertised free Wi-Fi, only for commuters to take their seats and find the communications are offline?
In the context of this growth in public expectation, this article explores the various tools available within industrial wireless routers which provide various levels of redundancy, and considers how one can integrate all of these options into one powerful, cost-effective solution which keeps one's product a step ahead of the competition.
4G network
The consideration to move towards LTE is usually discussed when one has a need for high speed. What is often overlooked, and of equal relevance, is the fact that LTE operates on a completely different frequency, and different network, to 3G or HSPA communications.
Electing to use an LTE wireless router immediately gives a level of redundancy between 4G and 3G technology, and furthermore, LTE routers will often provide for differential antenna connections whereby two antennas are connected and mounted out of phase with one another (Figure 1). However these two antennas do also, in and of themselves, give a level of physical redundancy, in that either one of them will provide communications, whereas using both will provide optimal and maximum speed performance.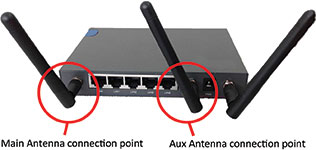 Figure 1. A common LTE router showing diverse antenna configurations.
Dual APN
If a wireless router can switch between two APNs (access point nodes), this allows the system designer to invest in their own private APN, and consider using the service provider's public APN (which is usually 'Internet') as a redundant path (Figure 2). This is often useful where one detects APN downtime, which can happen within the service provider, and be isolated from affecting either the private or public APN, without affecting the other.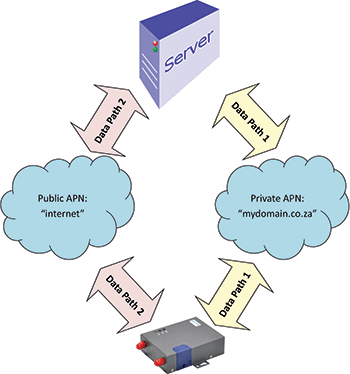 Figure 2. Dual APNs providing redundant data path to a server.
Dual SIM
Figure 3. Space-saving dual SIM connectors used for redundancy.
One of the oldest tricks in the book is to use more than one SIM card (Figure 3). This immediately gives access to multiple service providers. This feature is generally implemented after a signal strength check, where it has been established that, within a given area, one service provider is either not present, or has unreliable connectivity related to poor signal strength.
The stumbling block many devices experience is the 'return to primary SIM' timeout. One of two things often happens: either the device forgets to check when it can return to primary SIM, which may result in runaway data costs (assuming one has favourable data rates available for the primary SIM), or alternately the check to see if the primary SIM is available interrupts data transmission, or happens too often, which results in unstable data connectivity.
Dual SIM can also be used when one has deployed prepaid SIMs and needs to check if there are funds available on a given SIM card, if the router supports the sorts of background checking (server ping) which will allow the developer to make intelligent decisions in this regard. No response to ping could very well mean that connectivity is interrupted as a result of no funds being available.
Dual engines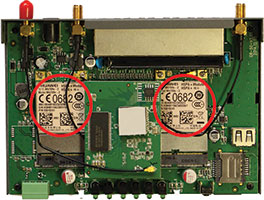 Figure 4. Two HSPA+ modules can be seen on the baseboard of this router.
Some wireless routers cater for more than one HSPA or LTE engine (see Figure 4). This opens the door to two different features:
1. Fast switching – if the two engines can be kept active and awaiting a connection, the switchover from engine one to engine two within the device is very fast; much faster than, for example, a SIM switch on a single-engine device. Where a fast switch time is required, for example a POS device or ATM, this is advantageous and important.
2. Redundant engine – in the case of hardware failure, having a second HSPA or LTE engine within the router presents obvious advantages.
ADSL switchover
If the wireless router can detect and react to ADSL line downtime by switching to LTE / HSPA connectivity, such a router can be deployed onto a network, after the ADSL router, and can be set to 'take over' from the ADSL connectivity, should it be terminated (as shown in Figure 5). This provides redundancy against cable theft and ADSL hardware failure.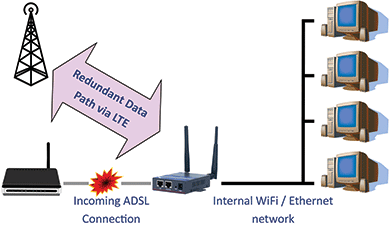 Figure 5. LTE redundancy path for incoming ADSL connectivity.
This is a common requirement when considering redundancy; in power outage situations for example, one often has access to a local generator or other form of backup power, but this does not help at all if the local ADSL switches are without power.
Virtual router redundant protocol
This is a bit of a mouthful, and is usually an overlooked and misunderstood feature. Virtual router redundancy protocol is available on high-end industrial routers. It caters for the deployment of more than one router (usually two), linked to one another and communicating discreetly with one another via Ethernet, such that those routers are all HSPA / LTE access points, acting as failover for one another, in the event of a router being disabled for any reason (see Figure 6).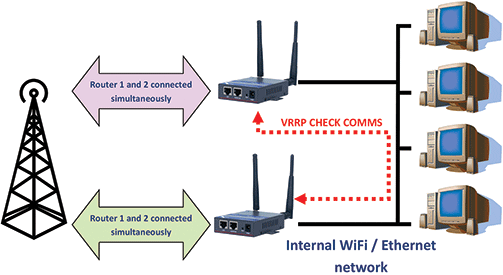 Figure 6. Virtual router redundancy protocol works in the background.
This is an extremely powerful feature, as two wireless routers can be deployed into more than one location within a network (different sides / floors on a building). Since different locations often provide different signal strengths to different networks, and at any given time, the users would not know which router is providing connectivity. Switchover is instantaneous, assuming everything has been configured correctly.
Setting up routers to decide to take action
There are a variety of options available to the developer, all of which present varying breadcrumbs of information, which can be used to make decisions regarding switching between the above options.
1. Signal strength – the tried and trusted signal strength and associated quality factor check. With this tool, one generally has no preference between service providers, and a decision is taken to connect to the provider who, in a given area, has the best combination of signal strength and quality factor. The checking takes place during 'data-silence', as does switching. Alternately, this feature is used to switch between service providers when one 'disappears', for example when a tower goes offline.
2. Server ping – An extremely powerful, simple and effective tool, this can be implemented when the device can be configured to ping a dedicated server periodically and await a response. A timeout can be set, and a number of pings configured, after which the router considers the current communication path to be 'offline', and a decision is made to switch paths.
3. ADSL check – This is a simple check to establish whether or not the ADSL line is active and functional.
4. Virtual router redundant protocol – This is a dedicated feature for continuous communications between two routers on the same Ethernet network.
Bringing it all together
In an ideal world, one would be able to combine all of the above, and have a communications 'beast' in the background which checks the ADSL, checks signal strength, speaks to another router on the same network, devices on a service provider, and on an APN, and connects accordingly, all the while pinging a remote server periodically to ensure that the connectivity remains consistent. The question is . . . can this be achieved?
The answer to this is more a matter of economics than a matter of functionality. To date, many of our clients have implemented several forms of the above combinations of redundancy, but we have yet to find anyone who wants to combine everything into one deployment. Would it be possible? Technically, yes. Would it be feasible and maintain economic viability? That depends entirely on the services being delivered by a client's system.
For more information contact Chris Viveiros, Otto Wireless Solutions, +27 (0)11 791 1033, chris@otto.co.za, www.otto.co.za
Credit(s)
Further reading:
RF fixed chip attenuators
29 January 2020, RF Design , Telecoms, Datacoms, Wireless, IoT
The TT5 Series from Smiths Interconnect are Q-band chip attenuators that operate from DC to 18 GHz. The broadband attenuators are available in attenuation values from 0 to 20 dB in 0,5 dB increments and 
...
Read more...
---
RF variable attenuator
29 January 2020, RF Design , Telecoms, Datacoms, Wireless, IoT
The 4209-30-63-1 from API Technologies - Weinschel is a solid-state programmable attenuator that operates from 0,1 to 30 GHz. It has an attenuation range from 0 to 63 dB with a step size of 0,5 dB and 
...
Read more...
---
Thingstream extends LoRaWAN support
29 January 2020, Altron Arrow , Telecoms, Datacoms, Wireless, IoT
It is now possible to add LoRaWAN gateways and LoRaWAN devices to Thingstream, giving developers quick, easy on-boarding, and the full power of Thingstream's MQTT broker, and Data Flow Manager. This new 
...
Read more...
---
Wi-Fi 6 front-end module
29 January 2020, Hi-Q Electronics , Telecoms, Datacoms, Wireless, IoT
Skyworks has introduced the SKY85772-11, a new addition to its family of front-end modules (FEMs) that are designed for growing retail, carrier and enterprise Wi-Fi 6 applications. The 5 GHz FEM offers 
...
Read more...
---
RF power amplifier for 18 - 26 GHz
29 January 2020, RFiber Solutions , Telecoms, Datacoms, Wireless, IoT
The MAAP-118260 is a packaged linear power amplifier that operates over the frequency range 17,7 – 26,5 GHz. The device, manufactured by MACOM, provides 28,5 dB of gain and 37,0 dBm output third order 
...
Read more...
---
Wideband GaN power amplifier
29 January 2020, RF Design , Telecoms, Datacoms, Wireless, IoT
Qorvo introduced what it claims is the world's highest-performance wideband power amplifier (PA). Designed for electronic warfare, radar and test instrumentation applications, the TGA2962 boasts 10 W 
...
Read more...
---
GaN is breaking barriers for RF power amplifiers
29 January 2020, Altron Arrow , Telecoms, Datacoms, Wireless, IoT
The increasing demand for higher data rates in telecommunications and higher resolution in industrial systems is pushing the frequency of operation higher for the electronics that support them. Many of 
...
Read more...
---
V2X: The future of vehicle communications
29 January 2020, Avnet South Africa , Editor's Choice, Telecoms, Datacoms, Wireless, IoT
A recent report by Juniper Research forecasts that more than 62 million vehicles will be capable of vehicle-to-vehicle communication by 2023; up from just over 1,1 million in 2019.
Read more...
---
PCIe 2.0 packet switches
29 January 2020, Altron Arrow , Telecoms, Datacoms, Wireless, IoT
Diodes Incorporated announced the PI7C9X2G304EVQ and PI7C9X2G404EVQ PCIe 2.0 packet switches, offering 3-ports/4-lanes and 4-ports/4-lanes, respectively. The packet switches are automotive-compliant for 
...
Read more...
---
High-performance IoT SoCs with dual processors
29 January 2020, RF Design , Telecoms, Datacoms, Wireless, IoT, Editor's Choice
Nordic Semiconductor's new nRF5340 high-end multiprotocol system-on-chip (SoC) is the first member of its next generation of nRF5 Series SoCs. The nRF5340 builds on Nordic's proven and globally adopted 
...
Read more...
---