SATEL's new XPRS communications solution provides reliable long-range data connectivity and high availability for mission-critical private radio networks under all circumstances. It can be built in any location where long-range, mission-critical connectivity is required, even when there is no public network availability at all. With backup power, it also works in total electricity blackout scenarios.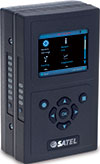 SATELLAR IP radio router.
XPRS can be used in cooperation with adjacent technologies with integrated redundancy and routing protocols, or it can serve as the basis for a step-by-step modernisation process by combining the IP solution with existing legacy serial components with integrated protocol gateway functionality.
At the heart of the system is the SATELLAR IP radio router, designed for high-availability connectivity, with reliable radio technology and switchover functionality. Redundant routing with other adjacent technologies is also provided. In addition to IP communications, support for serial components is ensured by serial modes of operation as well as protocol conversions.
Configuration is straightforward via the NETCO centralised configuration software and web browser-based user interface. Remote management can be performed through integrated SNMP capability or over-the-air. Firmware and configuration uploads can be done via USB or over-the-air.
Data encryption according to AES-128 / AES-256 standards is provided, with additional cyber security ensured by methods such as a built-in firewall, user authentication, SATEL cyber security auditing procedure, data and management network separation, and secure browser access.
For more information contact Mark Dilchert, Integr8 & Autom8, +27 (0)82 456 0902, mark@satel.co.za, www.i8a8.co.za