Antistatic spray from Cramolin is a clear and safe agent that instantly eliminates static build-up caused by friction and low humidity conditions. It prevents static electricity that can damage micro-electronic components, semiconductors and other highly sensitive devices.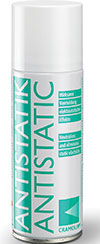 The product considerably and durably reduces the attraction of dust and dirt. It eliminates electrostatic discharges that can lead to equipment failure and loss of the stored data. Its thin, invisible film is harmless to people and materials. A test according to DIN IEC 93 showed a reduction of surface resistance down to values below 109Ω.
Applications include data processing, electronic equipment, photographic processing equipment, computer housings and office equipment. Antistatic spray reliably eliminates the attraction of dust and dirt on plastic parts, records, cabinets, floors walls, ceilings, carpets, work surfaces, seat covers etc. It is also suitable as an antistatic agent with good static and dynamic friction properties for use in fibre manufacture and textile fibre processing.