printer friendly version
Semiconductor switches as replacements for relays and fuses
22 March 2017
Power Electronics / Power Management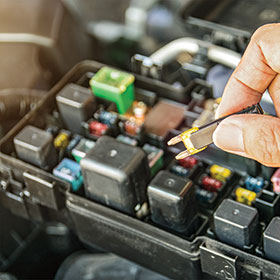 Infineon (Siemens Semiconductors at the time) launched the first PROFETs (PROtected mosFETs) on to the market about 25 years ago. This meant there was finally an alternative to relays and fuses in many different automotive body applications.
Today, semiconductor solutions already account for the largest part of the body control module market where currents are rather moderate (<10 A). However, relays are still widely used for high-current loads such as engine cooling, rear window heating, windscreen defrosters, main switches of control units, vacuum pumps of electrical brake systems etc. This is because there have been no suitable semiconductor alternatives available to date. This has now changed with the ultra-low ohmic smart high-side switch Power PROFET family.

Figure 1. Power PROFETs are an ideal replacement for relays, offering more functionality, higher energy efficiency and better reliability.
As an alternative to electromechanical relays and fuses, the new Power PROFETs (Figure 1) enable the implementation of intelligent, reliable, energy efficient and cost-effective current distribution systems. The high-side switches, with extremely low on-resistances down to 1,0 mΩ, can handle currents of up to 40 A d.c. and offer a hitherto unattained energy capacity of up to 3000 mJ. In addition to this, they provide extensive protective and diagnostic functions for automotive and 12 V industrial applications.
The Power PROFETs are specifically designed for high-current applications and smart power distribution systems. Protective functions on short circuit, over-temperature, overload, over-voltage or loss of ground or battery connection ensure safe and reliable operation.
Intelligent and safe power distribution
In the past, further development of the power distribution architecture was limited by restrictions in the relays and fuses. The Power PROFETs address these issues and bring multiple benefits. For example, numerous components such as relays, fuses, relay drivers, cables and connectors can be replaced with a single chip. In addition to this, the semiconductor switches are robust to dust, shock and vibration. This enables new levels of flexibility in component placement and assembly.
At the same time, losses are reduced by a factor of 7 over mechanical solutions in that the Power PROFETs dissipate less than 2 W at 30 A d.c. Furthermore, lifetime is increased considerably, with energy levels of up to 3000 mJ for single pulses and 550 mJ for repetitive pulses. As a result, it is possible in many cases to dispense with the otherwise necessary free-wheeling diode, resulting in lower system costs.
The Power PROFETs are more than just a replacement for relays, as they offer more functionality, higher energy efficiency and better reliability. Basically there are two typical implementations: use for special loads to overcome the limitations of relays and use for optimised power distribution architecture.
Relays are restricted at high switching cycles and high inductive loads by the occurrence of arcs. This can be prevented by using Power PROFETs and their benchmark energy handling capability. On top of this, the Power PROFET semiconductor switches support pulse width modulation at low speeds (about 100 Hz), enabling smart power management as they control the current of the load, for example for seat heater temperature regulation. This is an important aspect, bearing in mind the increasing power demand and the potential limitations if many loads have to be supplied in parallel.
Their behaviour on overload is a further significant advantage. Whereas a fuse needs to be replaced when defective and the application is not available as a result, the Power PROFET can simply be reset and reactivated by software. It withstands more than one million short-circuit cycles and fulfils the strict requirements of the AEC-Q100 standard, Grade A. In addition to this, relays entail a certain amount of noise, while Power PROFETs are silent when they switch.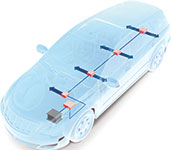 Figure 2. The Power PROFETs enable a smart and efficient power distribution architecture by replacing high-current relays and fuses.
At system level, the increasing number of applications and comfort features in the car represents the major challenge for the power distribution system. Here, the classical architecture based on a centralised relay/fuse box and a complex wiring harness comes to an end and needs to evolve to support this trend. In this regard, the new Power PROFETs offer a clear advantage since they enable a decentralised and flexible architecture (Figure 2) based on several intelligent power distribution centres. Fuses do not offer this potential as they need to be placed only at accessible areas for maintenance reasons.
Such a decentralised architecture offers three main advantages: first, the wire harness is greatly simplified, with fewer and shorter wires. Then, space can be saved, since electronic switch centres are much smaller than a relay box or fuse box. Finally, the content can be increased, thanks to the lower losses and the higher current density. In addition to this, the use of semiconductor switches enables implementation of diagnostic functions. As a result, currents can be monitored and controlled, while faults can be simply detected and indicated by the microcontroller. This addresses, amongst others, one key requirement for autonomous driving.
A further important aspect is the cost. Whereas relays and fuses are more or less stable in price, semiconductor products benefit from the price reductions that come when new technologies are introduced. The break-even point in a comparison between semiconductor switches and relays, which is currently about 15 A, will therefore move towards higher currents. This means semiconductor switches will also become increasingly interesting as far as costs are concerned.
This is particularly true at system level if one includes the cheaper wiring in the calculation. Thanks to the reduction in necessary components, it is possible to build a more precise, decentralised system that reduces the number or lengths of the necessary lines. In this way it is also possible to improve the energy efficiency, while reducing the weight and simplifying the manufacturing processes.
Power PROFETs
The Power PROFET high-side switches attain best values regarding low on-resistances with RDS(on) values of 1,0 mΩ, 1,5 mΩ, 2,0 mΩ and 2,5 mΩ. The switches can drive resistive, inductive and capacitive loads with 25 A to 40 A. Designed for the automotive and industrial (12 V) market, they have integrated protective and diagnostic functions (Figure 3) such as load detection, short circuit and over-temperature protection, cut-out on loss of ground connection, etc. An interesting feature in this regard is the ReverSave function, which switches the power MOSFET on automatically in the case of incorrect battery polarity, thereby protecting the component.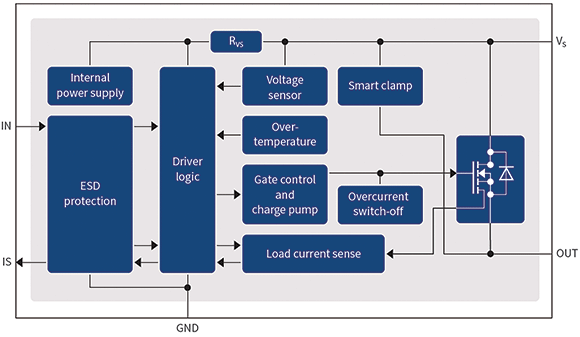 Figure 3. Block diagram of a Power PROFET high-side switch with integrated protection features.
The Power PROFETs are based on an innovative technology with high energy capacity and are therefore ideal for applications such as starter relay in start-stop systems or DC pumps and fans. They work with an input voltage of 8 V to 18 V and provide 3,3 V compatible logic inputs. The inrush current can reach up to 150 A, while the leakage currents at the output pin are very low. On top of this the Power PROFETs switches boast very high EMC immunity.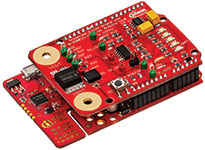 Figure 4. Design support with the new Power PROFETs – Arduino shield evaluation board.
The members of the Power PROFET family are pin-compatible and all offer the same functionality with scalable on-resistances. Developers can therefore replace loads or components without having to change the board layout. Infineon offers an Arduino evaluation board with the Power PROFET BTS50015-1TAD as design support (Figure 4).
High-side switches are available for a wide variety of applications. The PROFET+ family, for instance, is aimed at lighting applications in vehicles and general load controls up to 10 A. The components in the high-current PROFET family are designed especially for heating and similar applications with currents of 10 to 20 A. The portfolio is now being extended with the new Power PROFETs for load currents of 20 A to 40 A as replacement for high-current relays and fuses.
For more information contact Davis Moodley, Infineon Technologies, +27 (0)11 706 6099, davis-moodley.external@infineon.com, www.infineon.com
Credit(s)
Further reading:
USB Type-C power delivery controller
30 June 2020, CST Electronics , Power Electronics / Power Management
The MAX77958 from Maxim Integrated is a robust solution for USB Type-C CC detection and power delivery (PD) protocol implementation. It detects connected accessories or devices by using Type-C CC detection 
...
Read more...
---
Lead-acid batteries: quality versus cost
30 June 2020, Forbatt SA , Power Electronics / Power Management
While many battery technologies have come to the forefront, lead-acid has remained the most well-known and cost-effective chemistry. Gel and AGM technologies have revolutionised this technology even further. 
...
Read more...
---
Fanless 600 W power supplies
30 June 2020, Vepac Electronics , Power Electronics / Power Management
XP Power has released a new series of convection cooled, 600 W AC-DC power supplies. The ultra-compact power supplies deliver full load power under a wide range of conditions without additional cooling. 
...
Read more...
---
IGBT for 1500 V PV string inverters
30 June 2020, Altron Arrow , Power Electronics / Power Management
The solar power market is undergoing a trend towards 1500 V solutions, which allow for more series connections, less cable, fewer generator connection boxes and fewer inverters. The new EasyPACK 3B 
...
Read more...
---
DIN-rail mounting DC-DC converters
30 June 2020, Avnet South Africa , Power Electronics / Power Management
Shortly after unveiling the brand-new DIN-rail mounting DC-DC converter family, the DDR-15/30/60/120/240 series, Mean Well has announced the DDR-480 series (480 W) to enable integration into higher-power 
...
Read more...
---
The revolution of LTO battery technology
30 June 2020 , Power Electronics / Power Management
Potential applications of LTO technology include solar and alternative energy storage, heavy motor vehicle and industrial applications, as well as power sources for remote communication systems.
Read more...
---
iCoupler technology benefits GaN transistors in AC-DC designs
30 June 2020, Altron Arrow , Power Electronics / Power Management
Highly efficient AC-DC power supplies are key to the evolution of the telecom and datacom infrastructure, as power consumption grows rapidly due to hyperscale data centres, enterprise servers, or telecom 
...
Read more...
---
DC-DC converters with 10-year warranty
29 May 2020, Vepac Electronics , Power Electronics / Power Management
Addressing a large range of demanding applications, the MGxx40 series is available in three input voltage ranges: 4,5 V to 13 V, 9 V to 36 V and 18 V to 76 V. A single-output version (MGFS40) is available 
...
Read more...
---
IGBT for 1500 V PV string inverters
29 May 2020, Altron Arrow , Power Electronics / Power Management
The solar power market is undergoing a trend towards 1500 V solutions, which allow for more series connections, less cable, fewer generator connection boxes and fewer inverters. The new EasyPACK 3B 
...
Read more...
---
Power supplies for testing applications
29 May 2020, Conical Technologies , Power Electronics / Power Management
With ITECH's latest technology, the IT6500 series offers a full-featured, high-performance power test solution. With fast response, these DC power supplies provide users with a high level of power supply 
...
Read more...
---