printer friendly version
Anti reflective optical filters
22 March 2017
Opto-Electronics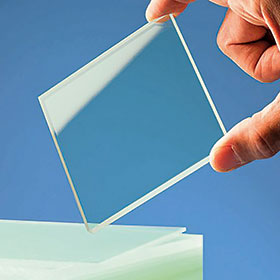 Instrument Plastics specialises in the manufacture and supply of optical grade contrast enhancement filters for electronic displays.
This includes Optolite HSR filters, which are essentially designed to enhance display readability by improving contrast and reducing reflections, while also providing protection and improving the overall appearance. Optolite HSR has a proven track record in handheld instrumentation and military environments.
Optolite HSR AR is an optical material with a broadband anti-reflective coating applied to both sides. The coating is hard wearing and perfect for direct sunlight readable displays. It can be purchased as a clear or EMI shielded sheet with thicknesses ranging from 1 mm to 8 mm. The optical surface can either be clear gloss or a non-glare finish.
Highly scratch and chemical resistant, this optical filter material provides a lightweight and tough alternative to glass. It can be easily machined and drilled if required.
Credit(s)
Further reading:
LED driver expansion board for STM32 Nucleo
Altron Arrow Opto-Electronics
STMicroelectronics' X-NUCLEO-LED12A1 LED driver expansion board for STM32 Nucleo features four LED1202 devices that can drive up to 48 LEDs. The LED1202 is a 12-channel, low quiescent current LED driver 
...
Read more...
---
VCSEL modules for 3D gesture recognition
Future Electronics Opto-Electronics
ams Osram has expanded its 3D sensing portfolio with four new VCSEL modules. The number of applications which utilise 3D sensing technology continues to increase, from the detection of the surroundings 
...
Read more...
---
ToF ranging sensor board eases integration
Altron Arrow Opto-Electronics
The VL53L5CX-SATEL breakout boards from STMicroelectronics can be used for easy integration into customer devices. The PCB section supporting the VL53L5CX time-of-flight (ToF), multizone ranging sensor 
...
Read more...
---
UV-A light detection for wearable and mobile devices
Future Electronics Opto-Electronics
Monitoring vital signs such as pulse or oxygen saturation in the blood via smartphones and smartwatches has been available for several years. The corresponding UV channel of the TSL2585 from ams Osram 
...
Read more...
---
Ambient light and proximity sensor
TRX Electronics Opto-Electronics
Mouser Electronics is now stocking the TMD2712 ambient light and proximity sensor from ams. The sensor incorporates an infrared (IR) VCSEL (vertical cavity surface emitting laser) and factory-calibrated 
...
Read more...
---
Time-of-flight multi-zone ranging sensor
EBV Electrolink Opto-Electronics
STMicroelectronics has announced the first multi-zone FlightSense time-of-flight sensor to be offered for general-purpose applications, bringing sophisticated distance sensing to the full spectrum of 
...
Read more...
---
New laser sensor technology detects difficult targets
Omron Electronics Opto-Electronics
Omron has launched a new E3AS-HL CMOS Laser Sensor with sensing technology that significantly improves detection capability using an industry-first Laser Class 1 CMOS laser sensor equipped with an FPGA. 
...
Read more...
---
Colour registration mark sensor
Vepac Electronics Opto-Electronics
SmartEye Colormark ll registration mark sensors from Tri-Tronics combine unique colour perception ability with very high-speed response. Many important features have been incorporated into the design 
...
Read more...
---
LEDs for indoor lighting market
Future Electronics Opto-Electronics
Lumileds introduced its new Luxeon 2835 Commercial LEDs engineered and designed to support the growing demand for a high-volume, high-efficacy mid-power LED to serve commercial indoor lighting applications. 
...
Read more...
---
Lidar sensors for numerous use cases
TRX Electronics Opto-Electronics
Mouser Electronics has signed a global distribution agreement with LightWare LiDAR, a manufacturer of light detection and ranging (lidar) technology. According to the agreement, Mouser will offer customers 
...
Read more...
---