printer friendly version
ESD flooring with aesthetic benefits
19 April 2017
Circuit & System Protection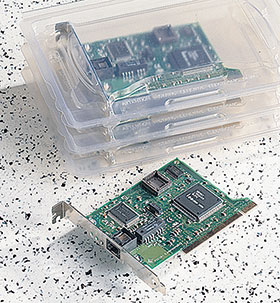 Flooring is becoming an increasingly central element of décor as more and more built structures are now geared towards showcasing various aesthetic attributes in buildings. ESD flooring is no exception and there is a trend towards incorporating different pallets and textures for companies' flooring needs.
Polyflor SD has been designed for use where static control is required, whether it's for industrial, manufacturing, mining or leisure environments, which all have various conductivity requirements. Anti-static flooring is ideal for combating electrostatic discharge and when it comes to facilitating a uniform flow of static electricity directly to a ground point.
The range is available in a choice of six marbleised colourways, in sheet format or as a 608 x 608 mm tile, the preferred size for use on access flooring. The range comprises SD, Ohmega EC and conductive ROF flooring, and combines static control properties with hardwearing and decorative qualities. The hardwearing, homogeneous contract sheet and tile floor covering have a BRE Global Generic A+ rating.
For more information contact Actum Electronics, +27 (0)11 608 3001, sales@actum.co.za, www.actum.co.za
Credit(s)
Further reading:
Clearing the Static: ESD wrist straps
29 July 2020, Actum Electronics , News
The human body is the primary source of electrostatic charge generation. In order to control and reduce static charge build-up and prevent electrostatic discharges (ESD), we use grounding systems to ensure 
...
Read more...
---
3 kW TVS diode arrays
30 June 2020, Avnet South Africa , Circuit & System Protection
To ensure critical operations, aviation and space systems rely on digital and logic functionality and circuitry in engine control units, environmental controls, instruments and actuators. Data centres, 
...
Read more...
---
Clearing the Static: Curb the spread of COVID-19 with stringent floor hygiene
30 June 2020, Actum Electronics , News
According to the World Health Organisation (WHO), COVID-19 is primarily transmitted from person to person through respiratory droplets that emerge from the nose and mouth when an infected person speaks, 
...
Read more...
---
EMI/RFI shielding cable ties
29 May 2020, Actum Electronics , Interconnection
BAND-IT EMI cable ties have been designed and manufactured to excel in mission-critical applications, such as Mil/Aero EMI/RFI (electromagnetic interference/RF interference), for the past 30 years.  
...
Read more...
---
Integrated EMC line filters and design kit
29 May 2020 , Circuit & System Protection
Würth Elektronik provides solutions to help prevent EMI problems with non-compliant equipment. It offers complete WE-CLFS EMC line filters that have most components one needs for an EMC filter inside 
...
Read more...
---
Advanced EMI shielding solutions
29 May 2020, Actum Group , Circuit & System Protection
All electronic devices generate electromagnetic radiation that can be transmitted through the air from one electronic device to another. This is known as electromagnetic interference (EMI). In certain 
...
Read more...
---
Dual-channel high-speed protector
29 April 2020, Electrocomp , Circuit & System Protection
Bourns announced the release of the Model TBU-RS085-300-WH, for use in RS-485 communication interface protection. The part is an integrated dual-channel transient blocking unit (TBU) over-current and 
...
Read more...
---
Reliably protect LED applications
29 April 2020, Phoenix Contact , Circuit & System Protection
The Type 2 surge protective device from the Blocktrab series from Phoenix Contact protects all lighting systems and is particularly suitable for LED applications. LED technology has become indispensable 
...
Read more...
---
Rectifier chip diodes
25 March 2020, Electrocomp , Circuit & System Protection
Portable electronics, communications, computing and video equipment manufacturers are challenging the semiconductor industry to develop increasingly power efficient solutions with smaller electronics 
...
Read more...
---
Steering diode/TVS array for display interfaces
25 March 2020, Altron Arrow , Circuit & System Protection
ProTek Devices has introduced a new steering diode transient voltage suppressor (TVS) array for circuit protection across popular consumer electronic display interfaces. The new PUSB403 device is ideal 
...
Read more...
---