printer friendly version
Capacitive switches
19 July 2017 Switches, Relays & Keypads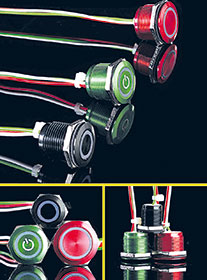 The capacitive switches from knitter-switch's CTK series are an alternative to the popular anti-vandal pushbuttons: their IK rating (mechanical resistance of the visible parts) of IK10 conforms to the highest requirement categories, and their IP rating for dust and water is IP68. But they are smarter than the normal vandal resistant types: thanks to integrated electronics they can be used with momentary and latching function and normally open, normally closed or changeover contact. Ring illumination, legend etching or indicator light with 1 or 2 LEDs are possible.
Based on common measurements (threaded bushing M19x1) they can be used without any change to front panels which have been designed for vandal resistant switches. In addition they can be ordered in a 22 mm and a 16 mm version. The switches work in a voltage range from 5-30 V d.c. and are available in two models with contact ratings of 0,2 A and 1,5 A. This makes it possible to switch even high-power LED lamps.
Credit(s)
Further reading:
Clearing the Static: ESD wrist straps
29 July 2020, Actum Electronics , News
The human body is the primary source of electrostatic charge generation. In order to control and reduce static charge build-up and prevent electrostatic discharges (ESD), we use grounding systems to ensure 
...
Read more...
---
Versatile micro switches
30 June 2020, TRX Electronics , Switches, Relays & Keypads
The V19, Honeywell's unsealed micro switch family, provides a cost-conscious switch solution to assist in hitting overall system-level cost and design goals in high-volume applications. Suitable applications 
...
Read more...
---
Clearing the Static: Curb the spread of COVID-19 with stringent floor hygiene
30 June 2020, Actum Electronics , News
According to the World Health Organisation (WHO), COVID-19 is primarily transmitted from person to person through respiratory droplets that emerge from the nose and mouth when an infected person speaks, 
...
Read more...
---
EMI/RFI shielding cable ties
29 May 2020, Actum Electronics , Interconnection
BAND-IT EMI cable ties have been designed and manufactured to excel in mission-critical applications, such as Mil/Aero EMI/RFI (electromagnetic interference/RF interference), for the past 30 years.  
...
Read more...
---
Tactile switches for demanding applications
29 April 2020, Brabek , Interconnection, Switches, Relays & Keypads
The Multimec switch from APEM has been designed with the intention to manufacture the best possible switch. The company's automatic production lines have 100% in-line testing, but before the parts get 
...
Read more...
---
Waveguide electromechanical relay switches
26 February 2020, RF Design , Switches, Relays & Keypads
Pasternack has just launched a new series of double ridge waveguide electromechanical relay switches which perform over broader frequency bands, making them ideal for applications involved with electronic 
...
Read more...
---
Actum Group merges its brands under one roof
29 January 2020, Actum Electronics , News
Over the years, Actum Group has been built through partnerships, collaborations and acquisitions of leading companies with a long history and rich legacy in the industry. These companies include Actum 
...
Read more...
---
Illuminated pushbutton switches
25 November 2019, TRX Electronics , Switches, Relays & Keypads
The KLS series expands C&K Switches' product offering in the LED pushbutton family. It meets the market requirements for haptics and sound with clear 'click' feedback. With various cap options and bright 
...
Read more...
---
Actum Group remains resilient and optimistic for 2020
25 November 2019, Actum Electronics , News
Running a profitable business in South Africa is not for the fainthearted. With the national treasury downgrading this year's growth forecast from 1,5% to 0,5%, and state-owned entities like Eskom negotiating 
...
Read more...
---
Clearing the Static:Topic 9: Time to audit your ESD environment
25 November 2019, Actum Electronics , News
Now that we are nearing the end of the year, it is a good time to audit your existing static control products and procedures. The first line of defence should be your antistatic floor, since this is the 
...
Read more...
---