printer friendly version
From the editor's desk: Tech entrepreneur vs. electronic engineer
13 September 2017
News
I was fortunate to be invited to a business breakfast hosted by AREI (Association of Representatives for the Electronics Industry) at which the guest speaker was renowned businessman and entrepreneur, Pavlo Phitidis. Many readers will be familiar with Pavlo's name through Talk Radio 702 and 567 Cape Talk, for which he is the resident entrepreneurial and business development content contributor. He is also the presenter and host of The Growth Engines for Business Day TV, newspaper and digital, the growth content contributor for Entrepreneur Magazine, and a keynote speaker at both local and international business conferences.
Pavlo certainly lived up to his reputation, by giving a lively, insightful and at times inspirational talk that covered his views on entrepreneurship in general, the role of innovation in the technology sector, and the economic realities facing South African businesses. During his more than 20 years' experience, he has conceptualised and developed a multitude of businesses, and has enjoyed a great deal of success. However, as he freely admits, some of those businesses failed, and Pavlo echoed a sentiment often expressed by leaders of his ilk: that you have to be prepared to fail, and that the most important lessons in business, as in life, are to be learned from those failures. I admire people who have the courage to try and fail, particularly those who go 'all in' when they have a vision for their future, but I personally tend to fear the cost of failure might be too high.
As Pavlo's speech went on, I did begin to feel more positive about the local tech sector and about the fact that maybe one just has to be more willing to expand one's mind to find the opportunities that are out there. But then a comment from the audience made me realise there was something of a disconnect between the tech entrepreneurship Pavlo was expounding, and electronic engineering as a profession.
As an analogy, imagine a movie star wearing a striking dress by a world renowned designer, walking up the red carpet at the Academy Awards – the word that springs to mind is 'sexy'. Now imagine the garment factories where 99% of the clothes people actually wear are made – not so sexy. Tech entrepreneurship is sexy; electronic engineering is not. Nifty smartphones and their apps get rave reviews, while the accelerometers, positioning and wireless chips that enable them go uncelebrated.
During his talk Pavlo used an analogy of his own, a nautical one that played on the fact that a ship's engine room, while necessary, is impossible to navigate from, whereas the captain's deck has a 270 degree view and all the amenities for a comfortable voyage. His point was that business owners should concentrate on working on their business, rather than in it, but I would like to borrow that analogy to make the point that electronic engineering is the engine room. By the very nature of what electronic engineers do, they are somewhat isolated from the bigger picture, and although I have no doubt that they are typically intelligent and versatile enough to have what it takes to be entrepreneurs, there are only so many hats one person can wear, and only so many hours in a day.
Doing what I do for a living, I read a lot about technology, with particularly keen interest on the South African market. There is a remarkable new wave of innovation being led by mostly young, open-minded developers taking advantage of tools and opportunities that would never have been available to small startups in the past. Meanwhile, the electronic engineering sector is languishing, seemingly unable to find a sustainable place in this exciting and ever-changing value chain, and certainly hampered by governmental and macroeconomic factors beyond its control.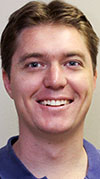 I hope Pavlo's broader message of approaching challenges and opportunities with a more open mindset resonated with those in the audience, and hopefully many of them have absorbed his lessons and thought about ways to change their own approach.
A change would do the South African electronics sector good.
Brett van den Bosch
Editor
Credit(s)
Further reading:
From the editor's desk: Yes, it's that thing everyone's talking about
25 March 2020, Technews Publishing , News
Call me a pessimist, but I'm absolutely, 100% certain that I'm going to catch COVID-19 (or the 'novel coronavirus' if you prefer to call it that) – if I haven't done so already. At least the mortality 
...
Read more...
---
Electronics news digest
25 March 2020 , News
Overseas
Business
• ams reported record revenues and results for full year 2019, with revenues up 32% year-on-year, and fourth quarter revenues exceeding expectations with strong adjusted operating 
...
Read more...
---
XinaBox – Reaching for the stars
25 March 2020, RS Components (SA) , News
From collecting data in sub-zero Antarctica to rapid circuit prototyping on the International Space Station this South African company is reinventing the way we approach IoT while inspiring students to follow STEM careers.
Read more...
---
Electrocomp launches new website
25 March 2020, Electrocomp , News
Electrocomp is inviting visitors to explore its new website, which has been designed to offer a user-friendly experience with improved navigation and functionality while allowing customers to see their 
...
Read more...
---
Looking beyond radar, the car's virtual eye
25 March 2020, Altron Arrow , News
Faster, higher-resolution radar sensors have enabled the next generation of driver assistance technologies through improvements in vehicle safety and comfort in view.
Read more...
---
Disposing of e-waste in space
26 February 2020 , News
According to BBC, there are over half a million pieces of debris floating around the Earth's orbit. Most debris within the atmosphere are lost parts from space crafts, disused rocket stages or waste from 
...
Read more...
---
IPC revises five standards
26 February 2020 , News
IPC announced the release of five newly revised standards covering several areas of the supply chain:      
· IPC/WHMA-A-620D, Requirements and Acceptance for Cable and Wire Harness Assemblies. · IPC-2223E, 
...
Read more...
---
Testerion to represent ITW EAE in SA
26 February 2020, Testerion , News
ITW EAE announced a new extended partnership agreement with Testerion South Africa to represent and distribute all ITW EAE equipment including MPM printers, Camalot dispensers, Electrovert soldering systems, 
...
Read more...
---
Würth helps produce PCBs for ventilators
25 March 2020, Würth Elektronik eiSos , News
The worldwide spread of the coronavirus is not only increasing the demand for personal protective equipment, but also for medical ventilators. In order to ensure the supply in Germany, the German government 
...
Read more...
---
u-blox acquires Thingstream
25 March 2020 , News
u-blox has acquired IoT communication-as-a-service provider, Thingstream. Thingstream provides a comprehensive, end-to-end solution for global IoT connectivity using the industry standard MQTT protocol. 
...
Read more...
---