printer friendly version
Modular housings for small form factor boards
13 September 2017
Enclosures, Racks, Cabinets & Panel Products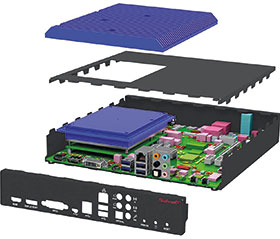 Pentair has developed a new concept which enables design engineers to quickly create customised solutions to house and protect their small form factor boards, while minimising development costs and lead time.
Using a modular approach, engineers can specify their enclosure, cooling, peripheral components and mounting method based on the needs of their specific application. Each building block can easily be configured and combined, resulting in a customised solution ready for manufacture.
The design starts with Pentair's Schroff Interscale enclosure, which features integrated EMC protection, requires only two screws for assembly, and has flexible height, width and depth dimensions. For customers working with industrial PC board standards such as MiniITX, ATX, embeddedNUC and others, the cut-outs have been prepopulated in the design to save time.
The cooling module includes options for conduction and convection cooling. FHCs (flexible heat conductors) provide enhanced conduction cooling performance and design engineers have options for heatsink height and orientation. For convection cooling, one- and two-fan configurations are available, with a variety of fan location and perforation options.
Compatible components including industrial grade power supplies, power switches and indicators, and hard disk drive brackets are available. The enclosure can be completed with wall/desk brackets, DIN rail clips, and tip-up or rubber feet.
For those customers interested in Computer on Module (COM), Pentair also offers a complete Embedded COM system including the COM module and the carrier board. This concept is also modular: For example, a wide range of fieldbus connections can be implemented using a pluggable add-on module. Using the XMC slot, FPGA mezzanines or processor modules can be connected to the COM module via the carrier or a custom circuit can be established on the prototype module. The power module is also designed as a pluggable module, making it easy to adapt to different line voltages and power outputs. For integrated system solutions the Pentair project management group supports customers directly.
Credit(s)
Further reading:
Clearing the Static: ESD wrist straps
29 July 2020, Actum Electronics , News
The human body is the primary source of electrostatic charge generation. In order to control and reduce static charge build-up and prevent electrostatic discharges (ESD), we use grounding systems to ensure 
...
Read more...
---
DIN rail enclosures
30 June 2020, Electrocomp , Enclosures, Racks, Cabinets & Panel Products
Hammond Manufacturing has announced its 1597DIN family of UL94-V0 flame-retardant plastic enclosures for mounting to standard IEC/EN 60715 35 mm DIN rails for applications such as industrial control equipment, 
...
Read more...
---
Company profile: Rittal
30 June 2020, Rittal , Enclosures, Racks, Cabinets & Panel Products
Rittal was founded by Prof. Friedhelm Loh in 1961 in Herborn, Germany. The enclosure specialist forms part of a larger family-owned group called the Friedhelm Loh Group. Today, the company has 10 000 
...
Read more...
---
Clearing the Static: Curb the spread of COVID-19 with stringent floor hygiene
30 June 2020, Actum Electronics , News
According to the World Health Organisation (WHO), COVID-19 is primarily transmitted from person to person through respiratory droplets that emerge from the nose and mouth when an infected person speaks, 
...
Read more...
---
EMI/RFI shielding cable ties
29 May 2020, Actum Electronics , Interconnection
BAND-IT EMI cable ties have been designed and manufactured to excel in mission-critical applications, such as Mil/Aero EMI/RFI (electromagnetic interference/RF interference), for the past 30 years.  
...
Read more...
---
Verotec's Diplomat cases and caseframes
30 June 2020, Vepac Electronics , Enclosures, Racks, Cabinets & Panel Products
Verotec's Diplomat metal enclosure range is recognised worldwide as one of the leading products in its field, having evolved around a number of international standards and in response to a number of trends. 
...
Read more...
---
Ventilated sensor enclosures
30 June 2020 , Enclosures, Racks, Cabinets & Panel Products
The new 1551V miniature ventilated sensor enclosures from Hammond Manufacturing are designed to house sensors and small sub-systems installed in the manufacturing environment as part of IoT (Internet 
...
Read more...
---
Electronics housings for harsh environments
30 June 2020, Phoenix Contact , Enclosures, Racks, Cabinets & Panel Products
Phoenix Contact has introduced new electronics housings for especially harsh ambient conditions. The robust housings of the ECS series, with IP69 degree of protection, are suited for a broad temperature 
...
Read more...
---
Extruded aluminium enclosures
30 June 2020, Sivan Electronic Supplies , Enclosures, Racks, Cabinets & Panel Products
The extruded aluminium enclosures of Gainta's ALUG7XX series are available in different sizes, with lengths suitable for indoor desktop device or outdoor wall-mounting junction/control box use. Five 
...
Read more...
---
Elegant and functional handheld enclosures
25 March 2020, Electrocomp , Enclosures, Racks, Cabinets & Panel Products
Hammond Electronics has launched its new 1552 family of handheld enclosures. Initially available in six sizes, the IP54 rated UL94-V0 flame-retardant ABS enclosure features an ergonomic design that fits 
...
Read more...
---