printer friendly version
Protection devices for constrained spaces
13 September 2017
Circuit & System Protection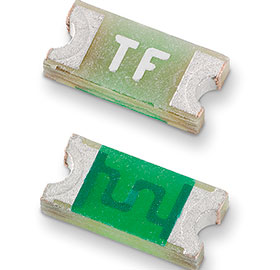 Littelfuse offers a number of protection devices that are ideal for applications such as the Internet of Things.
The 468 Series Slo-Blo surface mount fuse (SMF) is a small (1206 size) thin-film device designed for secondary protection of circuits used in space constrained applications such as handheld portable electronic devices. A time delay feature withstands high inrush currents and prevents nuisance openings. This series is 100% lead-free and meets the requirements of the RoHS directive. Halogen-free versions are also available.
The SP3022 series of robust 0,35 pF, 20 kV bidirectional (back-to-back) discrete TVS diodes can safely absorb repetitive ESD strikes over the maximum level specified in the IEC61000-4-2 international standard without performance degradation. Their back-to-back configuration provides symmetrical ESD protection for data lines when AC signals are present. Their ultra-low loading capacitance (just 0,35 pF) makes them ideal for protecting high-speed data lines.
For more information contact Jeva Narian, Arrow Altech Distribution, +27 (0)11 923 9600, jnarian@arrow.altech.co.za, www.arrow.altech.co.za
Credit(s)
Further reading:
Power delivery over USB Type-C will open up new applications
25 March 2020, Altron Arrow , Power Electronics / Power Management
The enablement of SuperSpeed is just one reason why we can expect the USB interface to dominate for many years to come, but power delivery must also be a major factor in that.
Read more...
---
STM32CubeMonitor for runtime variable monitoring
25 March 2020, Altron Arrow , Design Automation
The STM32CubeMonitor family of tools helps to fine-tune and diagnose STM32 applications at runtime by reading and visualising their variables in real time. In addition to specialised versions (power, 
...
Read more...
---
Looking beyond radar, the car's virtual eye
25 March 2020, Altron Arrow , News
Faster, higher-resolution radar sensors have enabled the next generation of driver assistance technologies through improvements in vehicle safety and comfort in view.
Read more...
---
Rectifier chip diodes
25 March 2020, Electrocomp , Circuit & System Protection
Portable electronics, communications, computing and video equipment manufacturers are challenging the semiconductor industry to develop increasingly power efficient solutions with smaller electronics 
...
Read more...
---
Steering diode/TVS array for display interfaces
25 March 2020, Altron Arrow , Circuit & System Protection
ProTek Devices has introduced a new steering diode transient voltage suppressor (TVS) array for circuit protection across popular consumer electronic display interfaces. The new PUSB403 device is ideal 
...
Read more...
---
Wireless power receiver
25 March 2020, Altron Arrow , Telecoms, Datacoms, Wireless, IoT
The STWLC68 is an integrated wireless power receiver suitable for portable applications and capable of managing up to 5 W of output power. The chip has been designed to support Qi 1.2.4 specifications 
...
Read more...
---
NVIDIA-powered computing for AI at the edge
26 February 2020, Altron Arrow , Computer/Embedded Technology
The AI revolution is transforming industries, reaching products that are smaller and more affordable than ever before. Many companies have been constrained by the challenges of size, power, and AI compute 
...
Read more...
---
USB Type-C port protector
26 February 2020, Altron Arrow , Circuit & System Protection
Designers can easily migrate small electronic devices from legacy USB Micro-A or Micro-B interconnects to the latest Type-C style with the STMicroelectronics TCPP01-M12 port protector, which satisfies 
...
Read more...
---
MCUs for new-generation smart objects
26 February 2020, Altron Arrow , DSP, Micros & Memory
STMicroelectronics' latest STM32H7A3, STM32H7B3, and STM32H7B0 Value Line microcontrollers (MCUs) combine 280 MHz Arm Cortex-M7 core performance, high memory density, and power savings for future generations 
...
Read more...
---
Video reel: TouchGFX GUI software
26 February 2020, Altron Arrow , Multimedia, Videos
This video from STMicroelectronics shows how you can download the free TouchGFX GUI software, try the out-of-the-box supported STM32H7B3I-DK, and eliminate the need for external RAM, when developing your 
...
Read more...
---