printer friendly version
Rotational absolute magnetic encoder
13 September 2017
Test & Measurement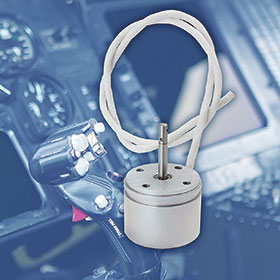 Vishay has introduced a new rotational magnetic position sensor that delivers accuracy comparable to Hall effect devices while offering higher reliability and better durability. The one-time programmable (OTP) Vishay Sfernice RAME027 provides accuracy of ±0,33 % at 25°C in a small 27 mm form factor. Typical applications will include military and industrial joysticks, electrical actuators, machine tools, textile manufacturing, milling and robotics.
"The robust capabilities and construction of the RAME027 make it the ideal solution for rough working conditions, including high vibration and shocks," says Dirk Venter, field application engineer at Arrow Altech Distribution. Vishay can customise the RAME027 with customer-specified mechanical dimensions, output SSIs, accuracy and resolution levels, reinforcements, and protection features against EMC and ESD. The company can also provide redundant functions and an extended temperature range.
The RAME027 works from a 5 V (±0,25 V) supply and draws less than 20 mA at 5 V. It features a useful electrical angle of 360°, an analog output, 12-bit resolution, and works over a temperature range of -25°C to +85°C.
For more information contact Dirk Venter, Arrow Altech Distribution, +27 (0)11 923 9666, dventer@arrow.altech.co.za, www.arrow.altech.co.za
Credit(s)
Further reading:
Power delivery over USB Type-C will open up new applications
25 March 2020, Altron Arrow , Power Electronics / Power Management
The enablement of SuperSpeed is just one reason why we can expect the USB interface to dominate for many years to come, but power delivery must also be a major factor in that.
Read more...
---
STM32CubeMonitor for runtime variable monitoring
25 March 2020, Altron Arrow , Design Automation
The STM32CubeMonitor family of tools helps to fine-tune and diagnose STM32 applications at runtime by reading and visualising their variables in real time. In addition to specialised versions (power, 
...
Read more...
---
Looking beyond radar, the car's virtual eye
25 March 2020, Altron Arrow , News
Faster, higher-resolution radar sensors have enabled the next generation of driver assistance technologies through improvements in vehicle safety and comfort in view.
Read more...
---
Steering diode/TVS array for display interfaces
25 March 2020, Altron Arrow , Circuit & System Protection
ProTek Devices has introduced a new steering diode transient voltage suppressor (TVS) array for circuit protection across popular consumer electronic display interfaces. The new PUSB403 device is ideal 
...
Read more...
---
Wireless power receiver
25 March 2020, Altron Arrow , Telecoms, Datacoms, Wireless, IoT
The STWLC68 is an integrated wireless power receiver suitable for portable applications and capable of managing up to 5 W of output power. The chip has been designed to support Qi 1.2.4 specifications 
...
Read more...
---
Automotive-grade optocoupler
25 March 2020, Altron Arrow , Opto-Electronics
Vishay introduced a new automotive-grade phototransistor optocoupler that combines a high current transfer ratio (CTR) range from 50% to 600% with a low forward current of 1 mA in the compact SOP-4 mini-flat 
...
Read more...
---
NVIDIA-powered computing for AI at the edge
26 February 2020, Altron Arrow , Computer/Embedded Technology
The AI revolution is transforming industries, reaching products that are smaller and more affordable than ever before. Many companies have been constrained by the challenges of size, power, and AI compute 
...
Read more...
---
Vector network analyser training kit
26 February 2020, Comtest , Test & Measurement
Pico Technology has added significant functionality and value to its low-cost, high-performance vector network analyser (VNA), by joining the NI/AWR Connected Partner community. The PicoVNA interface 
...
Read more...
---
Better phase noise measurement for Infiniium UXR scopes
26 February 2020, Concilium Technologies , Test & Measurement
Keysight Technologies and Silicon Labs announced a collaboration that streamlines the validation of timing solutions critical in the development of system-level designs for wireless communications, high-speed 
...
Read more...
---
Eliminate risk with proper calibration
26 February 2020, Concilium Technologies , Test & Measurement
Proper calibration lowers cost of test by reducing the number of incorrect decisions made, by improving instrument performance.
Read more...
---