printer friendly version
Data interfaces hold the key to smart SMT manufacturing
11 October 2017
Manufacturing / Production Technology, Hardware & Services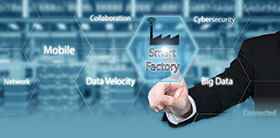 The data structures supported by surface-mount assembly equipment can critically influence the adoption of smart manufacturing in today's electronics manufacturing enterprises, according to Yamaha Motor IM.
Following mechanisation, mass production and computerised automation, the fourth industrial revolution (Industrie 4.0) is transforming traditional automation into cyber-physical systems. These are expected to enable new ways of organising production, support the creation of new products and services, and open new opportunities for participation.
Surface-mount electronics manufacturing has a leading role in the revolution: not only are the instruments of Industrie 4.0 built here – from tiny smart sensors to Internet infrastructure and high-performance cloud servers – but also advanced inline automation is combined with powerful software applications to implement smart manufacturing that adapts continuously to optimise productivity.
It's all about the data
In today's electronics manufacturing services (EMS) businesses, the traditional boundary between factory floor and back office is disappearing as more and more manufacturing data is harvested and analysed to reveal new insights for further enhancing efficiency, quality and productivity. The data must first be collected from the equipment in the line, analysed instantaneously to aid real-time management of the line, and then shared with back-office systems and cloud applications to identify long-term trends and determine strategically how to improve.
The production line may combine equipment such as dispenser or screen printer, mounters and optical inspection from a number of different manufacturers. Although there are industry standards that allow basic communication between the various machines, interfaces between equipment from different vendors often cannot support the rich information exchanges needed to enable smart manufacturing. Even if all the equipment is supplied by the same vendor, some brands are better suited to smart manufacturing than others.
The way the data is organised is critical, and some manufacturers are able to demonstrate data structures that are well suited to making detailed information readily available to analytical software. Yamaha Motor's Intelligent Machines division has created its own specification for a machine-to-machine interface that enables rich real-time data exchanges between inline surface-mount equipment. Moreover, a complete set of software applications capture and analyse the data. These have been proven over several product generations, and are now poised to help SMT manufacturers transition their enterprises to smart manufacturing.
Seamless connection of enterprise assets
Among these software applications, Yamaha QA Option is hosted on the line and compares post-placement inline optical inspection (AOI) data with dispenser/printer and mounter data to pinpoint any component placement errors or solder paste defects down to the level of individual mounter nozzles or stencil apertures.
Notifications presented on-screen, or pushed to the supervisor's own device via Yamaha's Mobile Judgement software, enable immediate remedial action, and hence improve quality control and drive up productivity. The information gathered has also been able to drive predictive maintenance, which is also now seen as an important aspect of smart manufacturing. In addition to these applications, Yamaha has developed the Y.FacT factory software suite, including setup, monitoring and traceability tools.
By facilitating setup, the S-Tool utility helps manage materials that may otherwise deteriorate over time. Automatically monitoring stock age and condition helps exclude any unsuitable materials from finished products. By recording data such as the board code, solder paste type, and the identities of component feeders and reels, S-Tool can help prevent errors and improve product quality.
When assembling LED lighting products, for example, checking the LED brightness (bin), colour temperature and illumination pattern indicated on product barcodes helps prevent building assemblies using parts that are not closely matched. It can also connect to any component tower storage system, and use parts-remaining information from machines in the line to coordinate reel and feeder changes to ensure timely replenishment and minimise stoppages.
Monitoring equipment in each line and across the factory using M-Tool enables checking of status via a web-based interface to assess detailed information such as efficiency, operating ratios and pickup rates in real time. It is an easy next step to consolidate this data automatically into reports for storage and analysis by higher-level applications running in the cloud.
The traceability application, T-Tool, records each individual assembly identifier with its associated board identity and component data for every placement on the board. This is one area the underlying data structure of the surface-mount equipment is critical for handling the detailed component-level information.
Yamaha's proprietary data structure can record component serial numbers as well as position data and the PCB serial number, and transfer the information through a shop-floor system into a traceability database. This database can be queried for numerous purposes, such as tracking inventory and materials throughout the production flow to assist purchasing for just-in-time assembly; helping to demonstrate conformity with customer requirements; or to verify the provenance of components.
These software packages take advantage of the rich information sharing capabilities between connected SMT equipment in each line and across the factory. Sophisticated communication capabilities make the equipment inherently ready to support the introduction of advanced smart manufacturing practices that will take data driven monitoring and control to the next level.
For more information contact Truth Electronic Manufacturing, +27 (0)31 822 8555, terence@truthelectronics.co.za, www.truthelectonics.co.za
Credit(s)
Further reading:
Things are tough for electronics contract manufacturers in SA
23 October 2019, Barracuda Holdings, Leratadima Tellumat Manufacturing , Manufacturing / Production Technology, Hardware & Services
The contract manufacturing side of the South African electronics industry has been under enormous pressure for some time now, with some high-profile manufacturers having closed their doors or suffering serious financial trouble in recent years.
Read more...
---
Quality management based on quality assurance
23 October 2019, Quamba Technologies , Manufacturing / Production Technology, Hardware & Services
To ensure consistently high product quality and ultimately achieve a zero-fault production stage, it is necessary to control all process steps.
Read more...
---
3D printing and electronics manufacturing
23 October 2019, Omnigo , Manufacturing / Production Technology, Hardware & Services
"The opportunities are endless and we are excited to see what the future holds for 3D printing and the electronics manufacturing industry." – Christine Brindle, Omnigo
Read more...
---
3D printer for rapid prototyping
23 October 2019, RS Components (SA) , Manufacturing / Production Technology, Hardware & Services
RS Components is shipping the latest version of the MakerBot 3D printer – the MakerBot Method – which has been designed to bridge the gap between industrial and desktop 3D printing. The unit targets engineers 
...
Read more...
---
Versatile conformal coating applicators
23 October 2019, Techmet , Manufacturing / Production Technology, Hardware & Services
The Select Coat applicator series from Nordson Asymtek – which includes the SC-350 Select Spray and the SC-300 Multi-Mode – is a highly versatile conformal coating applicator that supports a wide range 
...
Read more...
---
High-accuracy fluid dispenser
23 October 2019, Techmet , Manufacturing / Production Technology, Hardware & Services
Nordson Asymtek recently introduced the Forte fluid dispensing system. The Forte series combines high-accuracy fluid dispensing with increased throughput and productivity in a narrow footprint to handle 
...
Read more...
---
Conformal coating cleaning agent
23 October 2019, Techmet , Manufacturing / Production Technology, Hardware & Services
Coating carriers and frames offer important advantages within the conformal coating process regarding handling, process reliability and output, but they also require very extensive cleaning afterwards.  
...
Read more...
---
Company profile: Etion Create
23 October 2019, ETION Create , Manufacturing / Production Technology, Hardware & Services
Etion Create is an original design manufacturer (ODM) that has been in operation for more than 25 years. Originally known as Parsec, the company was founded in 1993, focusing on the design, development 
...
Read more...
---
Cleaning machines and agents on show at Productronica
23 October 2019, Electronic Industry Supplies , Manufacturing / Production Technology, Hardware & Services
Using the motto 'Make the Cleaning Check', Zestron will be exhibiting a selection of state-of-the-art cleaning machines from leading international manufacturers. Visitors who are looking for a new cleaning 
...
Read more...
---
Application centres for dispensing and coating
23 October 2019, MyKay Tronics , Manufacturing / Production Technology, Hardware & Services
With a larger global installed base of MYSmart and MY700 jet printing and dispensing systems, Mycronic is taking the next step in bringing its hands-on expertise closer to customers by establishing multiple 
...
Read more...
---