printer friendly version
Xilinx all programmable RFSoCs
15 November 2017 Electronics Technology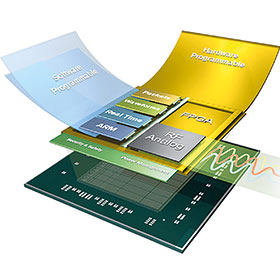 Xilinx announced delivery of its Zynq UltraScale+ RFSoC family, an architecture integrating the RF signal chain into a system-on-chip (SoC) for 5G wireless, cable Remote-PHY and radar. Based on 16 nm UltraScale+ MPSoC architecture, the chips monolithically integrate RF data converters for up to 50% to 75% system power and footprint reduction, and soft-decision forward error correction (SD-FEC) cores to meet 5G and DOCSIS 3.1 standards. With silicon samples already shipping to multiple customers, the early access programme for the family is now available.
Devices in the family feature eight 4 GSps or sixteen 2 GSps 12-bit ADCs; eight to sixteen 6,4 GSps 14-bit DACs; integrated SD-FEC cores with LDPC and Turbo codecs for 5G and DOCSIS 3.1; ARM processing subsystem with quad-core Cortex-A53 and dual-core Cortex-R5s; 16 nm UltraScale+ programmable logic with integrated Nx100G cores; and up to 930 000 logic cells and over 4200 DSP slices.
For more information contact Erich Nast, Avnet South Africa, +27 (0)11 319 8600, Xilinx all programmable RFSoCs, [email protected]
Further reading:
Panasonic releases its updated touch-sensitive knob
Altron Arrow Electronics Technology
Panasonic, in conjunction with Microchip, has launched an update to its existing Magic Knob, a capacitive knob ready for standard touch sensors for use in controlling automotive information displays.
Read more...
---
Microchip's new IC to replace Hall effect position sensors
Altron Arrow Electronics Technology
The LX34070 IC from Microchip is set to help accelerate the global move away from expensive and less accurate magnet-based solutions for safety-critical EV motor position monitoring.
Read more...
---
A brief history of HBTs
Conical Technologies Electronics Technology
In 1947 the engineers at Bell Labs were tasked with developing a transistor. This development heralded the beginning of the semiconductor industry which changed the world forever. Transistors would have 
...
Read more...
---
Research project achieves major advance toward fusion energy
Electronics Technology
New superconducting magnet designed by MIT breaks magnetic field strength records, paving the way for practical, commercial, carbon-free power.
Read more...
---
Report forecasts impact of electrically conductive adhesives
Electronics Technology
IDTechEx recently published a market research report, 'Electrically conductive adhesives 2022-2032: Technologies, markets and forecasts', covering this emerging form of joining technology. Electrically 
...
Read more...
---
NXP exhibits the art of semiconductors
Electronics Technology
An exhibit of semiconductor history reinterpreted as art recently finished its run at ArtEZ University of the Arts in the Dutch city of Arnhem, close to Nijmegen and it was based on NXP Semiconductor's 
...
Read more...
---
IBM shrinks chip geometries to 2 nm
Electronics Technology
The current state-of-the-art in terms of semiconductor chip geometries has been superseded by a new breakthrough coming out of IBM's world renowned research division. Currently the 'process node' most 
...
Read more...
---
Challenges for electronic circuits in space applications
Altron Arrow Electronics Technology
Outside the protective cover of the Earth's atmosphere, the natural space radiation environment can damage electronic devices and the effects range from a degradation in parametric performance to a complete functional failure.
Read more...
---
The surprising ingredients used to bake a solar-panel cake
Electronics Technology
Jon Major, from the BBC's Future Planet team, has written an article that explores "The unexpected ingredients that improve solar cells". Some of these ingredients include the likes of capsaicin, the 
...
Read more...
---
Analog Devices leverages Microsoft's 3D ToF tech
Electronics Technology
Analog Devices is working with Microsoft to leverage Microsoft's 3D time-of-flight (ToF) sensor technology, allowing customers to easily create high-performance 3D applications that bring higher degrees 
...
Read more...
---