printer friendly version
LED-based touch sensor display
15 November 2017 Electronics Technology
Visual Communications Company developed a capacitive touch sensor display that provides a cost-effective, intuitive interface to ease and accelerate user interactions. The LED-based CTH Series capacitive touch sensor display combines graphic interactive control with colour identification to make the interface more user-friendly. Utilising sensitive capacitive touch sensing technology, the CTH Series simplifies designs and offers cost savings by eliminating the need for a traditional switch.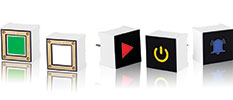 The LED display produces high optical clarity, and is offered with or without a wide variety of standard graphic overlays and colours. VCC can also develop custom icons to meet most any application requirement. Offered in a wide variety of colours including red, yellow, blue, pure green and white, the LED back-lit displays' robust design has no moving parts, improving reliability and increasing the operational life. Featuring a through-hole design, the capacitive touch sensor display is available in one standard size of 15 x 15 x 11 mm with an industry standard pitch of 0,100".
The CTH Series is used in a wide range of applications including appliances, consumer equipment, gaming devices, industrial control displays, media players, medical devices, mobile communication devices, PDAs, point of sale terminals, portable instruments, touch screen monitors and more.
Credit(s)
Further reading:
IoT communication without batteries
28 October 2020 , Electronics Technology
When we talk about IoT, we often gloss over the fact that all these interconnected things need batteries and electronics to carry out the job of collecting and processing data while they're communicating 
...
Read more...
---
Stable perovskite LEDs one step closer
25 March 2020 , Electronics Technology
Researchers at Sweden's Linköping University, working with colleagues in Great Britain, China and the Czech Republic, have developed a perovskite light-emitting diode (LED) with both high efficiency and 
...
Read more...
---
Infineon works with Qualcomm for 3D authentication
25 March 2020 , Electronics Technology
Infineon Technologies has collaborated with Qualcomm Technologies to develop a reference design for 3D authentication based on the Qualcomm Snapdragon 865 mobile platform. Infineon is thus extending its 
...
Read more...
---
Online training: Battery Safety and Protection Overview
23 October 2019 , Electronics Technology, Multimedia, Videos
So many of the portable devices, electronic equipment, and tools we use every day are powered with lithium-ion battery systems. But one challenge for engineers who design these lithium-ion-powered products 
...
Read more...
---
VentoFlex modular LED lighting system
23 October 2019, Mimic Components , Opto-Electronics
Visual Communications Company (VCC) launched its VentoFlex flexible modular lighting system. The system is made up of flexible copper clad laminate (FCCL) sheets with 90 CRI Luxeon LEDs. VentoFlex was 
...
Read more...
---
Industrial panel meter
30 January 2019, Mimic Components , Test & Measurement
The N1540 from Novus is a popular indicator for instrumentation testing and measurements. It is part of a range of microprocessor panel indicators commonly used in industrial processes for the indication 
...
Read more...
---
Using Wi-Fi to detect dangerous concealed objects
15 August 2018 , Electronics Technology
American university researchers have come up with a way of using Wi-Fi signals to detect weapons, bombs and explosive chemicals concealed in bags, backpacks or other luggage. The collaborative, peer-reviewed 
...
Read more...
---
Wits researchers make carbon nanotube discovery
13 June 2018 , Editor's Choice, Electronics Technology
Researchers at the University of the Witwatersrand (Wits) have found ways to control the spin transport in networks of the smallest electrical conductor known to man.
Read more...
---
Evolution of home technology from connected to proactive
16 May 2018 , Electronics Technology
The idea of 'home' has evolved greatly over the millennia. Over the last decades, technology has transformed homes into hubs of functionality – centres of entertainment, environmental management, work, 
...
Read more...
---
Indicators for panel mounting
16 May 2018, Mimic Components , Opto-Electronics
VCC has expanded its CNX series product offering to include 120 V a.c. versions for both the 14 mm and 22 mm panel-mount indicators. Part of the all-in-one FlexVolt product family, the rugged CNX714 (14 
...
Read more...
---