printer friendly version
Low-power modern vacuum tube
15 November 2017
Power Electronics / Power Management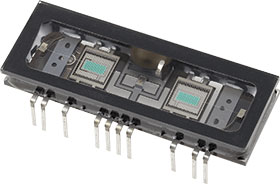 RS Components has announced availability of a new miniaturised and high-performance vacuum tube technology. The Nutube vacuum tube device was developed by KORG, in cooperation with Noritake Itron Corp., and offers excellent reliability and efficiency while generating the same rich harmonics familiar to millions of tube amplifier users around the world.
The introduction of the Nutube to the RS product range aptly coincides with the 80-year anniversary of the company's foundation, in 1937, as Radiospares, selling elementary vacuum-tube-based components. The Nutube is an exemplar of the progress made in this type of technology over the decades.
The Nutube is similar to a conventional vacuum tube: it has an anode grid filament structure and operates in exactly the same way as a triode vacuum tube. In fact, it also offers twin triodes in a single package as a modern alternative to the classic 12AX7 twin-triode vacuum tube used in many amplifier applications. The Nutube is also similar to a vacuum tube in the way it creates the same characteristic rich overtones. However, KORG has applied vacuum fluorescent display technology to the development and has devised a structure that achieves a wide variety of operational and functional improvements compared with conventional vacuum tubes.
A key feature of the Nutube is its size, as it is less than 30% of the volume of a conventional vacuum tube. This also means a substantial power saving, with the device requiring less than 2% of the electrical power of a conventional tube, as well as enabling efficient and simple battery operation. The device's small size and low thermal output also allows it to be easily mounted directly on a high-density circuit board without using a socket.
Product quality has also been improved, as the real triode structure of the Nutube produces a warm real vacuum tube sound as well as delivering excellent linearity that is close to the performance of an ideal twin triode. Other characteristics of the Nutube include: 5 V operation, with a full operating voltage range from 5 to 80 V; a gain of 14 dB at Vcc of 12 V; low power consumption of 12 mW (0,7 V/17 mA) per channel; and an expected service life of 30 000 hours continuous operation under normal use.
Credit(s)
Further reading:
Maintaining backup battery systems for maximum usage and reliability
30 September 2020, Comtest , Power Electronics / Power Management
Standby battery backup systems play a critical role in keeping essential operations functional in the event of a utility outage. Facilities like data centres, hospitals, airports, utilities, oil and gas 
...
Read more...
---
Double the power output from new Tadiran battery
30 September 2020, Altron Arrow , Power Electronics / Power Management
Tadiran has developed the latest in its PulsesPlus HLC battery range, doubling the power output of its previous offering. Recently the company launched the C-type HLC which represented a huge improvement 
...
Read more...
---
Follow this engineering journey of a 3D-printed boat
30 September 2020, RS Components (SA) , News
RS Components is releasing a 10-episode documentary series – titled SeaQuest – featuring members of its DesignSpark engineering community who embarked on a first-of-its-kind challenge to design, test 
...
Read more...
---
SABS addresses dangers of power adaptors to consumers
28 October 2020 , Power Electronics / Power Management
The increased use of devices and appliances has resulted in the increased use of adaptors as well as adaptors-on-adaptors in South Africa. This creates a risk of fires, short circuiting and damage or 
...
Read more...
---
Just Batteries develops Li-ion battery pack for drones
28 October 2020, Just Batteries , Power Electronics / Power Management
The commercial market for drones is ever growing, ranging from delivering your pizza or shoes to supplying medical equipment to rural and inaccessible areas. Just Batteries' design, development and 
...
Read more...
---
1200 V SiC MOSFETs
28 October 2020, RS Components (SA) , Power Electronics / Power Management
RS Components now stocks ON Semiconductor's latest 1200 V-rated MOSFETs. Based on silicon-carbide (SiC) technology, these power discretes are able to push the performance envelope. The new N-channel 
...
Read more...
---
LTO batteries in mining applications
28 October 2020 , Power Electronics / Power Management
The mining industry in Africa provides numerous jobs and essential raw materials for the Fourth Industrial Revolution, critical to rebuilding economies and industry after the Covid-19 epidemic. However, 
...
Read more...
---
Low insertion force SMT connectors
28 October 2020, RS Components (SA) , Interconnection
RS Components is now stocking a new range of SMT, low insertion force (LIF) connectors from Würth Elektronik. Leveraging low-profile, lightweight, and secure and removable connection, they are made to 
...
Read more...
---
Bidirectional DC power supply for lab testing
30 September 2020, Conical Technologies , Power Electronics / Power Management
The new IT-M3400 bidirectional DC power supply from ITECH integrates the features of a bidirectional power supply and a regenerative load. It inherits the advantages of high power density and modular 
...
Read more...
---
Global analysis of the solid-state battery market
30 September 2020 , Power Electronics / Power Management
The rapid growth of the electric vehicle market has driven the development, manufacture and sales of batteries, especially lithium-ion batteries. In the meantime, market research firm IDTechEx has identified 
...
Read more...
---