printer friendly version
Low resistance metal alloy resistors
15 November 2017
Passive Components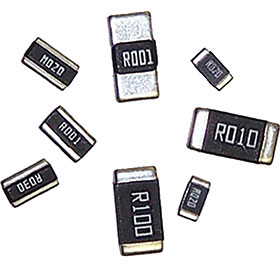 TT Electronics' low resistance metal alloy (LRMA) resistor series has been extended to offer over 40 new combinations of footprint size and ohmic value.
This represents an increase of nearly 50% in the options available to designers, affording much greater flexibility in the design of current sense functions in their PSU, battery management and motor control applications.
LRMA uses metal element technology. Unlike film chip resistors, which may be made in any value by means of standard process adjustments, each value of a metal element chip requires a degree of individual development. Customer demand for specific values drives this process, and the results are now available to all designers.

The 3 W rated LRMAP2512 has the largest number of new additions, and now offers 48 values from 500 μΩ to 300 mΩ. There are 12 new values across the three sizes of the LRMAM series, which offers a low thermal EMF resistance alloy element. This solves the problem of thermoelectric errors which can occur in DC circuits with extremely low sense voltages. A new inverse footprint is also available in the 0612 size of LRMAN.
For more information contact TRX Electronics, +27 (0)12 997 0509, info@trxe.com, www.trxe.com
Credit(s)
Further reading:
Mouser revamps technical resource centre
30 September 2020, TRX Electronics , News
Mouser Electronics has redesigned its Technical Resource Centre, which contains the global distributor's ever-expanding collection of technical articles, blogs, eBooks, and Methods technology and solutions 
...
Read more...
---
Expanding the horizons with horizontal connectors
28 October 2020, TRX Electronics , Interconnection
Harwin Gecko-SL horizontal connectors bring the additional option of a male through-board connector at right angles to the PCB, i.e. horizontal. The existing Gecko-SL range already offers a miniature 
...
Read more...
---
TRX welcomes Hannes Taute as new MD
28 October 2020, TRX Electronics , Editor's Choice, News
We delve into his background, what his plans for TRX Electronics are, and how he envisions what the future of the local electronics industry will look like.
Read more...
---
Capacitors for fast-switching semiconductors
30 September 2020, TRX Electronics , Passive Components
KEMET's KC-LINK surface mount capacitors are designed to meet the growing demand for fast switching wide bandgap (WBG) semiconductors that operate at higher voltages, temperatures, and frequencies. These 
...
Read more...
---
High-reliability screening for PPI's capacitors
30 September 2020, RFiber Solutions , Passive Components
As typical electrical tests may not detect internal flaws such as voids, cracks, delaminations and electrode discontinuities, which can lead to latent and/or catastrophic failures in high-power applications, 
...
Read more...
---
Rugged three-phase AC filter capacitors
30 September 2020, Electrocomp , Passive Components
TDK introduced two new series of EPCOS power capacitors for AC filtering in three-phase delta connection applications. The B32375* series is designed for the low to medium power range and covers a capacitance 
...
Read more...
---
Resources for home and building automation
31 August 2020, TRX Electronics , News
Mouser Electronics is expanding its comprehensive range of building automation solutions from Silicon Labs, TE Connectivity (TE), and Littelfuse for the rapidly growing smart home and building automation 
...
Read more...
---
Metallised polypropylene film capacitors
30 September 2020, Avnet Abacus , Passive Components
Vishay Intertechnology has introduced a new series of Automotive Grade DC-Link metallised polypropylene film capacitors optimised for high humidity environments. The Vishay Roederstein MKP1848H DC-Link 
...
Read more...
---
Resource centre: Mouser's new Customer Resource Centre
30 September 2020, TRX Electronics , Multimedia, Videos
Mouser Electronics' new Customer Resource Centre allows customers to easily take advantage of Mouser's online purchasing services and tools through a central hub containing everything customers need to 
...
Read more...
---
Mini air core inductors
29 July 2020, RF Design , Passive Components
Coilcraft has released its latest mini air core inductors, the 1512SP /2712SP Series. Specifications include Q factors up to 100 at 150 MHz; a wide range of standard EIA inductance values from 2,5 to 
...
Read more...
---