printer friendly version
ULP benchmarking tool for STM32 microcontrollers
31 January 2018
Test & Measurement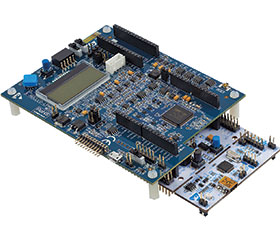 EEMBC's new version of the ultra-low-power ULPBench benchmark for embedded microcontrollers now focuses on peripherals including ADC, SPI, PWM with timer and RTC.
With manufacturers able to publish scores for supply voltages below 3,0 V, STMicroelectronics' STM32CubeMonitor-Power graphical software tool can be used with the STM32 Power Shield to execute ULPBench tests and confirm that STM32 products offer strong performance at any voltage as well as in the core profile at 1,8 V.
STM32CubeMonitor-Power enables developers to swiftly analyse the low-power performance of target boards. This software tool acquires power measurements through the X-NUCLEO-LPM01A specialised intermediate board, and displays these measurements using an intuitive graphical interface. Dynamic measurement of current covers a range from 100 nA to 50 mA, while STM32CubeMonitor-Power allows updating of acquisition parameters, and data rendering in real time. Execution of EEMBC ULPBench tests is also supported to provide an accurate ULPMark score directly.
Reception of power measurements is done by an X-NUCLEO-LPM01A board at up to 100 kHz. Intuitive navigation into data is possible using mouse-based zoom and move functions, and control of all X-NUCLEO-LPM01A functions (such as acquisition frequency, supply voltage, triggers, and others) can be done from the graphical interface.
For more information contact Robin Scholes, Arrow Altech Distribution, +27 (0)11 923 9600, rscholes@arrow.altech.co.za, www.arrow.altech.co.za
Credit(s)
Further reading:
RTLS tag module for real-time positioning
25 November 2020, Altron Arrow , Telecoms, Datacoms, Wireless, IoT
Inpixon announced the launch of its newest smart tag module, the swarm bee LE V3, supporting a range of indoor and outdoor location applications including real-time location systems (RTLS). This is 
...
Read more...
---
The A to Z of A2B applications
25 November 2020, Altron Arrow , Editor's Choice, Telecoms, Datacoms, Wireless, IoT
An A
2
B device's support for up to 32 channels of downstream audio and upstream audio on the network facilitate the distribution of multiple channels of different audio content within a single system.
Read more...
---
Enhanced RF connectors and terminators
25 November 2020, Altron Arrow , Interconnection
Amphenol RF has expanded its SMP product series with enhanced performance connectors and the introduction of terminators. SMP connectors are ideal for telecommunications and military applications which 
...
Read more...
---
Double the power output from new Tadiran battery
25 November 2020, Altron Arrow , Power Electronics / Power Management
Tadiran has developed the latest in its PulsesPlus HLC battery range, doubling the power output of its previous offering. Recently the company launched the C-type HLC which represented a huge improvement 
...
Read more...
---
SiC diodes for electric vehicles
25 November 2020, Altron Arrow , Power Electronics / Power Management
As vehicle electrification continues rapid growth worldwide, innovative power technologies such as silicon carbide (SiC) are required for high-voltage automotive systems ranging from motors to on-board 
...
Read more...
---
3-axis accelerometers with selectable ranges
25 November 2020, Altron Arrow , Analogue, Mixed Signal, LSI
The analog output ADXL354 and the digital output ADXL355 are low noise density, low 0 G offset drift, low power, 3-axis accelerometers with selectable measurement ranges. The ADXL354B supports the ±2 G 
...
Read more...
---
Thermal camera for detecting abnormal body temperatures
25 November 2020, Coral-i Solutions , Test & Measurement
Because measuring a person's body temperature is a major issue in the news at the moment, Chauvin Arnoux is launching the CA 1900 thermal camera, a new health tool for identifying anyone with an excessively 
...
Read more...
---
Real-time phase noise analysis up to 50 GHz
25 November 2020, RF Design , Test & Measurement
Wireless Telecom Group announced the introduction of the Holzworth HA7063A Downconverter, which extends the capabilities of the phase noise analyser product portfolio to 50 GHz. The new downconverter 
...
Read more...
---
Locally made single-board computer
25 November 2020, Altron Arrow , Computer/Embedded Technology
The Cherry Blossom is a small form factor single-board computer (SBC), proudly South African designed and manufactured, starting at a moderate speed of 600 MHz and extending up to 1 GHz. Designed 
...
Read more...
---
Real-time dashboards for remote test data access
25 November 2020, Comtest , Test & Measurement
Tektronix announced the availability of a native integration between the Keithley DAQ6510 and DMM6500 instruments with Initial State, an loT dashboard for data streaming and visualisation for world-class, 
...
Read more...
---